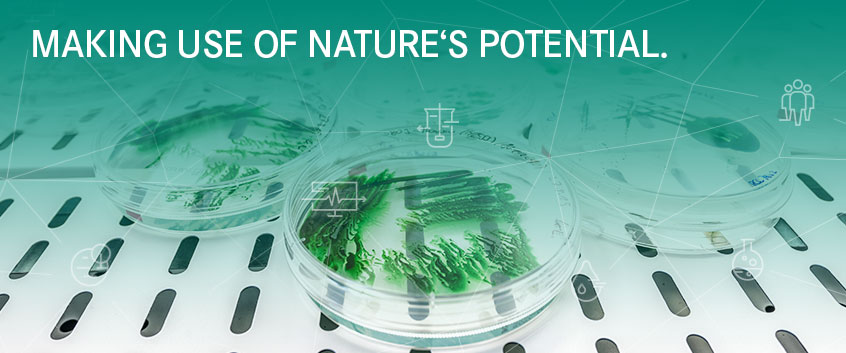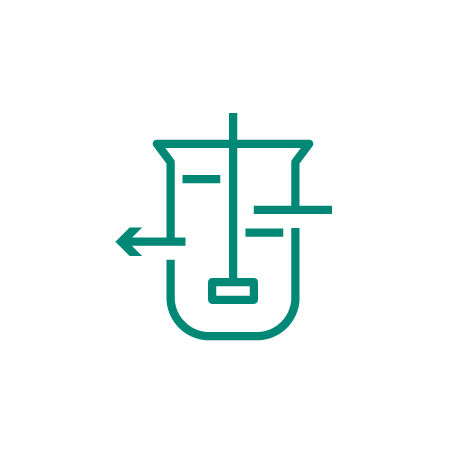 Research Unit
Environmental Engineering and Biotechnology
Nature is an inexhaustible source of concepts and raw materials for producing and transforming chemicals and energy.

With this vision in mind we need to recognise and understand the biochemical potential and the ecological principles that are hidden in nature and make use of them to satisfy human needs with the help of innovative environmental- and bio - technologies.
Challenges
Whether it is impacts from climate change, the increasing demand for resources or the material flows that pollute the environment – it is not only an energy transition that is necessary, but a complete change to a product - oriented and integrative environmental protection. Material cycles must be closed to ensure resource - and energy efficiency in production processes. Substances that cause harm to the environment must be replaced by ecologically compatible ones. The use of fossil - and inorganic resources must be reduced. Pollutants should not be released into the environment – and where this cannot be avoided, their fate must be controllable.

The use of fossil- and inorganic resources must be reduced.
New procedures in environmental- and bio - technology will play a key role in the search for solutions. Already back in 2012 the global market volume for environmental technologies and efficiency technologies was approximately two trillion Euros. According to estimates by the German Federal Ministry of the Environment this figure will more than double by 2022.

Questions
How can nature's renewable resources be transformed into sources of energy or chemicals? Which characteristics do microorganisms possess for converting substances into energy or chemicals? How can we find out what different microorganisms are capable of? How does one succeed in converting promising laboratory results into industrial standards? Are new environmental technologies and efficiency technologies really ecologically compatible and efficient? How can unwanted by - products and side effects be minimised? Can we increase nature's capacity in the purification process or optimise it in production plants?
Scientists working in the thematic area "Environmental Engineering and Biotechnology" work on procedures and technologies that can be used for a decentralised production of platform chemicals and energy sources from renewable raw materials as well as for removing the risk element from pollutants in natural and technical ecosystems. They there- fore pursue the goal of closing material cycles and preventing or treating unwanted by - products. They value the micro - biological and biochemical attributes of nature and promote so - called "nature - based solutions".

They use renewable sources of carbon, non - food biomass, carbon dioxide, hydrogen, solar radiation and electrical energy and skilfully link synthesis processes with utilisation concepts for waste, energy and (waste-) water. It is thereby imperative to acquire detailed knowledge about which microbial processes are behind which substance conversions and how beyond the realms of biology, chemical and physical methods can be implemented. To make biotechnological production procedures and processes suitable for industry, ways need to be discovered that make them more efficient and more flexible.
With the Centre for Biocatalysis in Central Germany (MIKAT), a strategic network is coming together for bioprocess engineering, photo-bio reactor development and tapping into alternative raw materials.

In the context of projects and case studies, scientists are developing unique solutions, for example an integrated technological concept based on (bio - ) artificial photosynthesis for the production of hydrogen to be applied as a decentralised, self - containing energy production facility. Other energy sources such as biogas or electricity as well as platform chemicals should be produced on the basis of micro - biological and electrical biocatalytic processes.
To help with the degradation of pollutants in technical and natural systems, researchers are focusing mainly on natural microbiological or plant - based procedures, which (if necessary) can be supported by physical - chemical processes. Furthermore, for the extraction of mineral resources and the recovery of valuable substances such as metals, rare earths or organic acids from waste streams or unused mineral sources, it is biotechnological concepts that show the most favourable eco - balance for research and industry. However, to find out just how ecological, marketable and valuable these procedures and concepts are in reality, they still need to be analysed and addressed.

For this integrated research approach, which extends from process understanding to technology transfer and also covers socio - economic aspects as well as issues regarding environmental law, extensive expertise is available at the UFZ in all thematic fields in addition to state - of - the art infrastructure: a pilot plant for environmental technology and biotechnology for scaling up from the laboratory level to the technical scale, omics platforms for molecular analyses, the hightech laboratory ProVIS for the visualisation of micro - biological biochemical processes on the cellular level, high - performance computers for the modelling and visualisation of complex environmental processes, system - biological analysis methods as well as research and demonstration locations for decentralised waste water treatment in Germany and abroad.
The thematic area "Environmental Engineering and Bio-technology" takes on a central role in the science that is interested in sustainable technologies, for instance through international conferences and workshops. It promotes net-works with partners from industry as well as with SME's.

With the establishment of the Centre for Biocatalysis in Central Germany (MIKAT) that was initiated by the UFZ, an important strategic network is coming together for bio- process engineering, photo - bio reactor development and tapping into alternative raw materials. Beyond that, close partnerships also exist with the Society for Chemical Engineering and Biotechnology (DECHEMA), with the German Environment Agency (UBA), with the German Biomass Research Center (DBFZ), as well as with experts on the European level.
An early involvement of partners from industry in research and demonstration projects and the continuous feedback with associations and authorities not only ensures a transfer of knowledge and the observance of regulatory frame-works and regulations, but also increases the chances that concepts and procedures will be implemented in industry and practice. In this way, for instance in Jordan – one of the most water - scarce regions in the world, it was possible to establish an integrated water management system that was based on trust and co - operation over several decades with partners from science, economics and politics. Biotechnological procedures for wastewater treatment can be found at the heart of this system, making their contribution indispensible for the conservation of ground water.

News

Highlights from the Research Unit


New Book: Cyanobacteria in Biotechnology
The book offers an insight to cyanobacterial cell-factories, brings valuable contributions from experts in the field and discusses the role of cyanobacteria in important bioprocesses. It was released in 2023 (edited by Katja Bühler).
Further information