Publications of the Department
Stoichiometry on the edge—humans induce strong imbalances of reactive C:N:P ratios in streams

Wachholz, A., Dehaspe, J., Ebeling, P., Kumar, R., Musolff, A., Saavedra, F., Winter, C., Yang, S., Graeber, D. (2023) Environ. Res. Lett. 18 (4), art. 044016.
This study presents a new approach for classifying macronutrient stoichiometry in streams and rivers. Many ecosystem functions are affected by the stoichiometry of reactive molecular forms of dissolved organic carbon (rOC), nitrogen (rN), and phosphorus (rP). We propose assessing reactive nutrient ratios rOC:rN:rP relative to organismic demands to understand nutrient depletion versus excess in German streams. In our study, 94% of 574 German catchments show depletion or co-depletion in rOC and rP, revealing excess N in anthropogenically influenced landscapes. Spatial patterns of depletion classes are linked to agriculture, hydrogeology, and topographic controls. We classified catchments into stoichio-static and stoichio-dynamic based on intra-annual rOC:rN:rP variability. Imbalances in rOC:rN:rP ratios in German rivers can affect nutrient retention efficiency, eutrophication, and the carbon cycle, necessitating holistic catchment and aquatic ecosystem management that integrates macronutrient stoichiometry.
Bimodality and alternative equilibria do not help explain long-term patterns in shallow lake chlorophyll-a

Davidson, T.A., Sayer, C.D., Jeppesen, E., Søndergaard, M., Lauridsen, T.L., Johansson, L.S., Baker, A., Graeber, D. (2023) Nat. Commun. 14, art. 398.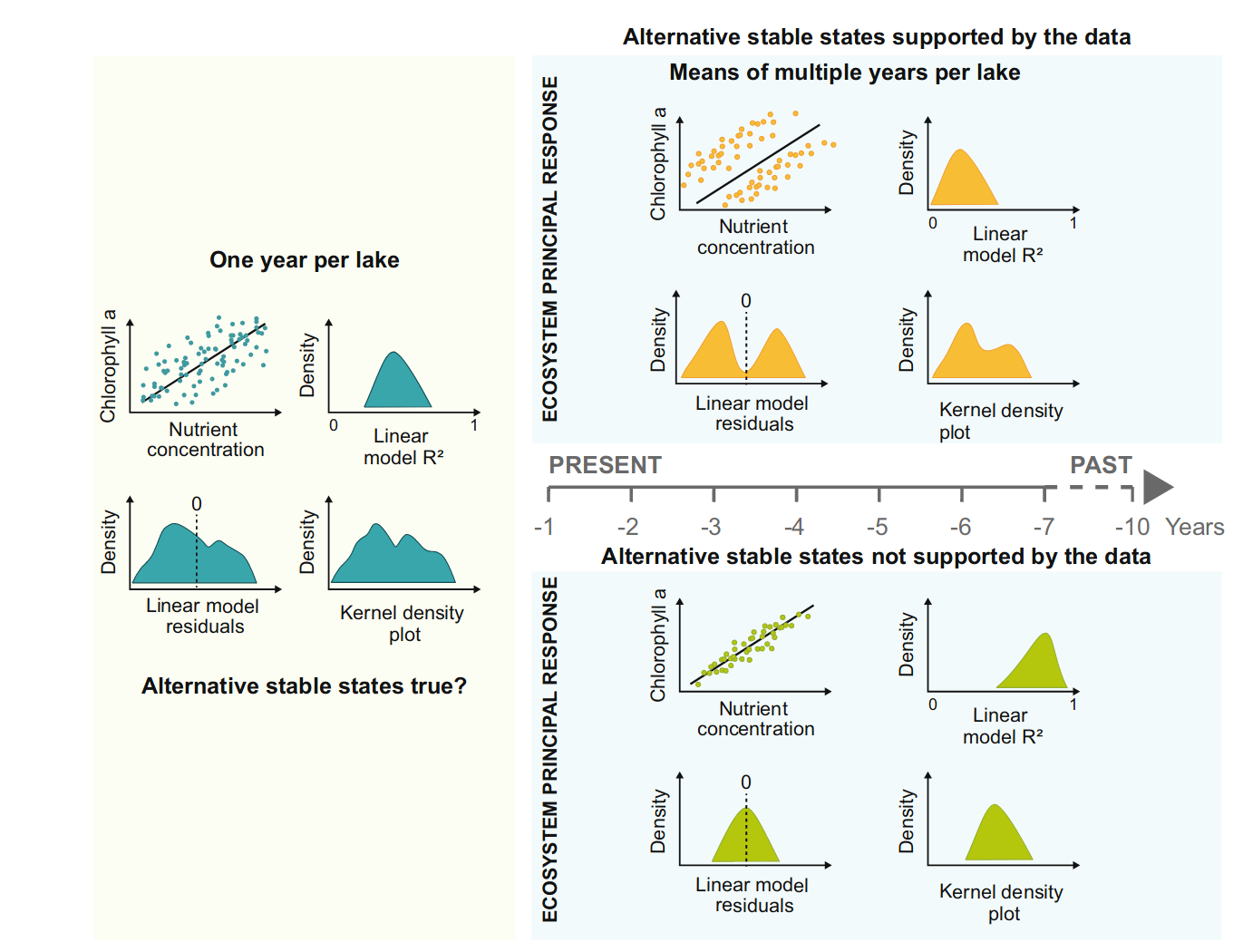 Shallow lakes can take on two alternative stable states – according to a theory on ecological equilibrium in limnology. This paradigm has now been called into question by a study conducted together with Aarhus University (Denmark) and published in the journal Nature Communications. In a data analysis of 902 shallow lakes, we found no evidence for the existence of two alternative stable states. We are critical of lake management measures based on this theory and recommend that greater emphasis be placed on the reduction of nutrient inputs in the future to ensure the ecological equilibrium of shallow lakes.
An analytical framework for determining the ecological risks of wastewater discharges in river networks under climate change

Yang, S., Büttner, O., Kumar, R., Basso, S., & Borchardt, D., (2022) Earth's Future, 10 (10), e2021EF002601.
This study presents a new, analytical and generic framework for assessing the ecological risks posed by WWTP-effluents at the catchment scale. The framework combines the size-class k of WWTPs (a load-proxy) with river stream-order ω (their outflows' location). We analyzed ~3,200 WWTPs over three large catchments (Rhine, Elbe, and Weser) in Central Europe by incorporating simulated streamflow for the most extreme projected climate change scenario. WWTPs causing ecological risks in the future prevail in lower ω across almost all k. Intensified risks are evidently expected in lower ω receiving effluents of mid-k WWTPs, as climate changes. Our findings guide to prioritize WWTPs to be upgraded and further urge updates on environmental regulations. The proposed framework is transferrable to any geographical regions as well as any substances in WWTP-effluents. Thereby, it holds huge potentials to help in achieving global long-term commitments on freshwater security.
Drivers of multi-decadal nitrate regime shifts in a large European catchment

Wachholz, A., Jawitz, J.W., Büttner, O., Jomaa, S., Merz, R., Yang, S., Borchardt, D., (2022) Environ. Res. Lett.
Long-term records show changes in the magnitude and timing of the seasonal pattern of nitrate concentrations in streams, with possibly grave effects on aquatic ecosystems. Seasonal patterns of stream nutrient concentrations are determined by a combination of nutrient inputs, transport, and turnover. Over multi-decadal periods, each of these factors may change due to socio-economic factors such as consumption patterns, governance regimes, or technological control measures. We tested the hypothesis that observed multi-decadal changes in stream nitrate seasonality could be explained by changes in the relative importance of catchment nitrate sources over time. We found that the in-stream nitrate seasonality of the River Elbe changed completely from a weak seasonal pattern with peak concentrations during summer in the 1950s to a strong seasonal pattern with peak concentrations during winter in the 1990s. We link these changes to a succession of technical and political developments which influence the contribution of point and diffuse sources over time.
Becoming nose-blind - Climate change impacts on chemical communication

Roggatz, C.C., Saha, M., Blanchard, S., Schirrmacher, P., Fink, P., Verheggen, F., Hardege, J.D. (2022) Glob. Change Biol. 28
Chemical communication via infochemicals plays a pivotal role in ecological interactions, allowing organisms to sense their environment, locate predators, food, habitats, or mates. A growing number of studies suggest that climate change-associated stressors can modify these chemically mediated interactions, causing info-disruption that scales up to the ecosystem level. However, our understanding of the underlying mechanisms is scarce. This publication illustrates that climate change affects different realms in similar patterns, from molecular to ecosystem-wide levels. The importance of different stressors is assessed for terrestrial, freshwater, and marine ecosystems and a systematic approach is proposed to address knowledge gaps and cross-disciplinary research avenues.