Dr. Gunda Herberth
Helmholtz Centre for
Environmental Research – UFZ
Department of Environmental Immunology
Permoserstr. 15
04318 Leipzig, Germany

Phone: +49 341 6025-1547
Email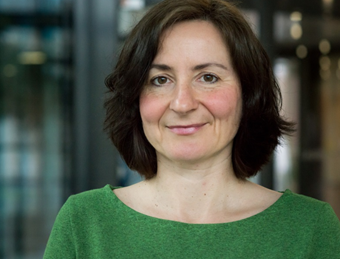 Research Interests
• Influence of environmental exposures on the modulation of immune responses and the development of allergic diseases in prospective birth cohort studies
• Regulation of immune cell activity by environmental contaminants with focus on mucosal-associated invariant T cells (MAIT cells)
• Impact of disturbed T cell function (e.g. regulatory T cells, MAIT cells) on the development of health outcomes
Curriculum vitae / Scientific career
Deputy Head of the Department of Environmental Immunology at the Helmholtz Centre for Environmental Research - UFZ
Acting Head of the Department Environmental Immunology
Principle Investigator (PI) of the LINA study (LINA – Impact of prenatal lifestyle factors and environmental exposure on newborns allergy risk; prospective mother-child-cohort) and of the LISA cohort study (Multicenter prospective German cohort on lifestyle factors, immune system development and allergy)
Head of the research group "Environmental immune cell regulation" at the Helmholtz Centre for Environmental Research – UFZ, Department of Environmental Immunology and Core Facility Studies

Senior Scientist at the Helmholtz Centre for Environmental Research – UFZ, Department of Environmental Immunology and Core Facility Studies (Dr. Irina Lehmann), responsible for the coordination of blood sampling and analysis of immune parameters in the prospective birth cohort studies of the department
Research interest: modulation of immune responses by environmental factors and the impact on allergic outcomes in birth cohort studies
Postdoc at the company "metaGen Pharmaceuticals", Department of Cell Biology, Berlin. Project leader, responsible for validation of new tumour targets at cellular level
Postdoc at the Institute "Deutsches Rheuma-Forschungszentrum", Berlin. Topic: "Characterisation of autoantigen-specific T cells"
PhD Student at the Department of Dermatology, University Hospital Charité and Technical University, Berlin
PhD thesis: "Analysis of tumour-specific T cells in melanoma patients with immune therapy", degree: Dr.rer.nat.
Scientific assistant at the University Hospital Charité, Berlin. Topic: "Generation of reactive oxygen species in tumour cells after treatment with cytokines"
Awarded a Fellowship of the German academic exchange service (DAAD) to study genetics at University of Turku and Oulu, Finnland
Diploma thesis: "Catalase, myeloperoxidase and hydrogen peroxide activity in cystic fibrosis"
Student of Biology, University of Mainz and Tuebingen, Germany

Publications
Index:
You could use our publication index for further requests.
2023 (11)
to index
2022 (13)
to index
2021 (9)
to index
2020 (10)
to index
2019 (9)
to index
2017 (4)
to index
2016 (6)
to index
2015 (4)
to index
2014 (5)
to index
2013 (4)
to index
2012 (11)
to index
2011 (3)
Herberth, G., Hinz, D., Röder, S., Schlink, U., Sack, U., Diez, U., Borte, M., Lehmann, I. (2011):
Maternal immune status in pregnancy: relation to offspring's immunity and allergy risk
Allergy 66 (s94), 187
full text (doi)
Herberth, G., Hinz, D., Röder, S., Schlink, U., Sack, U., Diez, U., Borte, M., Lehmann, I. (2011):
Maternal immune status in pregnancy is related to offspring's immune responses and atopy risk
Allergy 66 (8), 1065 - 1074
full text (doi)
Weisse, K., Lehmann, I., Herberth, G., Kohajda, T., Röder, S., Borte, M., Heroux, A., Denburg, J. (2011):
Circulating eosinophil/basophil (Eo/B) progenitors at one year of age positively correlate with atopic eczema and indoor chemical exposure in the LINA Study
J. Allergy Clin. Immunol. 127 (2), AB146 - AB146
full text (doi)
to index
2010 (11)
to index
2009 (3)
Herberth, G., Daegelmann, C., Röder, S., Behrendt, H., Kraemer, U., Borte, M., Heinrich, J., Herbarth, O., Lehmann, I. (2009):
IL-17E but not IL-17A is associated with allergic sensitisation: results from the LISA study
Allergy 64 (Suppl. 90), 50 - 50
full text (doi)
Herberth, G., Gubelt, R., Röder, S., Krämer, U., Schins, R., Diez, U., Borte, M., Heinrich, J., Wichmann, H.-E., Herbarth, O., Lehmann, I. (2009):
Increase of inflammatory markers after indoor renovation activities: The LISA birth cohort study.
Pediatr. Allergy Immunol. 20 (6), 563 - 570
full text (doi)
Herberth, G., Hinz, D., Röder, S., Diez, U., Borte, M., Lehmann, I. (2009):
Innate versus adaptive immune response in pregnant women and corresponding cord bloods
Cytom. Part A 75A (8), 717 - 718
full text (doi)
to index
2008 (4)
to index
2007 (4)
to index
2006 (3)
Herberth, G., Dägelmann, C., Weber, A., Röder, S., Giese, T., Krämer, U., Schins, R.P.F., Behrendt, H., Borte, M., Lehmann, I. (2006):
Association between neuropeptides, Th1/Th2 polarization and allergy risk in children
Cell Prolif. 39 (5), 365
full text (doi)
Herberth, G., Dägelmann, C., Weber, A., Röder, S., Giese, T., Krämer, U., Schins, R.P.F., Behrendt, H., Borte, M., Lehmann, I. (2006):
Association of neuropeptides with Th1/Th2 balance and allergic sensitization in children
Clin. Exp. Allergy 36 (11), 1408 - 1416
full text (doi)
Trefzer, U., Chen, Y., Herberth, G., Hofmann, M.A., Kiecker, F., Guo, Y., Sterry, W. (2006):
The monoclonal antibody SM5-1 recognizes a fibronectin variant which is widely expressed in melanoma
BMC Cancer 6 , art. 8
full text (doi)
to index
2005 (3)
Herberth, G., Stein, A., Glienke, J., Taudien, S., Klaman, I., Herr, A., Thierauch, K.-H., Sommer, A. (2005):
Human latrophilin-2 is expressed in the cytotrophoblast and syncytiotrophoblast of placenta and in endothelial cells
American Journal of Biochemistry and Biotechnology 1 (3), 136 - 145
full text (doi)
Reinke, S., Königer, P., Herberth, G., Audring, H., Wang, H., Ma, J., Guo, Y., Sterry, W., Trefzer, U. (2005):
Differential expression of MART-1, tyrosinase, and SM5-1 in primary and metastatic melanoma
Am. J. Dermatopathol. 27 (5), 401 - 406
full text (doi)
Trefzer, U., Herberth, G., Wohlan, K., Milling, A., Thiemann, M., Sharav, T., Sparbier, K., Sterry, W., Walden, P. (2005):
Tumour-dentritic hybrid cell vaccination for the treatment of patients with malignant melanoma: immunological effects and clinical results
Vaccine 23 (17-18), 2367 - 2373
full text (doi)
to index
2004 (1)
Trefzer, U., Herberth, G., Wohlan, K., Milling, A., Thiemann, M., Sherev, T., Sparbier, K., Sterry, W., Walden, P. (2004):
Vaccination with hybrids of tumor and dendritic cells induces tumor-specific T-cell and clinical responses in melanoma stage III and IV patients
Int. J. Cancer 110 (5), 730 - 740
full text (doi)
to index
2003 (1)
Riemekasten, G., Langnickel, D., Ebling, F.M., Karpouzas, G., Kalsi, J., Herberth, G., Tsao, B.P., Henklein, P., Langer, S., Burmester, G.R., Radbruch, A., Hiepe, F., Hahn, B.H. (2003):
Identification and characterization of SmD183-119-reactive T cells that provide T cell help for pathogenic anti-double-stranded DNA antibodies
Arthritis Rheum. 48 (2), 475 - 485
full text (doi)
to index
2001 (1)
Tumenjargal, S., Linnemann, T., Gellrich, S., Muche, M., Demine, R., Audring, H., Sparbier, K., Lukowsky, A., Herberth, G., Trefzer, U., Sterry, W., Walden, P. (2001):
T cell responses in cancer patients induced by tumour epitope-specific immune therapy
Cancer Gene Ther. 8 (11), 910
to index
2000 (5)
to index