Lorenz Adrian
Prof. Dr. rer nat
Department head (shared)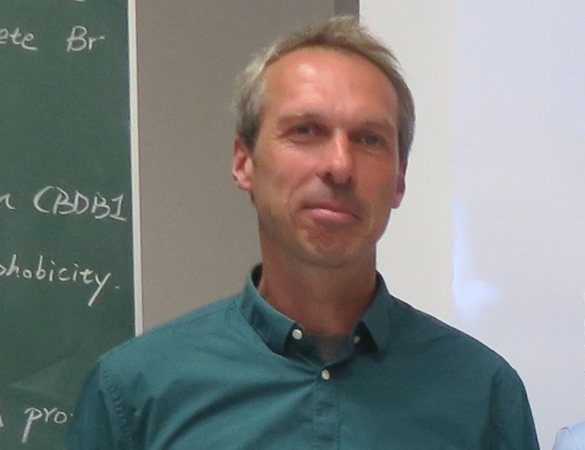 Curriculum Vitae
| | |
| --- | --- |
| 2020 - now | Department head (shared) at UFZ Leipzig, Department Environmental Biotechnology, working group "Geobiochemistry" |
| 2017 - now | Professorship for Geobiotechnology at TU Berlin |
| 2013 - 2020 | Senior Scientist at UFZ Leipzig, Department Isotope Biogeochemistry, working group "Functional Genomics", since 2017 "Geobiochemistry" |
| 2008 - 2013 | Head of an ERC group, Department Isotope Biogeochemistry |
| 2008 - 2010 | Guest Professor for Applied Biochemistry, TU Berlin |
| 2007 | Postdoc Rensselaer Polytechnic Institute, NY, USA |
| 2006 | Habilitation, TU Berlin |
| 2003 | Postdoc Cornell University, NY, USA |
| 1999 | PhD, TU Berlin |
| 1993 | Diploma Biology, Universtät Bonn and University of Manchester, UK |
Research
For information on our research please visit our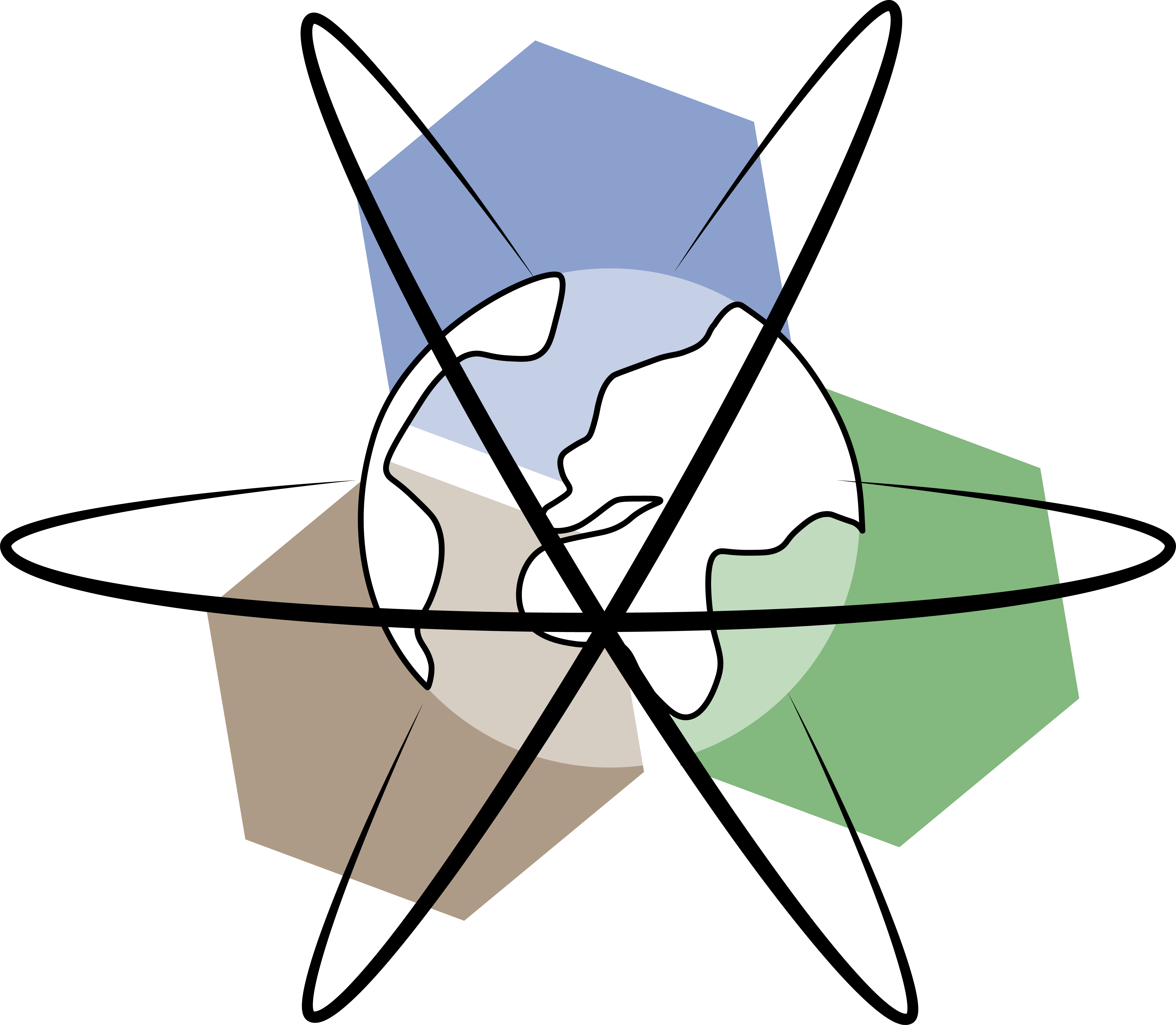 Teaching
An integrated course (lecture series + seminar) on Geobiotechnology is offered at the Institute for Biotechnology at the Technische Universität Berlin. For details see the link to TU Berlin.
We regularly offer a one-week lab course on Geobiotechnology in our labs in Leipzig for students of the TU Berlin courses Biotechnology or Technischer Umweltschutz.
Dr. Karolina Nowak offers an integrated lecture on Isotope Biotechnology during the winter semester at TU Berlin for students of the course Biotechnology.
Dr. Darja Deobald offers an integrated lecture on Enzyme Technology at TU Berlin for iotechnoloy students.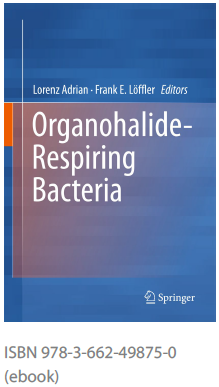 2022 (5)
2021 (13)
2020 (8)
2019 (7)
2018 (17)
2017 (5)
2016 (14)
2015 (7)
2014 (5)
2013 (9)
2012 (4)
2011 (3)
Marco-Urrea, E., Nijenhuis, I., Adrian, L., (2011):
Transformation and carbon isotope fractionation of tetra- and trichloroethene to Trans-Dichloroethene by Dehalococcoides sp. strain CBDB1
Environ. Sci. Technol. 45 (4), 1555 - 1562
full text (doi)
Marco-Urrea, E., Paul, S., Khodaverdi, V., Seifert, J., von Bergen, M., Kretzschmar, U., Adrian, L., (2011):
Identification and characterization of a Re-Citrate synthase in Dehalococcoides strain CBDB1
J. Bacteriol. 193 (19), 5171 - 5178
full text (doi)
Prieto, A., Möder, M., Rodil, R., Adrian, L., Marco-Urrea, E., (2011):
Degradation of the antibiotics norfloxacin and ciprofloxacin by a white-rot fungus and identification of degradation products
Bioresour. Technol. 102 (23), 10987 - 10995
full text (doi)
2010 (4)
2009 (4)
2007 (3)
Adrian, L., Hansen, S.K., Fung, J.M., Gorisch, H., Zinder, S.H., (2007):
Growth of Dehalococcoides strains with chlorophenols as electron acceptors
Environ. Sci. Technol. 41 (7), 2318 - 2323
full text (doi)
Adrian, L., Rahnenführer, J., Gobom, J., Hölscher, T., (2007):
Identification of a chlorobenzene reductive dehalogenase in Dehalococcoides sp. strain CBDB1
Appl. Environ. Microb. 73 (23), 7717 - 7724
full text (doi)
Fung, J.M., Morris, R.M., Adrian, L., Zinder, S.H., (2007):
Expression of reductive dehalogenase genes in Dehalococcoides ethenogenes strain 195 growing on tetrachloroethene, trichloroethene, or 2,3-dichlorophenol
Appl. Environ. Microb. 73 (14), 4439 - 4445
full text (doi)
2005 (2)
Kube, M., Beck, A., Zinder, S.H., Kuhl, H., Reinhardt, R., Adrian, L., (2005):
Genome sequence of the chlorinated compound respiring bacterium Dehalococcoides species strain CBDB1
Nat. Biotechnol. 23 (10), 1269 - 1273
full text (doi)
Seshadri, R., Adrian, L., Fouts, D.E., Eisen, J.A., Phillippy, A.M., Methe, B.A., Ward, N.L., Nelson, W.C., Deboy, R.T., Khouri, H.M., Kolonay, J.F., Dodson, R.J., Daugherty, S.C., Brinkac, L.M., Sullivan, S.A., Madupu, R., Nelson, K.T., Kang, K.H., Impraim, M., Tran, K., Robinson, J.M., Forberger, H.A., Fraser, C.M., Zinder, S.H., Heidelberg, J.F., (2005):
Genome sequence of the PCE-dechlorinating bacterium Dehalococcoides ethenogenes
Science 307 (5706), 105 - 108
full text (doi)
2004 (7)
2003 (5)
2002 (2)
Adrian, L., Görisch, H., (2002):
Microbial transformation of chlorinated benzenes under anaerobic conditions
Res. Microbiol. 153 (3), 131 - 137
full text (doi)
Adrian, L., Görisch, H., (2002):
Transformation chlororganischer Verbindungen durch Dehalococcoides-Species
BIOforum 25 (5), 2 - 3
2001 (2)
Hauck, R., Adrian, L., Wendler, P., Amidjojo, M., Hegemann, W., Görisch, H., (2001):
Transformation of 2,2'-dichlorodiisopropyl ether in mixed and pure culture
Appl. Microbiol. Biotechnol. 56 (3-4), 491 - 495
full text (doi)
Yoo, E.S., Libra, J., Adrian, L., (2001):
Mechanism of decolorization of azo dyes in anaerobic mixed culture
J. Environ. Eng.-ASCE 127 (9), 844 - 849
full text (doi)
2000 (2)
Adrian, L., Szewzyk, U., Görisch, H., (2000):
Bacterial growth based on reductive dechlorination of trichlorobenzenes
Biodegradation 11 (1), 73 - 81
full text (doi)
Adrian, L., Szewzyk, U., Wecke, J., Görisch, H., (2000):
Bacterial dehalorespiration with chlorinated benzenes
Nature 408 (6812), 580 - 583
full text (doi)
1998 (1)
Adrian, L., Manz, W., Szewzyk, U., Görisch, H., (1998):
Physiological characterization of a bacterial consortium reductively dechlorinating 1,2,3- and 1,2,4-trichlorobenzene
Appl. Environ. Microb. 64 (2), 496 - 503