Scientific investigators
Dr. Susanne Dunker (PI) (UFZ/ iDiv)
Prof. Dr. W. S. Harpole (UFZ/ iDiv/ MLU Halle-Wittenberg)
Dr. Jan Bumberger (UFZ)
Prof. Dr. Peter Dietrich (UFZ/ EKU Tübingen)
Dr. Anett Richter (UFZ/ iDiv)
Prof. Dr. Aletta Bonn (UFZ/ iDiv/ FSU Jena)
Prof. Dr. Regina Treudler (UKL)
Prof. Dr. Tiffany Knight (UFZ/ iDiv/ MLU Halle-Wittenberg)
Dr. Jana Wäldchen (MPI BGC Jena)
Prof. Dr. Patrick Mäder (TU Ilmenau)
Prof. Dr. Robert Paxton (iDiv/ MLU Halle-Wittenberg)
Dr. Thomas Hornick (UFZ/ iDiv)



About the project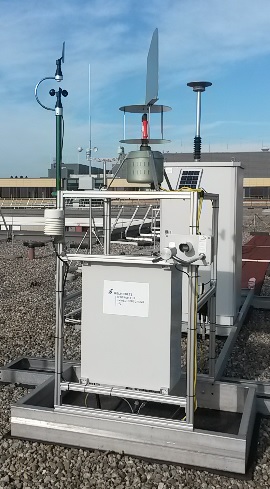 Burkhard-Pollenfalle (Foto: S. Dunker) The project investigates air quality and pollination in the framework of ecosystem services through technical (automated high throughput pollen analysis) and social innovation (citizen science). The project connects two crucial ecosystem services and their stressors, having in common pollen diversity (PolDiv). First, we consider air quality as being impaired by allergic pollen (wind distributed pollen) and their health consequences of combined biological and physical impacts of human activities manifested through changes in plant species pollen abundance and particulate matter resulting in air pollution. Second, pollination is impaired by insect death and changes in plant-pollinator interactions (insect distributed pollen). To understand the relationships between pollen abundance, particulate matter, incidence of allergy symptoms as well as plant-pollinator interactions, we develop and integrate new methods in particle analysis, machine learning, monitoring and sensing, and develop a larger joint project with societal engagement.

News
Sächsische Zeitung 01.02.2021 SZ
Leipziger Internetzeitung 11.03.2019 l-iz
UKL-Journal Liebigstraße Aktuell (April 2019) UKL 04/19
ZEIT Campus Forschen unter Zeitdruck
Leibniz-Institut für Troposphärenforschung 18.07.2019 Wie verteilen sich Pollen in der Luft?