Dr. Heidi Wittmer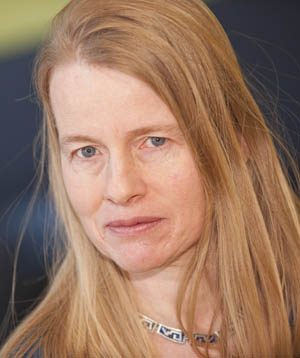 Curriculum Vitae
deputy head of the Department of Environmental Politics
post-doc researcher at UFZ
consultancy for the Centre for Development Research (ZEF), Bonn
senior researcher, Interdisciplinary Centre for Sustainable Development, University of Göttingen
Ph D. in Socio-economics of rural development, University of Göttingen
economist, Food and Agricultural Organisation, FAO, Rome
DAAD-long term lecturer Univ. of Tunja in Colombia
Agricultural Sciences: B.Sc. (1985 Univ. Gießen) M.Sc. (1989 TU-Berlin)
Workshops Organised
Governance of Natural Resources in a Multi-Level Context, final conference of the GoverNat project, 20.-22.1.2010, Leipzig, Germany
International Science-Policy Interfaces for Biodiversity Governance, international workshop, 2.-4.10.2006, UFZ Leipzig
New Strategies for Solving Environmental Conflicts: Potentials for Combining Participation and Multicriteria Analysis, Summersymposium, 26.-28.6.2002, UFZ Leipzig
EU INCO-DEV International Workshop: Policy Options for the Sustainable Use of Coral Reefs and Associated Ecosystems, 19.-22.6.2000, Mombasa, Kenya
Teaching Experiences
1990-98 a total of 25 lectures, seminars and workshops at universities, public administrations and non-governmental organisations covering: participatory methods in rural development, empirical social research, 'Farming Systems Development', agricultural economics and marketing, natural resource management
2000 'learning cabinet' for interdisciplinary communication between natural social and legal sciences
Publications
2023 (2)
Khan, S. J., Förster, J., Brenck, M., Raab, K., Garcia Rangel, S., Wittmer, H. (2023):
Guidebook on national biodiversity platforms: Connecting nature and people
Helmholtz Centre for Environmental Research - UFZ, Leipzig, Germany and the UN Environment Programme World Conservation Monitoring Centre (UNEP-WCMC), Cambridge, 70 pp.
full text (doi)
Pe'er, G., Kachler, J., Herzon, I., Hering, D., Arponen, A., Bosco, L., Bruelheide, H., Friedrichs-Manthey, M., Hagedorn, G., Hansjürgens, B., Ladouceur, E., Lakner, S., Liquete, C., Quaas, M., Robuchon, M., Saavedra, D., Selva, N., Settele, J., Sirami, C., van Dam, N.M., Wittmer, H., Wubs, E.R.J., Bonn, A. (2023):
Scientists support the EU's Green Deal and reject the unjustified argumentation against the Sustainable Use Regulation and the Nature Restoration Law
Zenodo 10.5281/zenodo.8128624
2022 (1)
Berghöfer, U., Rode, J., Jax, K., Förster, J., Berghöfer, A., Wittmer, H. (2022):
'Societal relationships with nature': A framework for understanding nature-related conflicts and multiple values
People Nat. 4 (2), 534 - 548
full text (doi)
2021 (3)
Brenck, M., Hansjürgens, B., Schröter-Schlaack, C., Tröger, U., Wessner, A., Wittmer, H. (2021):
Gesellschaftliche Wertigkeit des Tempelhofer Feldes – Qualitäten erfassen und sichtbar machen
UFZ Discussion Papers 5/2021
Helmholtz-Zentrum für Umweltforschung - UFZ, Leipzig, 94 S.
Wittmer, H., Berghöfer, A., Büttner, L., Chakrabarty, R., Förster, J., Khan, S., König, C., Krause, G., Kreuer, D., Locher-Krause, K.E., Moreno Soares, T., Munoz, M., Neumann, M., Renner, I., Rode, J., Schniewind, I., Schwarzer, D., Tröger, U., Zinngrebe, Y., Spiering, S. (2021):
Es geht um unsere Lebensgrundlage: Wie wir jetzt handeln können, um die globalen Gemeingüter Biodiversität, Wälder und Meere für eine lebenswerte Zukunft zu erhalten
UFZ-Bericht 2/2021
Helmholtz-Zentrum für Umweltforschung - UFZ, Leipzig, 15 S.
Wittmer, H., Berghöfer, A., Büttner, L., Chakrabarty, R., Förster, J., Khan, S., König, C., Krause, G., Kreuer, D., Locher-Krause, K., Moreno Soares, T., Muñoz Escobar, M., Neumann, M., Renner, I., Rode, J., Schniewind, I., Schwarzer, D., Tröger, U., Zinngrebe, Y., Spiering, S. (2021):
Transformative change for a sustainable management of global commons — biodiversity, forests and the ocean. Recommendations for international cooperation based on a review of global assessment reports and project experience
UFZ-Bericht 3/2021
Helmholtz-Zentrum für Umweltforschung - UFZ, Leipzig, 154 pp.
full text (doi)
2020 (3)
Dicks, L.V., Livoreil, B., Smith, R.K., Wittmer, H., Young, J. (2020):
Aligning evidence for use in decisions: mechanisms to link collated evidence to the needs of policy-makers and practitioners
In: Sutherland, W.J., Brotherton, P.N.M., Davies, Z.G., Ockendon, N., Petorelli, N., Vickery, J.A. (eds.)
Conservation research, policy and practice
Ecological Reviews
Cambridge University Press, Cambridge, p. 129 - 142
full text (doi)
Krause, G., Wolf, C., Happe, A.-K., Hauck, J., Buttigieg, P.L., Fuchs, N., Scheve, J., König, C., Wittmer, H., Raab, K. (2020):
Lessons learnt from linking global recommendations with localized marine restoration schemes and policy options by using mixed methods
Front. Mar. Sci. 7 , art. 532
full text (doi)
Skrimizea, E., Lecuyer, L., Bunnefeld, N., Butler, J.R.A., Fickel, T., Hodgson, I., Holtkamp, C., Marzano, M., Parra, C., Pereira, L., Petit, S., Pound, D., Rodríguez, I., Ryan, P., Staffler, J., Vanbergen, A.J., Van den Broeck, P., Wittmer, H., Young, J.C. (2020):
Sustainable agriculture: Recognizing the potential of conflict as a positive driver for transformative change
In: Bohan, D.A., Vanbergen, A.J. (eds.)
The future of agricultural landscapes, Part I
Advances in Ecological Research 63
Academic Press / Elsevier, London, p. 255 - 311
full text (doi)
2019 (5)
2018 (4)
2017 (5)
2016 (8)
2015 (7)
2014 (11)
2013 (8)
2012 (7)
2011 (6)
2010 (5)
2009 (9)
2008 (5)
2007 (7)
2006 (7)
2005 (7)
2004 (3)
Birner, R., Wittmer, H. (2004):
On the 'efficient boundaries of the state': the contribution of transaction-costs economics to the analysis of decentralization and devolution in natural resource management
Environ. Plan. C-Gov. Policy 22 (5), 667 - 685
full text (doi)
Dombrowsky, I., Wittmer, H., Rauschmayer, F. (Hrsg., 2004):
Institutionen in Naturschutz und Ressourcenmanagement - Beiträge der neuen Institutionenökonomik
UFZ-Bericht 7/2004
UFZ Leipzig-Halle GmbH, Leipzig, 163 S.
Wittmer, H., Birner, R. (2004):
The role of the state in biodiversity governance: theoretical considerations and empirical evidence from Guatemala
In: Dombrowsky, I., Wittmer, H., Rauschmayer, F. (eds.)
Institutionen in Naturschutz und Ressourcenmanagement - Beiträge der neuen Institutionenökonomik
UFZ-Bericht 7/2004
UFZ Leipzig-Halle GmbH, Leipzig, p. 115 - 134
2003 (4)
2002 (2)
Birner, R., Jell, B., Wittmer, H. (2002):
Coping with co-management: a framework for analysing the co-operation between state and farmers' organisations in protected area management
In: Hagedorn, K. (ed.)
Environmental co-operation and institutional change. Theories and policies for European agriculture

New Horizons in Environmental Economics
Edward Elgar, Cheltenham, p. 46 - 65
Wittmer, H., Berger, T. (2002):
Clean Development Mechanism: Neue Potenziale für regenerative Energien? Möglichkeiten und Grenzen einer verstärkten Nutzung von Bioenergieträgern in Entwicklungsländern
ZEF Discussion Papers on Development Policy 58
Zentrum für Entwicklungsforschung, Bonn, 82 S.
2001 (1)
2000 (4)