The working group BioGeoOmics integrates state-of-the art instrumental and methodological approaches to study dynamic interactions of molecules in the environment. These molecular interactions include natural processes (e.g. metabolism, organic matter diagenesis) as well as anthropogenic interferences (interaction of biological systems with chemicals).
At the core of the the analytical toolkit of the BioGeoOmics-group, we use ultra-high resolution mass spectrometry (FT-ICR MS) and mass spectrometric imaging (MSI) supported by biogeochemical and chemo-informatics methods. We use these tools to explore chemical and biological transformations of organic molecules, their spatial localization in tissues, and to identify metabolites and unknown chemicals and transformation products in complex mixtures.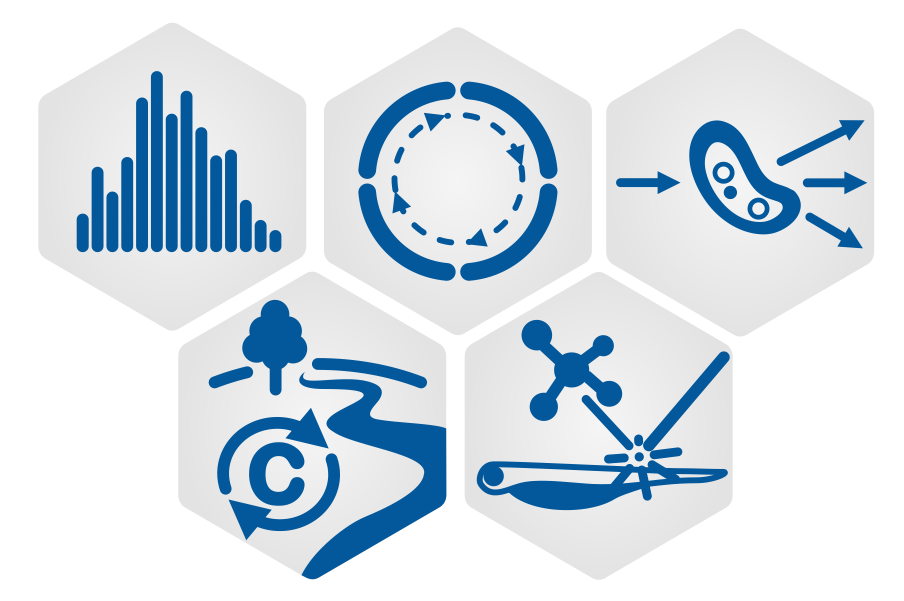 The methods and concepts are applied to various research fields:
Ultra-complex mixtures: Natural organic matter characterization and transformation

Identification of transformation products and their interactions in complex mixtures

Non-target analysis: Applications of stable isotope metabolomics (NT-SIM) and biogeochemistry (NT-SIB) with use of FT-ICR MS

MSI of biological systems: Uptake and distribution of chemicals, primary and secondary metabolites in plants and zebrafish model systems

Single-cell metabolomics/fluxomics
Our lab is equipped with a Bruker SolariX XR 12T FT-ICR MS (with ESI, APPI, APCI and MALDI ion sources) and a Bruker Autoflex Speed MALDI-ToF instrument. We use a UHPLC (Thermo Ultimate 3000 RSLC) and Nano-UHPLC (Thermo RSnLC) with an Advion TriVersa Nanomate nanoESI ion source for chromatographic pre-separation and low flow applications. Furthermore, we have access to the analytical facilities of the Department Analytical Chemistry and ProVIS .

Scientist:
PhD students:
Limei Han
Elaine Jennings
Martin Lohse
Maria da Silva
Engineer/Technician:
Jan Kaesler

Students:

Bruno Schmidt (Uni Leipzig)
Rebecca Haag (Hochschule Ansbach)
Arina Kremser (Master, Uni Gießen)
Alexander Fürll (Uni Leipzig)
Alumni:
Dr. Julia Raeke
Miriam Fuß
Kevin Jakob
Chang Peng
Henning Teickner
Maria Wieckhusen


2020 (9)
2019 (6)
2018 (4)
2017 (3)
Koch, B.P., Ksionzek, K.B., Lechtenfeld, O.J., McCallister, S.L., Schmitt-Kopplin, P., Geuer, J.K., Geibert, W., (2017):
Response to comment on "Dissolved organic sulfur in the ocean: Biogeochemistry of a petagram inventory"
Science 356 (6340), 813 - 813
full text (doi)
Raeke, J., Lechtenfeld, O.J., Seiwert, B., Meier, T., Riemenschneider, C., Reemtsma, T., (2017):
Photochemically induced bound residue formation of carbamazepine with dissolved organic matter
Environ. Sci. Technol. 51 (10), 5523 - 5530
full text (doi)
Raeke, J., Lechtenfeld, O.J., Tittel, J., Oosterwoud, M.R., Bornmann, K., Reemtsma, T., (2017):
Linking the mobilization of dissolved organic matter in catchments and its removal in drinking water treatment to its molecular characteristics
Water Res. 113 , 149 - 159
full text (doi)
2016 (3)
Ksionzek, K.B., Lechtenfeld, O.J., McCallister, S.L., Schmitt-Kopplin, P., Geuer, J.K., Geibert, W., Koch, B.P., (2016):
Dissolved organic sulfur in the ocean: Biogeochemistry of a petagram inventory
Science 354 (6311), 456 - 459
full text (doi)
Laso-Pérez, R., Wegener, G., Knittel, K., Widdel, F., Harding, K.J., Krukenberg, V., Meier, D.V., Richter, M., Tegetmeyer, H.E., Riedel, D., Richnow, H.-H., Adrian, L., Reemtsma, T., Lechtenfeld, O.J., Musat, F., (2016):
Thermophilic archaea activate butane via alkyl-coenzyme M formation
Nature 539 (7629), 396 - 401
full text (doi)
Raeke, J., Lechtenfeld, O.J., Wagner, M., Herzsprung, P., Reemtsma, T., (2016):
Selectivity of solid phase extraction of freshwater dissolved organic matter and its effect on ultrahigh resolution mass spectra
Environ. Sci.-Proc. Imp. 18 (7), 918 - 927
full text (doi)
2015 (1)
Lechtenfeld, O.J., Hertkorn, N., Shen, Y., Witt, M., Benner, R., (2015):
Marine sequestration of carbon in bacterial metabolites
Nat. Commun. 6 , art. 6711
full text (doi)