Martin Lohse

Ph.D. student
Contact / Address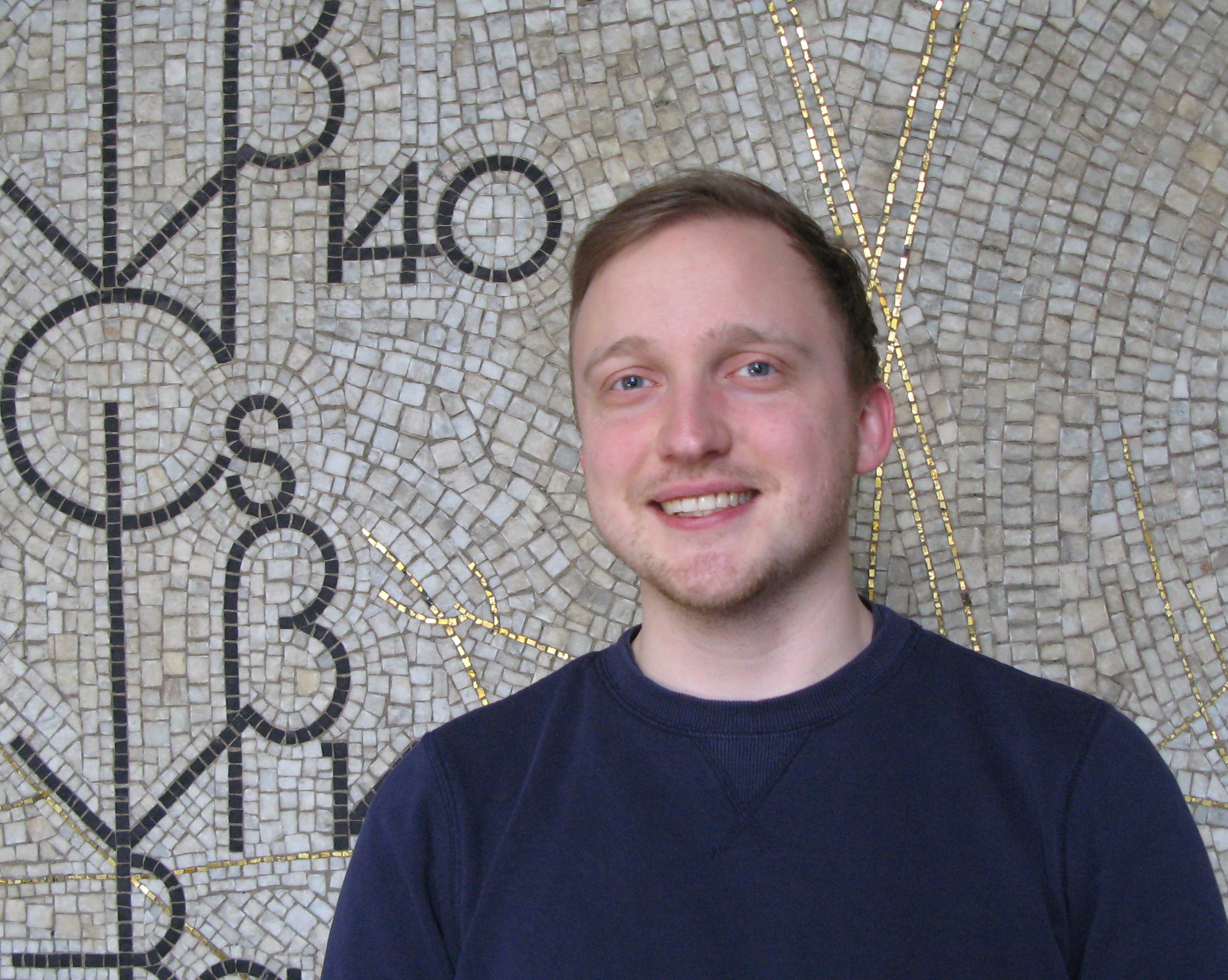 Helmholtz-Centre for Environmental Research – UFZ
Department Analytical Chemistry
Permoserstr. 15
DE-04318 Leipzig
Germany
Building 4.0, Room 410
Phone: 0341 235 1417
ORCiD 0000-0003-2170-9476
ResearchGate
Current Research Project

My Ph.D. project is part of an interdisciplinary research consortium in the DFG funded priority program Rhizosphere Spatiotemporal Organisation - a Key to Rhizosphere Functions (SPP2089). In this consortium, research groups from various disciplines, such as soil physics, soil chemistry, plant physiology, microbiology, and modeling collaborate to analyze the function and development of the region of soil that is directly influenced by the root (rhizosphere). The aim is to identify spatiotemporal patterns in the rhizosphere and to understand the mechanisms responsible for rhizosphere functions.
In the project MoleBIRD, I am characterizing carbon dynamics in the rhizosphere. I want to understand how root-originated organic compounds shape the composition of the soil organic matter (SOM) pool and which parameters influence this complex mixture. I apply ultra-high resolution mass spectrometry (FT-ICR-MS) to analyze the small scale processes in the rhizosphere.
I work on the development of analytical methods in the research group BioGeoOmics (Department Analytical Chemistry). To unravel molecular gradients in soil new techniques with high specificity and sensitivity are needed.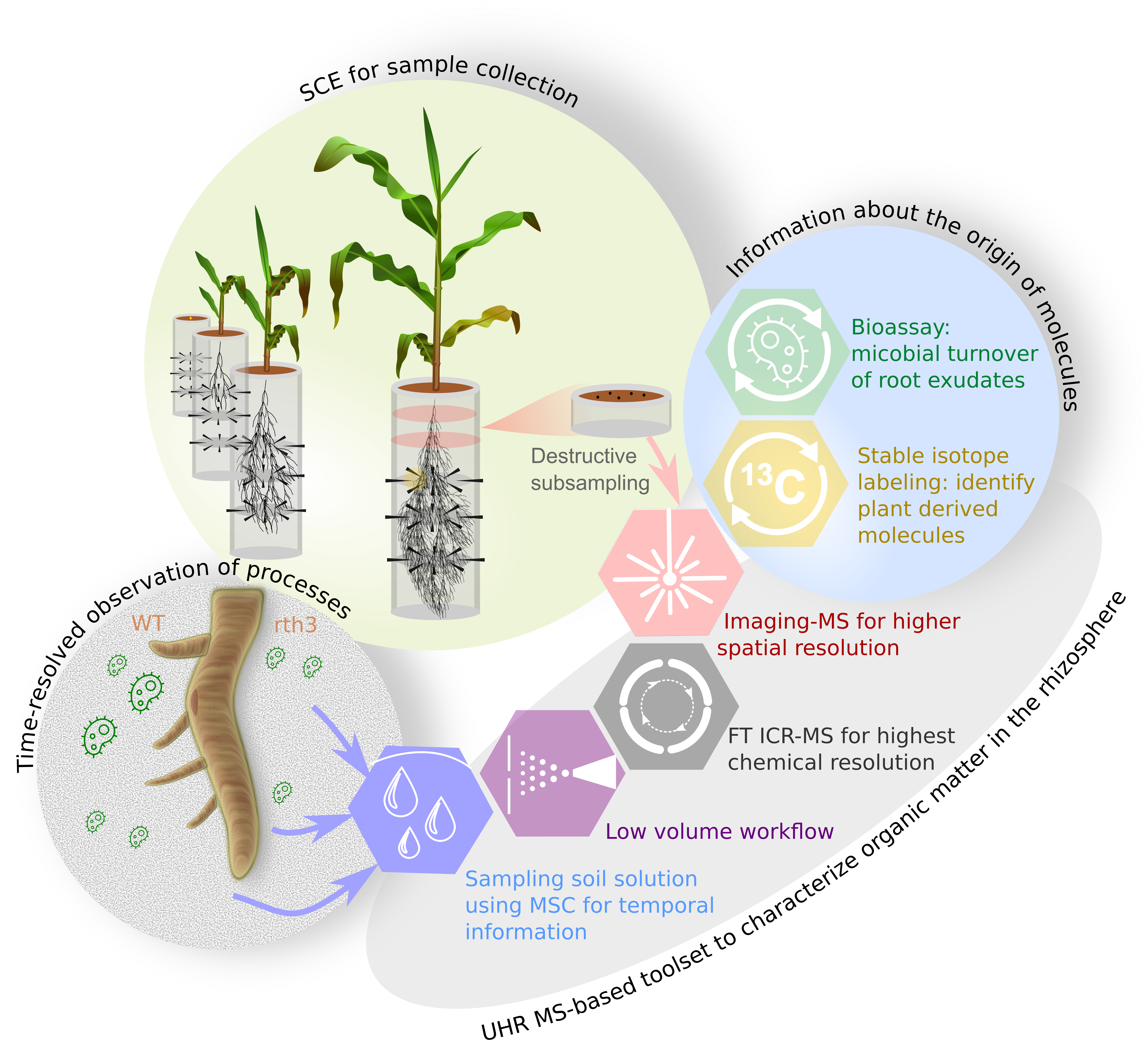 Curriculum Vitae
since 2018
Ph.D. student, Department of Analytical Chemistry, Helmholtz Centre for Environmental Research

2016-2018
Master of Science in Chemistry, Leipzig University,
Master's thesis at the Helmholtz Centre for Environmental Research: "Single cell analysis by high resolution mass spectrometry"
2012-2016
Bachelor of Science in Chemistry, Hochschule Zittau/Görlitz – University of Applied Sciences,
Bachelor's thesis at the Helmholtz-Centre Dresden-Rossendorf: "Synthesis of lysine-derived inhibitors of transglutaminase 2 as potential radiotracers for the functional characterization of this enzyme"

2011-2012
Employee Quality Management, State Reservoir Administration of Saxony
2011
Chemical Laboratory Assistant, Staatliche Betriebsgesellschaft für Umwelt und Landwirtschaft
2007-2011
Vocational training Chemical Laboratory Assistant, Staatliche Betriebsgesellschaft für Umwelt und Landwirtschaft
Publications
2023 (2)
Han, L., Lohse, M., Nihemaiti, M., Reemtsma, T., Lechtenfeld, O.J. (2023):
Direct non-target analysis of dissolved organic matter and disinfection by-products in drinking water
with nano-LC-FT-ICR-MS
Environ. Sci.-Wat. Res. Technol.
full text (doi)
Lohse, M., Santangeli, M., Steininger-Mairinger, T., Oburger, E., Reemtsma, T., Lechtenfeld, O.J., Hann, S. (2023):
The effect of root hairs on exudate composition: a comparative non-targeted metabolomics approach
Anal. Bioanal. Chem. 415 (5), 823 - 840
full text (doi)
2021 (1)
Lohse, M., Haag, R., Lippold, E., Vetterlein, D., Reemtsma, T., Lechtenfeld, O.J. (2021):
Direct imaging of plant metabolites in the rhizosphere using laser desorption ionization ultra-high resolution mass spectrometry
Front. Plant Sci. 12 , art. 753812
full text (doi)
2020 (2)
Lohse, M., Blaser, S.R.G.A., Vetterlein, D., Schlüter, S., Oburger, E., Reemtsma, T., Lechtenfeld, O.J. (2020):
Online nano solid phase extraction Fourier-transform ion cyclotron resonance mass spectrometry workflow to analyze small scale gradients of soil solution organic matter in the rhizosphere
Anal. Chem. 92 (15), 10442 - 10449
full text (doi)
Lohse, M., Dusny, C., Kaesler, J., Lechtenfeld, O.J. (2020):
MRMS powered single cell metabolomics – Quantification of picogram amounts of a biocatalytic product from few living cells
Bruker Application Note 05-2020, MRMS-70, 1877441
Bruker Daltonics, 6 pp.
full text (doi)
2019 (1)
Dusny, C., Lohse, M., Reemtsma, T., Schmid, A., Lechtenfeld, O.J. (2019):
Quantifying a biocatalytic product from a few living microbial cells using microfluidic cultivation coupled to FT-ICR-MS
Anal. Chem. 91 (11), 7012 - 7018
full text (doi)
Publication without UFZ-affiliation
Wodtke, R., Hauser, C., Ruiz-Gómez, G., Jäckel, E., Bauer, D., Lohse, M., Wong, A., Pufe, J., Ludwig, F.-A., Fischer, S., Hauser, S., Greif, D., Pisabarro, M.T., Pietzsch, J., Pietsch, M., Löser, R., (2018):

Nε-Acryloyllysine Piperazides as Irreversible Inhibitors of Transglutaminase 2: Synthesis, Structure-Activity Relationships, and Pharmacokinetic Profiling. J. Med. Chem. 61 (10), 4528–4560 full text (doi)