Dr. Rico Fischer

Contact
Helmholtz Centre for Environmental Research - UFZ Leipzig

Department of Ecological Modelling
Permoserstr. 15
04318 Leipzig
Germany
Buildung 1.0, Room 202 Map
Tel.: +49 341 235 - 48 2267
Fax: +49 341 235 - 45 2267
rico.fischer@ufz.de
Research Interests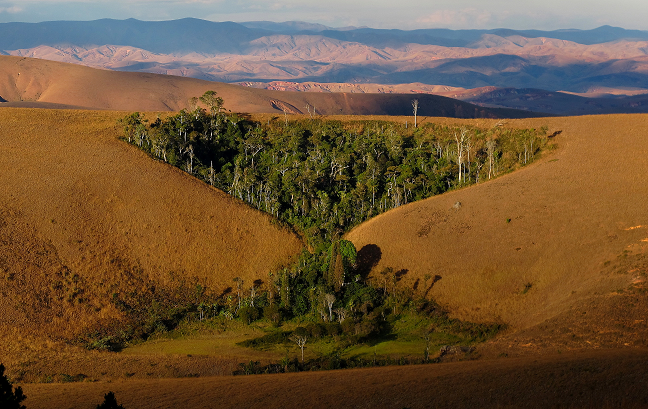 Projects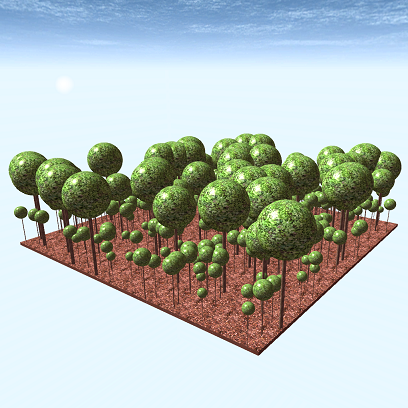 Simulating the carbon stocks and fluxes of tropical rainforests at Mt. Kilimanjaro: KiLi Project.

Modelling the dynamics of tropical rainforests in Madagascar. Analyzing the impact of drought and logging on rainforest structure and dynamics.
Emissions from the edge of the forest
Deforestation has a correspondingly fatal effect, even for the remaining forest fragments. Vegetation at the edges is exposed to an unfavourable micro-climate: direct solar radiation and higher wind speeds mean that these areas dry out more readily. We analysed the state of tropical forest fragmentation and its impact on the global carbon cycle by using high-resolution remote sensing data. We have discovered that fragmentation of formerly contiguous areas of forest leads to carbon emissions rising by another third.
Publication: High resolution analysis of tropical forest fragmentation and its impact on the global carbon cycle.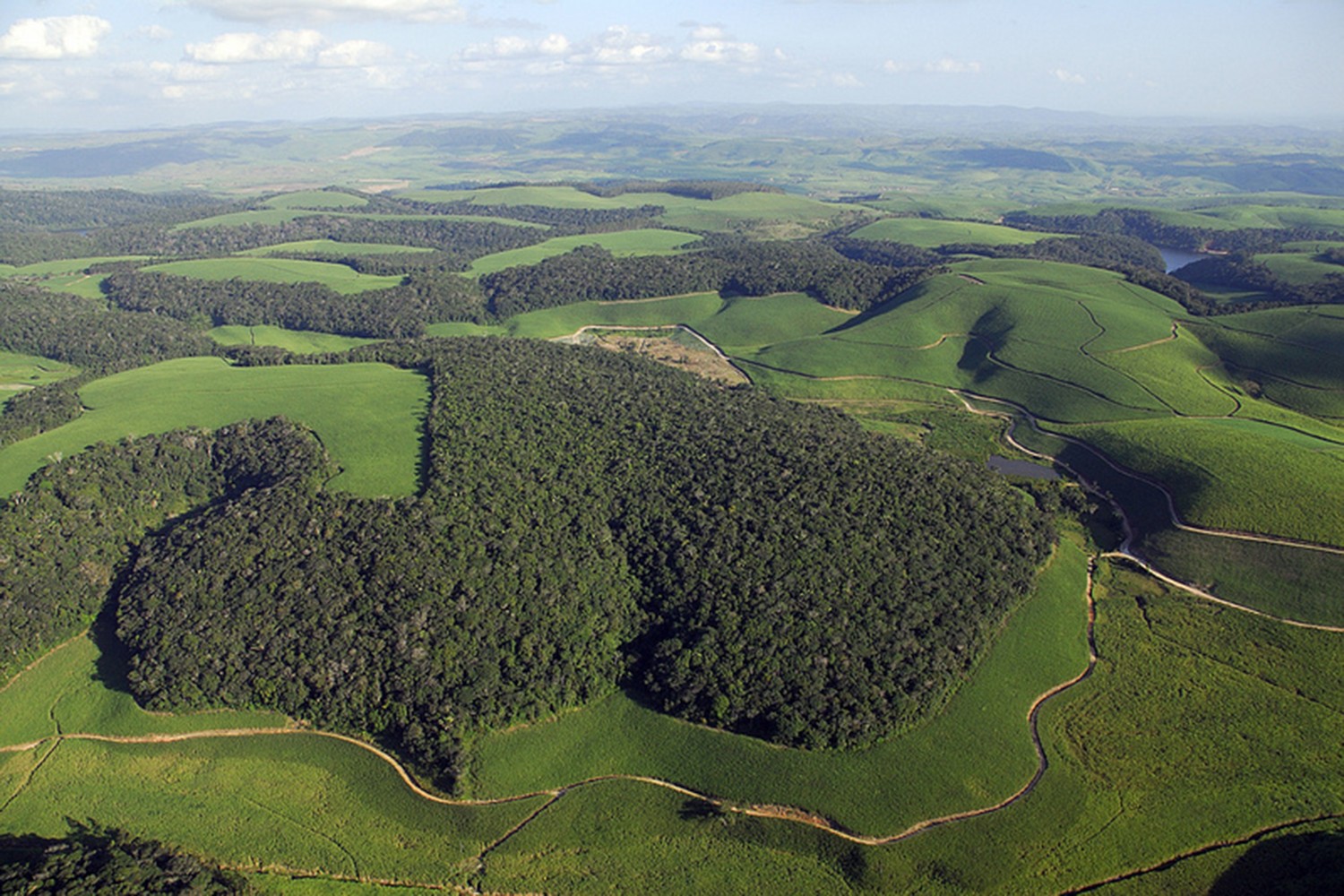 Global forest fragmentation patterns
We found similar patterns of fragment sizes in the tropics across all continents. These patterns follow exactly the analytical predictions of percolation theory. In our analysis we show that, beyond the critical point, continental tropical landscapes will in future consist of many more small and isolated forest fragments if deforestation continues as before.
Publication: Global patterns of tropical forest fragmentation
Estimating forest structure from remote sensing

We investigated the potential of radar data to monitor forest structure and its temporal variations. Forest structure identification can be used to distinguish between different forest stages and different types of forest structure changes induced by logging, natural disturbance, or forest management.
Publication: Monitoring of Forest Structure Dynamics by Means of L-Band SAR Tomography
More methods regarding forest structure analysis was performed within the HGF Alliance "Remote Sensing and Earth System Dynamics" - improving the understanding and modelling of dynamic processes.
Linking remote sensing with ecological modeling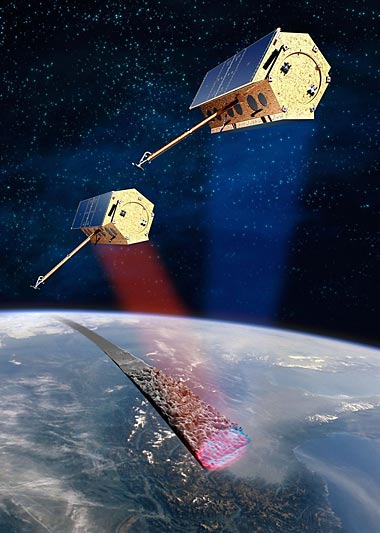 2018 (7)
2017 (4)
2016 (3)
Fischer, R., Bohn, F., Dantas de Paula, M., Dislich, C., Groeneveld, J., Gutiérrez, A.G., Kazmierczak, M., Knapp, N., Lehmann, S., Paulick, S., Pütz, S., Rödig, E., Taubert, F., Köhler, P., Huth, A., (2016):
Lessons learned from applying a forest gap model to understand ecosystem and carbon dynamics of complex tropical forests
Ecol. Model. 326 , 124 - 133
full text (url)
Hiltner, U., Bräuning, A., Gebrekirstos, A., Huth, A., Fischer, R., (2016):
Impacts of precipitation variability on the dynamics of a dry tropical montane forest
Ecol. Model. 320 , 92 - 101
full text (url)
Kazmierczak, M., Backmann, P., Fedriani, J.M., Fischer, R., Hartmann, A.K., Huth, A., May, F., Müller, M.S., Taubert, F., Grimm, V., Groeneveld, J., (2016):
Monodominance in tropical forests: modelling reveals emerging clusters and phase transitions
J. R. Soc. Interface 13 (117), art. 0123
full text (url)
2015 (2)
Fischer, R., Ensslin, A., Rutten, G., Fischer, M., Schellenberger Costa, D., Kleyer, M., Hemp, A., Paulick, S., Huth, A., (2015):
Simulating carbon stocks and fluxes of an African tropical montane forest with an individual-based forest model
PLOS One 10 (4), e0123300
full text (url)
Shugart, H.H., Asner, G.P., Fischer, R., Huth, A., Knapp, N., Le Toan, T., Shuman, J.K., (2015):
Computer and remote-sensing infrastructure to enhance large-scale testing of individual-based forest models
Front. Ecol. Environ. 13 (9), 503 - 511
full text (url)
2014 (2)
Fischer, R., (2014):
Modellierung der Dynamik afrikanischer Tropenwälder. Analyse des Einflusses von Störungen auf tropische Wälder mit Hilfe des Waldmodells FORMIND
Dissertation, Universität Osnabrück
PhD Dissertation 4/2014
Helmholtz-Zentrum für Umweltforschung - UFZ, Leipzig, 187 S.
full text (pdf)
Fischer, R., Armstrong, A., Shugart, H.H., Huth, A., (2014):
Simulating the impacts of reduced rainfall on carbon stocks and net ecosystem exchange in a tropical forest
Environ. Modell. Softw. 52 , 200 - 206
full text (url)
| | |
| --- | --- |
| since 2018 | Post Doc position at the Helmholtz Centre for Environmental Research Leipzig. Linking remote sensing and forest modeling. |
| 2013 - 2017 | Post Doc position at the Helmholtz Alliance "Remote Sensing and Earth System Dynamics" |
| 2010 - 2013 | PhD student at the Helmholtz Centre for Environmental Research Leipzig within the DFG Research Unit "KiLi" Kilimanjaro ecosystems under global change - Linking biodiversity, biotic interactions and biogeochemical ecosystem processes |
| 2008 - 2010 | Master in Applied Mathematics at the University of Applied Science (HTWK) Leipzig |
| 2005 - 2008 | Diploma in Business Mathematics at the University of Applied Science (HTWK) Leipzig |
Awards
2014 - UFZ Doctoral Award
2013 - Best Presentation HIGRADE Conference