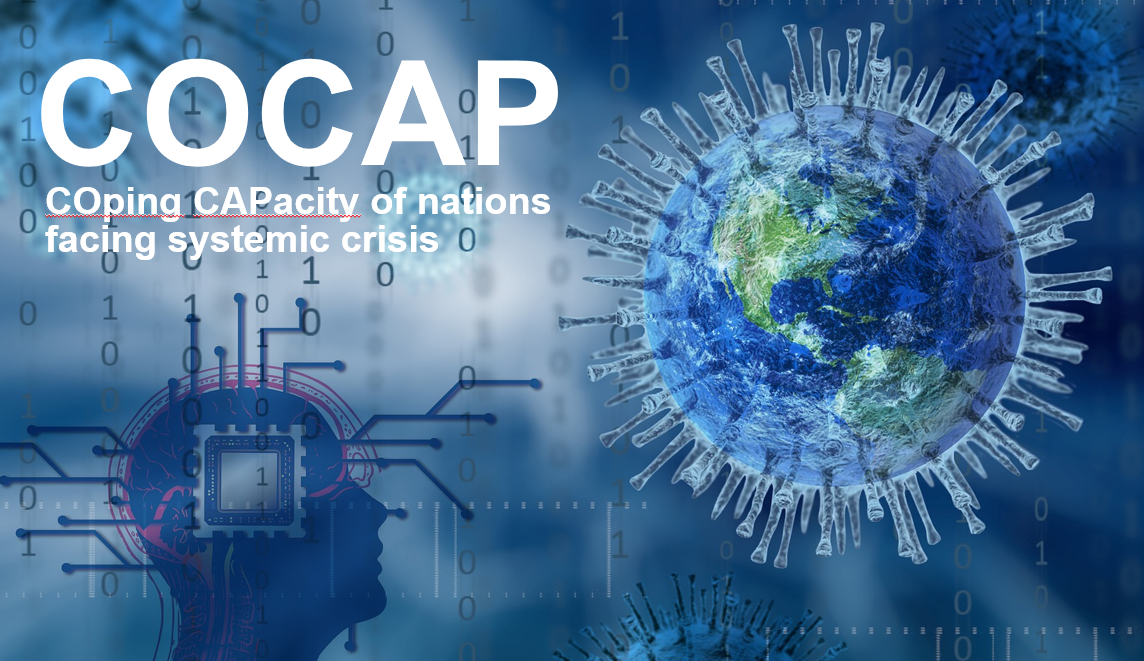 COCAP
COping CAPacity of nations facing systemic crisis – a global intercomparison exploring the SARS-CoV-2 pandemic
The SARS-CoV-2 pandemic is a systemic global crisis. It is characterized by huge economic, social and ecological impacts posing a global threat to humanity and there is a broad consensus that the next pandemic is likely to be caused by a SARS type virus again. Consequently, an important research avenue is the development of a deeper understanding of how to increase the coping capacity of nations facing such a systemic crisis in the future.
We define the coping capacity in relatively broad terms as the ability of people or organisations to reduce the negative impacts of a crisis. We treat the SARS-CoV-2 pandemic as an unprecedented combination of multiple 'stress tests' for more than 190 nations being exposed to the virus, all of them facing the same challenge of minimizing the health risks and simultaneously minimizing the economic damage caused by the pandemic mitigation measures. Taking into consideration the specific national conditions we plan an extremely thorough data analysis tapping into the large and versatile data sets available worldwide, employing advanced data science methods. Based on a comprehensive and robust coupled epidemiological and socio-economic model system our proposal focuses on the key question: What are the essential success factors in coping with the present SARS-CoV-2 pandemic among nations and how can coping capacities be increased in various national configurations to better handle similar future crises? We will analyse the SARS-CoV-2 data at a global scale and subsequently select 6-10 nations in the OECD, Asia and Africa for a more detailed investigation. All these analyses should be extremely relevant for policy makers, health agencies, technology developers and also the responsible community leaders who plan prevention and intervention measures for similar future pandemics.
Sub-projects

The project is structured into four different sub-projects. Sub-project 1 (SP1) builds a high-resolution global data set and hands over ready-to-use data sets to all other sub-projects. Sub-project 2 (SP2) pursues the thorough data analysis to identify the RELEVANT National Framework Conditions and secondly to link them and single intervention measures explicitly to model parameters of the coupled model. In sub-project 3 (SP3) we build a multi-model epidemiological-socio-economic model system which will be robustly parametrized making use of some innovative parametrization, ML and optimization methods. Sub-project 4 (SP4) fully explores the model system, synthesizes the results and develops intervention measures.

Further Information

The following partners and associated partners are involved in the project:

| | |
| --- | --- |
| COCAP Partners | COCAP Associated Partners |
| | |