MoDEV


Towards novel Model-Data fusion for understanding Environmental Variability in space and time from high-resolution remote sensing
The project MoDEV (Model-Data fusion for understanding Environmental Variability) as a follow up project of MOMENT investigates the interplay between carbon and water cycles for three biomes: forest, grassland and agriculture with special focus on the impacts of extreme hydrologic and climatic events as well their long-term trends. Four PhD projects collaborate to analyze the complex feedback processes of these biogeochemical cycles, such as carbon exchange, soil water dynamics and the driving forces.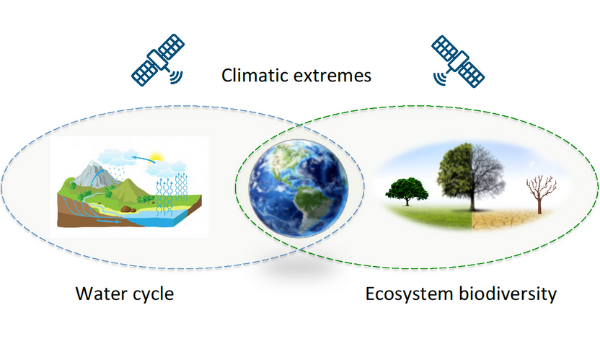 Drought and heat extremes normally last for short periods of time (days to weeks), but their lagged impacts on ecosystems can last for multiple years, e.g. if there is large-scale die-off (Anderegg et al., 2015). These extremes are manifested also in alterations of the terrestrial water and energy cycles and are thereby observable in reduced soil moisture and runoff as well as increased evapotranspiration (Samaniego et al., 2018; Teuling et al., 2013; Yin et al., 2018). However, understanding the exact feedbacks between climate extremes and ecosystem functioning across different temporal and spatial scales remains a grand challenge. Satellite remote sensing of environmental variables can provide observational evidence of extreme event dynamics in terrestrial ecosystems at large scales (Mahecha et al. 2017). Currently, there are still large uncertainties in the Earth System Model for simulating water and carbon cycles at different spatial and temporal scales. Satellite remote sensing products offer unprecedented constraints for the Earth System Model to better represent the water–carbon coupling process.

Key questions
How can we assess biodiversity from (multi-)spectral data for a quantification of ecosystem changes?
How can water cycle dynamics (e.g., soil moisture, evapotranspiration) be accurately quantified during climate extremes?

What are the physical processes that determine different responses of ecosystems to climate extremes?

How can we integrate multi-source data and modeling framework to solve scale issues and uncertainties traceability?

Can we parameterize the 'observed' processes and predict future changes in ecosystem-climatic extreme interactions?
Research context and knowledge gaps
To better understand water cycle and ecosystem interactions with climate extremes, a quantitative assessment of the interactions among feedback processes, their consequences across spatial and temporal scales, and the atmospheric teleconnections that link changes occurring in different regions are required. Assessments of this kind also require an understanding of land surface heterogeneity, i.e. structural and functional biodiversity as key mediators of climate signals on ecosystem functions. In many cases, these indicators can be retrieved from remote sensing data. However, the temporal and spatial resolutions of current satellite-derived products are not yet sufficiently matured for many of the involved quantification steps (e.g. Lausch et al. 2016). At first glance, the high-resolution Sentinel data seem apt to fill this gap. However, major challenges are the lack of a long-term reference periods (Sentinel data are only available since 1–5 years, depending on the data products) and suitable algorithms to jointly extract high-resolution, internal-consistent, and quality assured environmental variables and ecosystem properties from the different Sentinels (1, 2, 3). Novel model–data fusion concepts are needed to integrate radiative transfer models, data assimilation and machine learning methods, as well as multi-source remote sensing data to address this challenge. Novel satellite-based LAI, leaf chlorophyll concentration, leaf moisture content, evapotranspiration, soil moisture, vegetation structural parameters, as well as biodiversity and disturbance indicators are critical to better understand the occurrence and impacts of climate extremes on ecosystems across scales. Still, when it comes to a remotely-sensed biodiversity assessment, many fundamental relationships are still underexplored to allow for an operational retrieval of indicators from Earth observation data (Lausch et al. 2016). A fusion of the aforementioned approaches is likewise promising to provide new insights to address these knowledge gaps. Furthermore, the advanced process understanding could be applied to improve the ecosystem water–energy coupling schemes in the Earth System Model, which will lead to better predictions of water and carbon cycles.
Collaboration and integration
The PhD consortium MoDEV is an interdisciplinary research platform that combines deep domain knowledge in the areas of terrestrial ecology, hydrology, and climate sciences with remote sensing, modeling and data sciences techniques. The integration of multi-source Earth observations and modeling framework will bridge the spatial scales from the field level to the regional and even global scales. On the one hand, existing data collected from airborne campaigns (MOSES, TERENO, ICOS and eLTER) will be analyzed and used to evaluate newly developed satellite products. On the other hand, water and carbon fluxes from MOSES, TERENO, and ICOS stations will be directly used to investigate water-carbon coupling under extreme events. Improved process understanding based on such in-situ data will form the basis for interpreting newly developed satellite products, which itself will be used to improve process based mHM and FORMIND models to better simulate water and carbon cycles at various time and spatial scales. In addition, the developed new satellite products and modeling framework will be transferred to UFZ Data Management Team to facilitate access, use, interpretation, and visualization of these data products. Further collaboration with the visualization center is foreseen to display the generated satellite and model-based datasets in dynamics 3D animations for the wider public.
Outline of the project
Satellite remote sensing provides new tools to help us to better understand spatial and temporal dynamics in terrestrial ecosystems across scales. In particular, the integration of modeling approaches and multi-source Earth observations is essential to quantitatively assess the interactions between climate extremes, ecosystem functioning, and water cycle dynamics at various temporal and spatial scales. The four PhD projects are interconnected and aim to apply novel model–data fusion concepts to provide observational evidence of environmental variability based on high-resolution satellite data, and disentangle complex interactions between vegetation and water dynamics under climate extremes. PhD 1 focuses on derivation of ecosystem biodiversity indicators based on high-resolution Sentinel-2 data, while PhD 2 develops high-resolution surface and root-zone soil moisture from Sentinel-1 and Cosmic-Ray Neutron Sensing (CRNS) measurements. PhD 3 concentrates on the integration of the Earth system data cube concept, the FORMIND and LPJ models to investigate land surface dynamics in tropics under extremes. PhD 4 develops novel methods to investigate the role of land–atmosphere feedback on the occurrence of extremes and their interactions with different ecosystems based on multi-source data and newly developed products from PhD 1 and 2.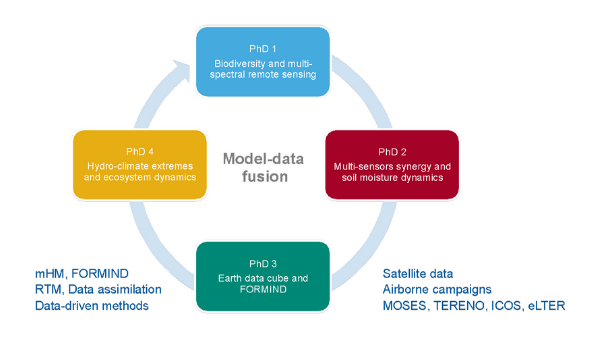 Further information

For PhD 1 (Assessment of species and trait diversity in temperate vegetation from optical remote sensing data) we work on the following study sites:

Bad Lauchstädt, Saxony, Germany
Luppeaue, Schkeuditz/Leipzig, Saxony, Germany
NSG Lunzberge, Halle/Lettin, Saxony-Anhalt, Germany
For PhD 2 (Estimation of high-resolution soil moisture dynamics from the synergy of multi-source data) we work on sites of the COSMOS-Europe network (Bogena et al., 2022) and the TERENO network .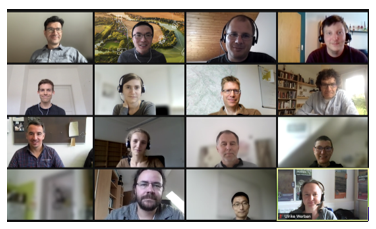 Prof. Dr. Hannes Feilhauer (RSC4Earth)
Prof. Dr. Miguel D. Mahecha (RSC4Earth)
Dr. Almudena García-García (RS)
Anderegg, W. R. L., Schwalm, C., Biondi, F., Camarero, J. J., Koch, G., Litvak, M., Ogle, K., Shaw, J. D., Shevliakova, E., Williams, A. P., Wolf, A., Ziaco, E., and Pacala, S.: Pervasive drought legacies in forest ecosystems and their implications for carbon cycle models, Science, 349, 528–532, doi:10.1126/science.aab1833, 2015.

Bogena, H. R., Schrön, M., Jakobi, J., Ney, P., Zacharias, S., Andreasen, M., Baatz, R., Boorman, D., Duygu, M. B., Eguibar-Galán, M. A., Fersch, B., Franke, T., Geris, J., González Sanchis, M., Kerr, Y., Korf, T., Mengistu, Z., Mialon, A., Nasta, P., Nitychoruk, J., Pisinaras, V., Rasche, D., Rosolem, R., Said, H., Schattan, P., Zreda, M., Achleitner, S., Albentosa-Hernández, E., Akyürek, Z., Blume, T., del Campo, A., Canone, D., Dimitrova-Petrova, K., Evans, J. G., Ferraris, S., Frances, F., Gisolo, D., Güntner, A., Herrmann, F., Iwema, J., Jensen, K. H., Kunstmann, H., Lidón, A., Looms, M. C., Oswald, S., Panagopoulos, A., Patil, A., Power, D., Rebmann, C., Romano, N., Scheiffele, L., Seneviratne, S., Weltin, G., and Vereecken, H.: COSMOS-Europe: a European network of cosmic-ray neutron soil moisture sensors, Earth System Science Data, 14, 1125–1151, doi:10.5194/essd-14-1125-2022, 2022.

Lausch, A., Bannehr, L., Beckmann, M., Boehm, C., Feilhauer, H., Hacker, J. M., Heurich, M., Jung, A., Klenke, R., Neumann, C., Pause, M., Rocchini, D., Schaepman, M. E., Schmidtlein, S., Schulz, K., Selsam, P., Settele, J., Skidmore, A. K., and Cord, A. F.: Linking earth observation and taxonomic, structural and functional biodiversity: local to ecosystem perspectives, Ecological Indicators, 70, 317–339, doi:10.1016/j.ecolind.2016.06.022, 2016.

Mahecha, M. D., Gans, F., Sippel, S., Donges, J. F., Kaminski, T., Metzger, S., Migliavacca, M., Papale, D., Rammig, A., and Zscheischler, J.: Detecting impacts of extreme events with ecological in-situ monitoring networks, Biogeosciences, 14, 4255–4277, doi:10.5194/bg-14-4255-2017, 2017.

Samaniego, L., Thober, S., Kumar, R., Wanders, N., Rakovec, O., Pan, M., Zink, M., Sheffield, J., Wood, E. F., and Marx, A.: Anthropogenic warming exacerbates European soil moisture droughts, Nature Climate Change, 8, 421–426, doi:10.1038/s41558-018-0138-5, 2018.

Teuling, A. J., Van Loon, A. F., Seneviratne, S. I., Lehner, I., Aubinet, M., Heinesch, B., Bernhofer, C., Grünwald, T., Prasse, H., and Spank, U.: Evapotranspiration amplifies European summer drought, Geophysical Research Letters, 40, 2071–2075, doi:10.1002/grl.50495, 2013.

Yin, J., Gentine, P., Zhou, S., Sullivan, S. C., Wang, R., Zhang, Y., and Guo, S.: Large increase in global storm runoff extremes driven by climate and anthropogenic changes, Nature communications, 9, 1–10, doi:10.1038/s41467-018-06765-2, 2018.