| | |
| --- | --- |
| | The role of the intestinal microbiome as driver between pesticide exposure and disease pathogenesis |
We strives to unravel the complex relationship between chemical exposures, the intestinal microbiome, and host toxicity outcomes. MibiTox is strategically designed to assess the functional capacity of microbiomes from pesticide exposure to disease pathogenesis in zebrafish, mouse, and human hosts using both in vitro and in vivo systems.
It is widely understood that exposure to exogenous chemicals disrupts the community structure of host-associated microbes. Recent literature suggests that intestinal microbiota can biotransform chemicals. A major knowledge gap relates to whether xenobiotic-induced effects on microbial ecology and biotransformation causally alter the toxicity of environmental chemicals to the host organism. Until this question is answered, microbiota will not be considered in risk assessment strategies, although regulatory bodies are aware of its potential future relevance from both toxicokinetic and toxicodynamic perspectives. Here, we will move the science forward to illuminate the mode of action in microbiome-mediated toxicity.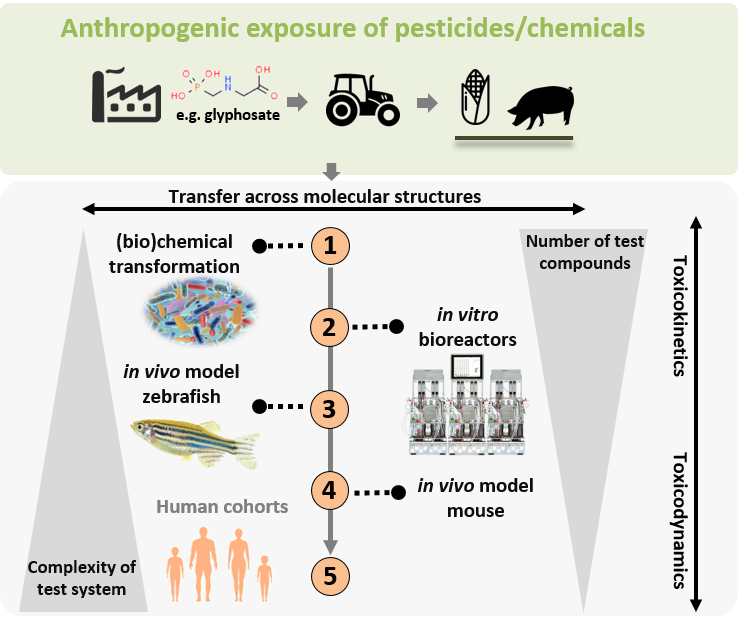 MibiTox aims to evaluate the complex relationship between intestinal microorganisms and pesticides to ultimately analyze perturbations in microbiota structure and function that lead to adverse responses and disease pathogenesis in the host organism, with a focus on the developing immune and nervous systems. We will therefore assess the toxicological relevance of bacterial-xenobiotic interplay to the host organism.

To achieve this, we will determine the biotransformational capacity of intestinal microbes and the extent to which microorganisms influence pesticide exposures using zebrafish, mouse, and human (i.e. in vivo and in vitro) experimental systems. We will also determine the role of the microbiome as mediator between pesticide exposures and disease pathogenesis, specifically focusing on metabolic interactions and the nervous and immune systems.