Dr. Anja Worrich

Research interests
I am interested in the spatiotemporal dynamics of microbial communities and the principles that promote and control their assembly. I use synthetic microbial communities to understand spatial structuring and self-organization arising from the interplay of ecological interactions, dispersal and evolutionary processes. The quantitative analysis of spatial pattern formed by microbial consortia and the measurement of corresponding ecosystem functioning will provide mechanistic insights into the space-structure-function-relationship of microbial communities.
since 03/2018
Postdoc; Helmholtz Centre for Environmental Research
02/2017 - 02/2018
Postdoc at the German Centre for Integrative Biodiversity Research Halle-Jena-Leipzig
Molecular Interaction Ecology group and Ecometabolomics platform
03/2013 - 01/2017
PhD student; Helmholtz Centre for Environmental Research; Bioavailabilty group
Subject: Role of Fungus-mediated Transport Mechanisms for Bacterial Activity under Environmental Stress
03/2012 - 02/2013
Master thesis; Helmholtz Centre for Environmental Research, Department Environmental Microbiology, Microbial Systems Ecology group
Subject: Influence of a spatially structured environment on the establishment of a bacterial inoculum
10/2010 - 02/2013
Studies in Biotechnology and Applied Ecology at the International Graduate School (IHI) Zittau
10/2007 - 09/2010
Studies in Biotechnology at the University of Applied Sciences in Zittau
Outreach

ARD Alpha Campus Talks - Wie können wir Chemikalien sicherer machen?

Article in "Umweltperspektiven"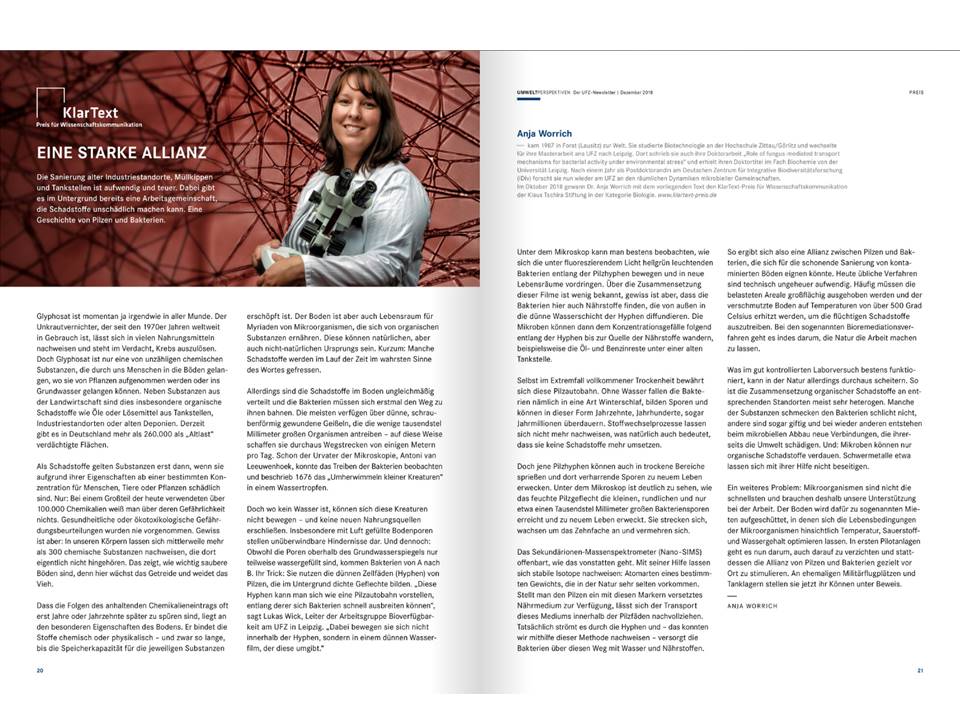 Interview for Helmholtz online: Science Communication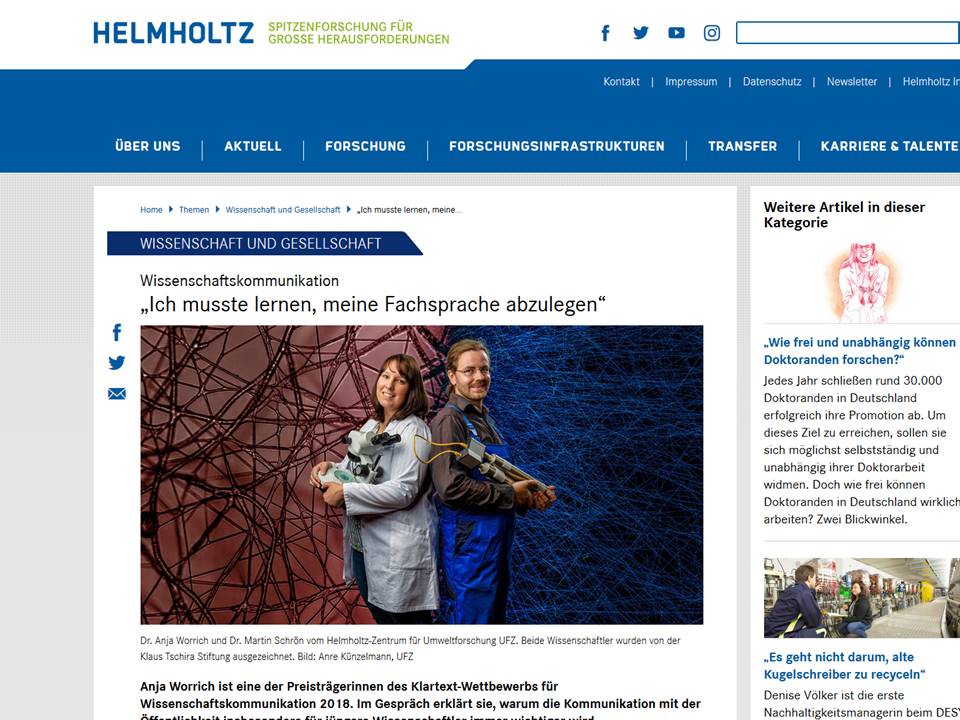 "KlarText" award for science communication 2018 in biology!