Dr. Niculina Musat
Phone +49 (0) 341 235 4656
Fax +49 (0) 341 235 450822


Helmholtz Centre for Environmental Research - UFZ
Permoserstrasse 15
04318 Leipzig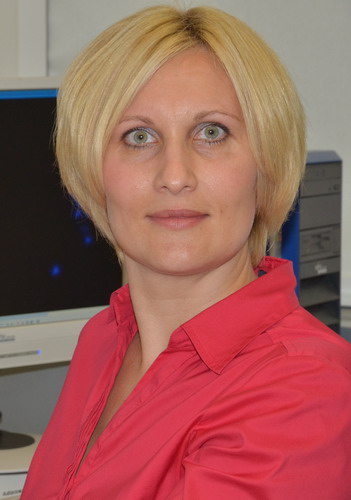 Since April 2012
Scientific Head of Centre for Chemical Microscopy (ProVIS)
Helmholtz Centre for Environmental Research – UFZ
Department of Isotope Biogeochemistry

2008 - 2012
Scientist
Max-Planck Institute for Marine Microbiology, Bremen, Germany
2006 - 2008
Post-Doctoral Fellow
Max-Planck Institute for Marine Microbiology, Bremen, Germany.
June
2006
Ph.D. in Life Sciences (Dr.rer.nat)
University of Bremen and Max-Planck Institute, Bremen, Germany
Apr. - Dec.
2001
Research Assistant, National Institute for Research and Development in Physics and Nuclear Engineering, 'Horia-Hulubei', Romania
2000 - 2001
Research Assistant
University of Bucharest, Faculty of Biology (half-time job)
2000 - 2001
Biologist
Shigella – Pseudomonas Department, Cantacuzino Institute, Bucharest, Romania
Feb.
2001
M.Sc. in Microbiology and Microbial Genetics
University of Bucharest, Faculty of Biology, Romania
Jul.
1999
B.Sc. in Biology
University of Bucharest, Faculty of Biology, Romania
Field of Expertise
Microbial Ecology and Ecophysiology

Single cell imaging techniques (FISH, CARD-FISH, NanoSIMS, Laser dissection microscopy - LMD)
Inter-species nutritional interactions
Stable isotope probing (SIP) to trace cellular metabolic activity and cell to cell metabolic interactions

SIP-Nano-scale Secondary Ion Mass Spectrometry (NanoSIMS) applications in microbiology/biology
Correlative microscopy, chemical imaging and underlying sample preparation concepts and techniques for environmental samples
Main Research Interests
Inter-species nutritional interactions in microbial associations, including nutrient transfer between autotrophic and heterotrophic communities in fresh water and marine environments, trophic interactions in multi-species assemblages, and symbiotic associations.
Development of new correlative imaging approaches for visualization, identification and chemical mapping of microbial cells and sub-cellular components. These include species identification and visualization by fluorescence microscopy (FISH &CARD-FISH), high resolution structure imaging (SEM, TEM, HIM) and high resolution chemical mapping (nanoSIMS, ToFSIMS, Raman microspectroscopy, EDX).

Impact and fate of antibiotics in natural environments: effect of antibiotics on the metabolism of natural microbial communities, impact on single-cell metabolism, dynamics of environmental communities under antibiotic stress, biodegradation/biotransformation of antibiotics by microorganisms.

Microbe-plant nutritional interactions in the rhizosphere, including colonization of Zea mays roots by soil microorganisms and transfer of carbon between roots and associated microorganisms.
Publications

Theses

M.Sc. thesis: "Comparative analyses of Pseudomonas aeruginosa strains isolated from clinical products and natural environments." University of Bucharest, Romania (February 2001)
Ph.D thesis: "Molecular characterization of symbiotic associations between chemoautotrophic sulphur-oxidizing microorganisms and nematodes in shallow marine sediments". University of Bremen and Max-Planck Institute, Bremen, Germany (June 2006)

Index:
You could use our publication index for further requests.
2022 (4)
to index
2021 (7)
to index
2020 (5)
to index
2019 (7)
to index
2018 (4)
to index
2017 (3)
to index
2016 (3)
to index
2015 (4)
to index
2014 (2)
to index
2013 (3)
to index
2012 (2)
to index