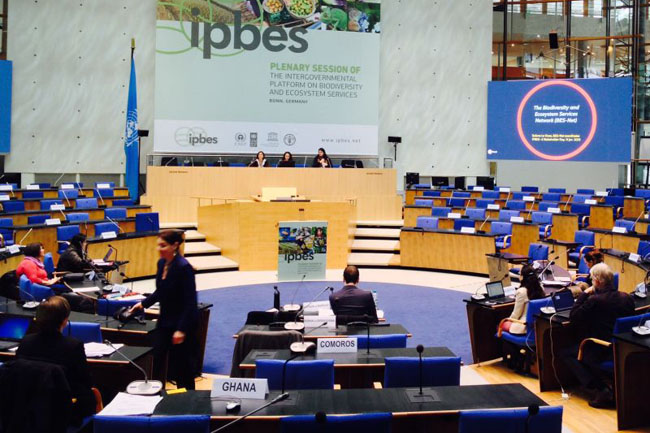 Science-policy-society interfaces
The aim of our research

What are the contributions of environmental research to solving Grand challenges such as climate change, loss of biodiversity, water quality and water scarcity? What are the role that science and experts perform in environmental and sustainability politics? How can the interactions between science and society be designed to maintain the balance between scientific quality, political legitimacy and societal relevance?
Environmental research responds to an increasing demand by public and private decision makers for politically relevant scientific information. The growing demand for expertise reflects the extent to which policy has become science-based in fields such as global warming, biodiversity, ozone depletion, air pollution, forest conservation, micropollution and indeed sustainability policy as a whole, all of which are increasingly linked to issues such as food security, development and economic growth. At the same time, environmental research and policy advice also face novel challenges such as meeting the scientific credibility, delivery in time, and societal "usefulness" under scientific uncertainties and contested values and political interests. These challenges are the starting point of our research:
What roles do and can expert bodies play in governance architectures? Thus, how do they address information needs of diverse publics and decision makers on the ground and are they embedded into distributed governance regimes?
How do research and advisory organizations respond to novel challenges such as globalization, the increasing demand for 'usable' results and stakeholder participation and processes and institutional arrangements that are instrumental to improving an organisation's reflexivity as well as its adaptive and learning capacity.
There is a growing need to understand whether science-based policies contribute towards transforming forms of governance and, if so, in what way.


Our research approaches and methods
UPOL contributes to analysing the design of research and assessments as well as their interactions with society and asks what lessons can be learnt from these empirical findings to inform the debate about the future role of expert organizations. It supports and it is actively involved in the development of platforms and tools for linking environmental research to politics particularly in the field of biodiversity (e.g. European support mechanism on biodiversity and ecosystem services (KNEU and EUBES projects) as well as TEEB and IPBES). UPOL contributes to the UFZ's Science-Policy Expert Group that has maintained a leading role in research on science-policy interfaces. They have contributed to a variety of practical attempts to integrate insights into recent research and stakeholder activities, including recent intergovernmental negotiations on the IPCC reform process, the establishment of the IPBES and the BiodiversityKnowledge network. By combining scientific analysis and practical engagement, we try to generate concepts, criteria and guidelines (e.g. coping with uncertainty and quality control) to evaluate and explore design options and procedures in fields such as water, energy and ecosystem services.
Speaker
Projects
You will find an overview of the current and completed projects in this research field in our project list.
Partners