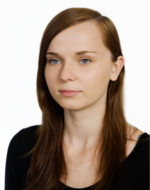 Research Interests

PhD Thesis
"Heterogeneity phenomena in Pseudomonas biofilms"
PhD Thesis
Genetic engineering combined with molecular biology
Techniques involving fluorescent proteins
Going deep into the roots of reasons and mechanisms
Education

2017
Dissertation at the Helmholtz-Centre for Environmental Research in the Department Solar Materials, Leipzig, Germany
2014 – 2016
Centre for environmental research UFZ Helmholtz, Leipzig
Guest researcher
2013 – 2016
Dortmund Technical University, Germany
PhD student. Working title: Heterogeneity phenomena in Pseudomonas biofilms.
2007 – 2013
The Gdansk University of Technology
Master's Degree Final Year Research Project. Title: Extragenic suppressors of lprAB genes. Thesis advisor: prof. Satish Raina.
Bachelor's Degree Final Year Research Project. Title: Optimization of the production process of proteinase K. Project realized in the cooperation with BLIRT S.A. Thesis advisor: Dr. Anna Brillowska-Dąbrowska
2004 – 2007
Ist Secondary School of General Education, Elblag, Poland
Class with extended course of: Biology, Chemistry and Physics.
Work Experience

04/2013 - 05/2013
The Maria Skłodowska-Curie Institute of Oncology, Laboratory of Cellular Immunology, Warsaw
Position: Internship. Duties: Experiments including microRNAs as biomarkers of different types of cancer, analyzing cytostatic drugs on ovarian cancer lines.
05/2012 - 02/2013
EduFun Center, Gdynia
Position: Children's science entertainer. Duties: Increasing fascination in science in children age 2-15, performing shows, science workshops, festivals, corporate events.
03/2011 - 03/2012
Biolab of Innovative Research and Technology BLIRT S.A., Gdańsk
Position: Laboratory assistant in Proteomics department. Duties: Performing a variety of clerical and technical tasks associated with the laboratory work flow (preparation of media, control of laboratory parameters, care of availability and sterility of laboratory tools). I also took part in one of the key projects in the company involving optimization of the enzyme production. My other duty was to tutelage trainees during the summer.
since 12/2014
Member of the board of Youth European Biotech Network.
10/2012 - 10/2013
Member of the board of Academic
10/2010
Specialized Hospital with Clinic, Elblag
Position: Student practice in Microbiology laboratory. Duties: analyzing samples from patients(blood, urine, smear), microscopic investigation, aseptic technique, preparing bacterial mediums.

since 10/2008
Member of Biotechnology Students Organization (KSB), Gdansk University of Technology, position: treasurer in years 2008-2012.