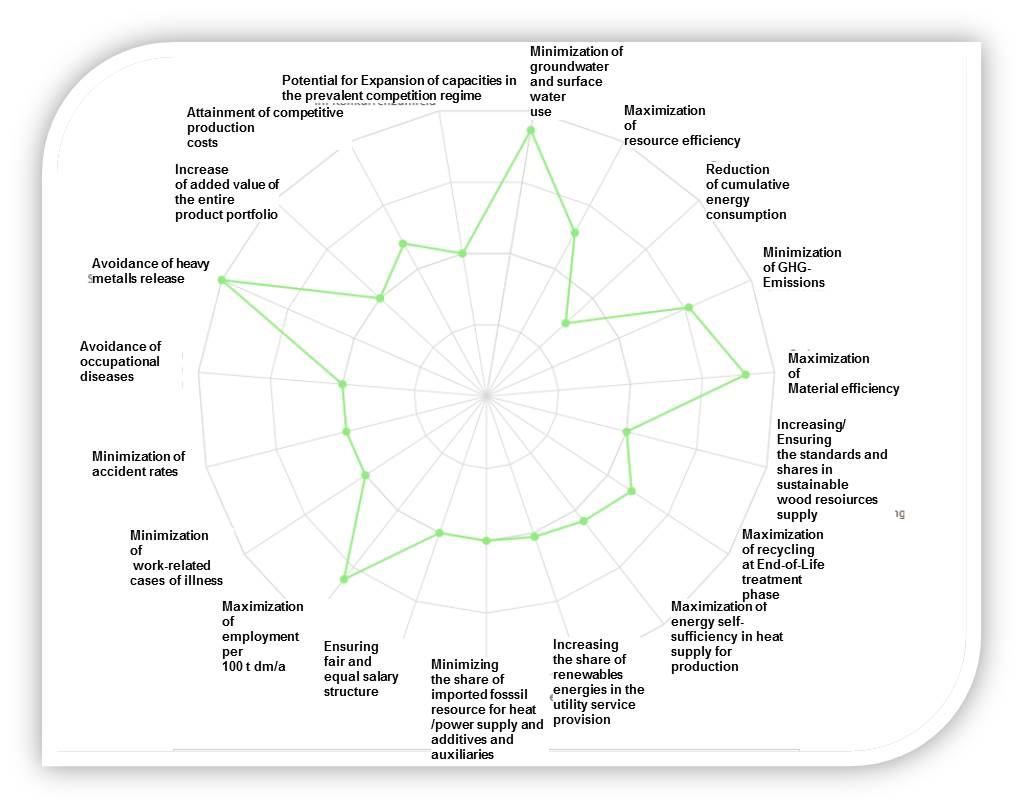 SUMINISTRO – Sustainability monitoring Index for assessing regional bio-based industry networks
Ansprechpartner:

Final documents of the accompanying research in the Leading-Edge Cluster BioEconomy

Assessment tool for aggregating and evaluating a Sustainability Index

The UFZ Bioenergy Department is working in the development of a Sustainability Index for ex-post assessment of regional bioeconomy industry networks and Multi-Criteria Decision Analysis (MCDA) for ex-ante evaluation of emerging bio-based value chains.

Both indicator-based sustainability assessment tools will be used for scoring of the techno-ecological and socio-economic performance of value chains of regional industry networks, which are operating under a common and cross-sectoral bioeconomy strategy.

In order to support the implementation planning of these industry networks with regard to the deployment of future-oriented solutions from R&D activities and technological upscaling, approaches of managerial decision modelling, material flows analysis and Life Cycle Sustainability Assessment (LCSA) are integrated into a procedure for Multi-Criteria-Decision Analysis of future process chain integration options.
Publications:
Index:
You could use our publication index for further requests.
2024 (1)
Bezama, A., Hildebrandt, J., Thrän, D. (2024):
Urbane Bioökonomie als Bestandteil resilienter Stadtentwicklung
In: Kabisch, S., Rink, D., Banzhaf, E. (Hrsg.)


Die resiliente Stadt : Konzepte, Konflikte, Lösungen


Springer Spektrum, Berlin, Heidelberg, S. 55 - 69
full text (doi)
to index
2022 (1)
to index
2021 (3)
Bezama, A., Hildebrandt, J., Thrän, D. (2021):
Integrating regionalized socio-economic considerations onto life cycle assessment for evaluating bioeconomy value chains: A case study on hybrid wood-concrete ceiling elements
Sustainability 13 (8), art. 4221
full text (doi)
Hildebrandt, J., Thrän, D., Bezama, A. (2021):
The circularity of potential bio-textile production routes: Comparing life cycle impacts of bio-based materials used within the manufacturing of selected leather substitutes
J. Clean Prod. 287 , art. 125470
full text (doi)
Otto, S., Hildebrandt, J., Will, M., Henn, L., Beer, K. (2021):
Tying up loose ends. Integrating consumers' psychology into a broad interdisciplinary perspective on a circular sustainable bioeconomy
J. Agric. Environ. Ethics 34 , art. 8
full text (doi)
to index
2020 (2)
Hildebrandt, J., Bezama, A., Thrän, D. (2020):
Insights from the Sustainability Monitoring Tool SUMINISTRO applied to a case study system of prospective wood-based industry networks in Central Germany
Sustainability 12 (9), art. 3896
full text (doi)
Tarkka, M., Hildebrandt, J. (2020):
Pilzarten und ihre pflanzlichen Wirte im Klimawandel
ESKP Earth System Knowledge Platform Wissensplattform Erde und Umwelt, Potsdam, 9 S.
full text (doi)
to index
2019 (2)
Hildebrandt, J., Budzinski, M., Nitzsche, R., Weber, A., Krombholz, A., Thrän, D., Bezama, A. (2019):
Assessing the technical and environmental performance of wood-based fiber laminates with lignin based phenolic resin systems
Resour. Conserv. Recycl. 141 , 455 - 464
full text (doi)
Hildebrandt, J., O'Keeffe, S., Bezama, A., Thrän, D. (2019):
Revealing the environmental advantages of industrial symbiosis in wood-based bioeconomy networks: an assessment from a life cycle perspective
J. Ind. Ecol. 23 (4), 808 - 822
full text (doi)
to index
2018 (3)
Hildebrandt, J. (2018):
Erwartete Nachfrage nach stofflicher Nutzung von Biomasse
DBFZ-Jahrestagung 2018: Energie & Stoffe aus Biomasse: Konkurrenten oder Partner? 19./20. September 2018
DBFZ Deutsches Biomasseforschungszentrum gemeinnützige GmbH, Leipzig, S. 54 - 63
full text (url)
Hildebrandt, J., Bezama, A. (2018):
Cross-fertilisation of ideas for a more sustainable fertiliser market: The need to incubate business concepts for harnessing organic residues and fertilisers on biotechnological conversion platforms in a circular bioeconomy
Waste Manage. Res. 36 (12), 1125 - 1126
full text (doi)
Olsson, O., Roos, A., Guisson, R., Bruce, L., Lamers, P., Hektor, B., Thrän, D., Hartley, D., Ponitka, J., Hildebrandt, J. (2018):
Time to tear down the pyramids? A critique of cascading hierarchies as a policy tool
Wiley Interdiscip. Rev. Energy Environ. 7 (2), e279
full text (doi)
to index
2017 (5)
to index
2016 (1)
Olsson, O., Bruce, L., Hektor, B., Roos, A., Guisson, R., Lamers, P., Hartley, D., Ponitka, J., Hildebrandt, J., Thrän, D. (2016):
Cascading of woody biomass: definitions, policies and effects on international trade
IEA Bioenergy, 71 pp.
full text (url)
to index
2015 (5)
to index
2014 (3)
Hildebrandt, J., Bezama, A. (2014):
Entwicklungstreiber für die Modellierung der Altholzkaskade bis 2050
In: Pomberger, R., Adam, J., Aldrian, A., Arnberger, A., Höllen, D., Kreindl, G., Lorber, K.E., Sarc, R., Schwarz, T., Sedlazeck, P., Wellacher, M., Wolfsberger, T. (Hrsg.)
Tagungsband zur 12. DepoTech 2014 - Abfallwirtschaft, Abfallverwertung und Recycling, Deponietechnik und Altlasten in Leoben, Österreich, 04.-07.11.2014
Inst. für Nachhaltige Abfallwirtschaft und Entsorgungstechnik , Leoben, S. 661 - 664
Hildebrandt, J., Bezama, A., Thrän, D. (2014):
A hybrid-MCDA tool for assessment of added value networks in a woodbased bioeconomy
Proceedings of the Bioenergy from Forest Conference, Helsinki, Finland from 15th to 18th September
Hildebrandt, J., Bezama, A., Thrän, D. (2014):
Establishing a robust sustainability index for the assessment of bioeconomy regions
Conference Proceedings of the International Conference and Utility Exhibition 2014 (ICUE 2014) on Green Energy for Sustainable Development of the Asian Institute of Technology, Thailand and the IEEE Power and Energy Society, Bangkok, 19-21 March 2014
p. 1 - 4
full text (url)
to index
Weitere Modelle: