Working group
Land Cover / Dynamics (LACY)

Short description

Our research and activities are lined up in order to assess the impact of climate change and land-use change on vegetation:

Deriving Essential Climate and Essential Biodiversity Variables (EBV & ECV) using optical-reflective imagery, e.g. phenological metrics, plant productivity or Chlorophyll content
Land-use classification , habitat and biodiversity mapping
Gathering remotely sensed hyperspectral data (airborne and on the ground, s. Figure below) incl. setting-up satellite product validation test sites
Design of processing chains (of remotely sensed raw data)

New developments strengthen the link between modelling and remote sensing and sensor fusion, e.g. Helmholtz Alliance 'Earth System Dynamics' (http://hgf-eda.de/). Furthermore, large-scale validation sites for remote sensing products including spectral sensor networks are being establishment (Sentinel Missions, ACROSS, GCEF). Data are gathered at different spatial scales covering also micro-meteorological, biological and hydrological aspects (EnMAP project) to facilitate up-scaling (s. Figures below).

Different measurement techniques for assessing plant productivity: gas-exchange a leaf level and ecosystem level as well as hyperspectral data acquisitions (airborne and staitionary).

Due to UFZ's long tradition in ecophysiological modelling the generation of new remote sensing products is done in close collaboration with experts in the respective field. These products shall be fed directly into ecophysiological models which are also developed and employed within the group (s. Figure below). Here phenological phases of forest tree species (temperature and day-length driven) are simulated with the R-package 'phenex' analysing e.g. the impact of future climate scenarios on forest phenology.
Dependency of simulated budburst occurrence on temperature sums for different tree species based on climate scenarios (2000-2100)

Hyperspectral airborne campaigns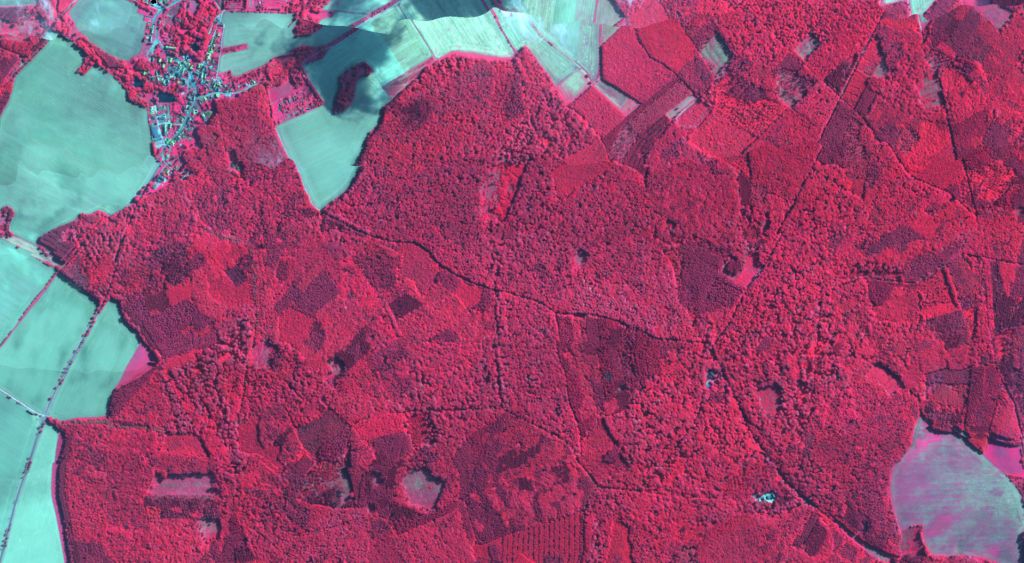 CIR image based on airborn hyperspectral imagery (3m spatial resolution) showing a mixed broadleaf forest surrounded by agricultural fields.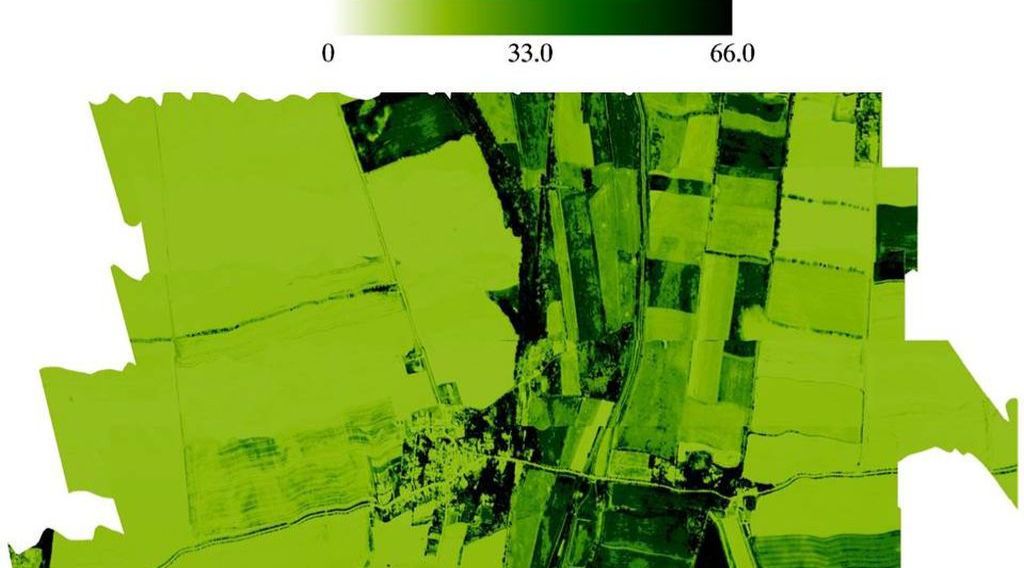 Derived Chlorophyll values for agricultural fields with different crop types as well as pastures based on airborne hyperspectral data. Light green colours indicate bare soil or urban areas, green colours either stressed or senescent vegetation. Dark green colours indicate active green vegetation.
Extracting & simulating phenological metrics

The focus within vegetation phenology is on analysing the response of spring time phenology to climate change using ground and satellite observations. We also assessed the influence of heterogeneous landscapes on computed green-up dates and analysed trends of computed green-up dates on a European scale. A variety of methods to extract phenological metrics has been implemented in R package 'phenex' to be of public use.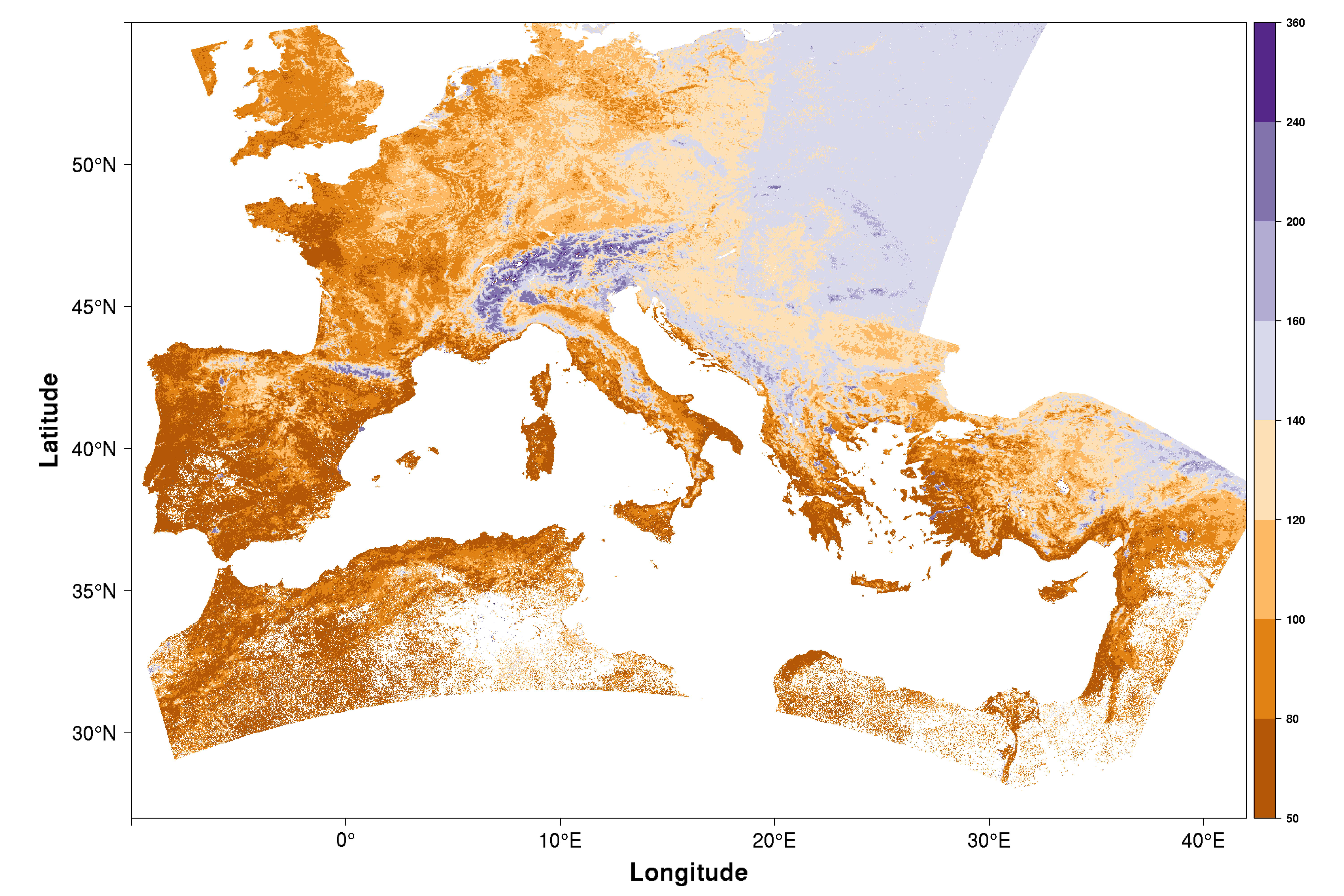 Extraction of biopyhsical vegetation variables

The inversion of radiative transfer models is at the heart of determining e.g. Chlorophyll or water content of vegetation. The figure below shows simulated reflection profiles of vegetation based on 4 parameters sets with increasing complexity (+ noise) using PROSAIL.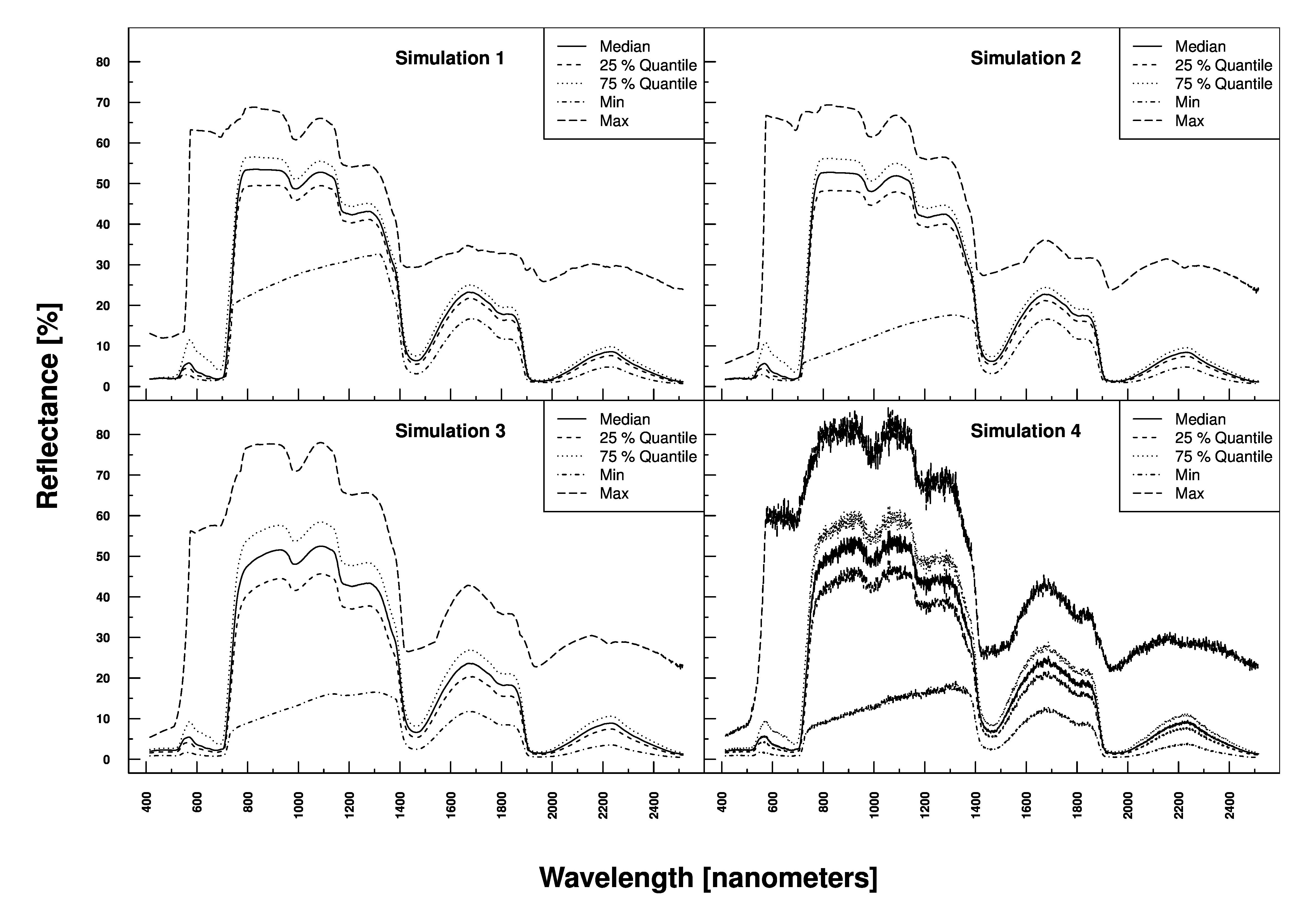 The working group is also simulating at-sensor radiances by combining two models: the vegetation radiative transfer model SLC and the atmosphere radiative transfer model MODTRAN. This allows to work with signals received directly at the sensor, which makes it easier to identify vegetation parameters. Furthermore, this procedure reduces the number of variables for inversion and the overall computational effort required.

Measured at-sensor radiances (AISA dual) and simulated radiances of vegetation (wheat). red=at-sensor radiances, green=mean at-sensor radiances, black=simulated radiances. Preidl, S. A new framework for radiative transfer model inversion (in prep.)

Land-use classification, habitat & biodiversity mapping

This is actually an old (remote sensing) topic which has seen a renaissance in the light of new satellite missions. This allows for example to discriminate tree species or to map crop types at field level (as shown below).

A land-use map of Germany for the year 2016 can be found here.
The link between pollination types at the community level and optical traits allows us to map spatial patterns of pollination types with remotely sensed hyperspectral data.

Distribution of the pollination types across the study site (a) and Shannon's entropy H of the three pollination types (b) as mapped from airborne imaging spectroscopy data. Forested and agricultural areas were not covered by the sampling and thus masked. Feilhauer, H., Doktor, D., Schmidtlein, S., Skidmore, A. (2016). Mapping pollination types with remote sensing, Journal of Vegetation Science 27. pp. 999-1011
Contact: