WIR! RegioZukunft:Wärme

Wärmeversorgung der "Region der Zukunft" im Kontext von Transformation und Adaption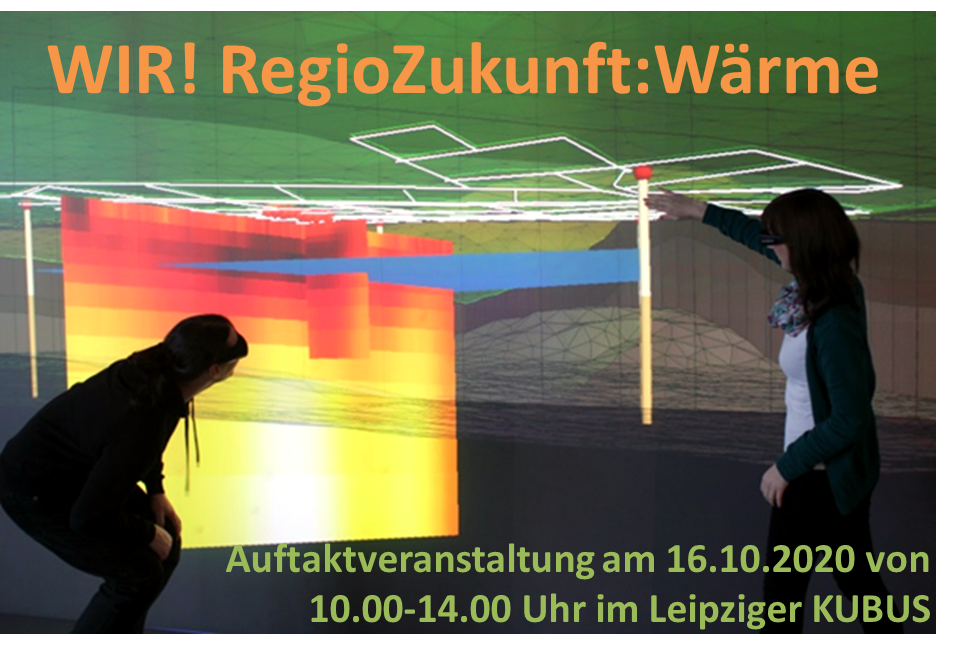 Am 16.10.2020 von 10.00-14.00 Uhr findet die Auftaktveranstaltung zum BMBF geförderten WIR! Vorhaben im Veranstaltungszentrum KUBUS statt (siehe auch Pressemitteilung).
Thema der Veranstaltung ist die Wärmewende (eigentlich müsste es besser Thermowende heißen) in der Leipziger Region. Im Rahmen der am 01.09.2020 gestarteten ersten Phase des WIR! Vorhabens - Wandel und Innovation in der Region – werden innovative Konzepte für eine nachhaltige Wärme- und Kälteversorgung der Zukunft für verschiedene regionale Cluster ausgestaltet.

Wir freuen uns hochrangige Vertreter aus Landespolitik, regionaler und kommunaler Politik sowie Wirtschaft und Wissenschaft für den Projektstart begrüßen zu dürfen. Sehr herzlich laden wir Sie ein, gemeinsam mit ExpertInnen aus Politik, Wirtschaft, Wissenschaft und Gesellschaft das Thema intensiv zu diskutieren und somit Impulse für die weitere Ausgestaltung des Vorhabens zu geben.
Die Veranstaltung wird als in hybrider Form (begrenzte Personenzahl in Präsenz und Übertragung als live stream) durchgeführt.

Für die Präsenzveranstaltung gelten die durch den Freistaat Sachsen und die Stadt Leipzig angeordeneten Hygienemaßnahmen:

Tragen eines Mund-Nasen-Schutzes beim Betreten des Veranstaltungsortes (Kubus),
Im Veranstaltungsraum gelten Abstandsregeln aber kein Maskenzwang,
Beim Betreten des Kubus und bein Anmeldung vor Ort muss ein Schriftstück mit den persönlichen Angaben ausgefüllt werden.
Das Programm der Veranstaltung finden Sie hier RegioWärmeZukunft-Auftaktveranstaltung-Programm-v8.pdf :
Die Plätze für die Präsenz-Veranstaltung im KUBUS sind bereits vergeben. Die Veranstaltung wird auch online über Videostream übertragen. Hierfür können Sie sich gerne noch bis zum 15. Oktober 2020 anmelden (siehe unten). Die Zugangsdaten für das Videokonferenzsystem werden vorab per Mail geschickt.
The form was only in use in the period from 14.09.2020 to 14.10.2020!