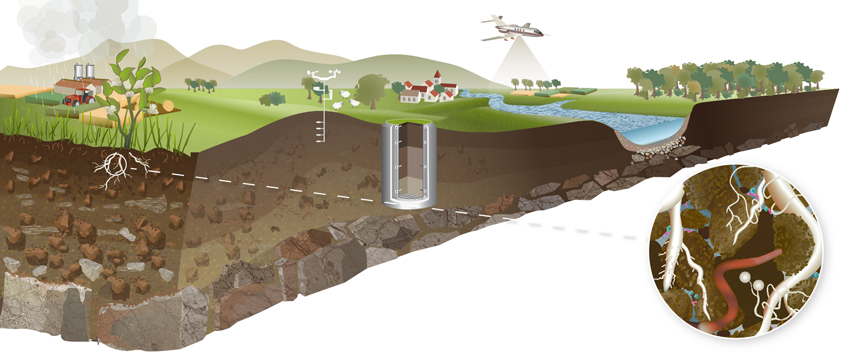 Aktuelle Forschungsprojekte
Messung und Modellierung von Bodenfunktionen

Bodenstruktur und Bodenfunktionen
Boden-Pflanzen Wechselwirkung
Funding: Deutsche Forschungsgemeinschaft - DFG
Project term: 2018 - 2024
Rhizosphere Spatiotemporal Organisation – a Key to Rhizosphere Functions (SPP 2089)
This Priority Programme aims at the identification of spatiotemporal patterns in the rhizosphere and at the explanation of the underlying mechanisms. The key concept of the programme consists of approaching the rhizosphere as a self-organised system. Self-organisation arises from a cascade of feedback loops between root, microbiome and soil. Emerging patterns in the rhizosphere cannot be understood from studying the components in isolation. This call invites proposals from appropriate disciplines such as rhizosphere research, soil chemistry, plant genomics and physiology, soil microbiology, soil physics, exudate analysis, image/pattern analysis and modelling.
Speaker: Prof. Dr. Doris Vetterlein
P2 - Z-project
Application of 15N and 13C in the central experimental platform to investigate spatial gradients in the rhizosphere in respect to uptake and release
Contact:
Prof. Dr. Doris Vetterlein , Prof. Dr. Johanna Pausch
Partner: University of Bayreuth
Web: Z-project
P21 - Dynamics & Structure
Relevance of root growth and related soil structure formation for spatiotemporal patterns of chemical and biological properties and emergent system functions
Contact:

Prof. Dr. Doris Vetterlein , Dr. Steffen Schlüter


Funding: EU - Horizon Europe Framework Programme (HORIZON)
Project term: 2022 - 2027
Root phenotyping and genetic improvement for rotational crops resilient to environmental change
As agricultural systems deteriorate due to climate change, European crop yield is projected to decrease by 30% by 2050. But even in the worst-case scenarios, some genotypes are resilient to stress because they inherited certain genes and traits. Searching for genetic markers associated with root traits able to contribute to this resilience is the goal of Root2Res, a European Union-funded research project assembling 22 partners based in Europe and Africa.

Root2Res is short for 'Root phenotyping and genetic improvement for rotational crops resilient to environmental change'. It is a project that will go beyond the state of the art, developing new tools to evaluate root traits linked to sustainable crops, and measuring heritability and plasticity, that is, the ability to cope with environmental stress while delivering stable production. Working alongside breeders and farmers from areas under the greatest climatic stress, an interdisciplinary team is set to test cereals, tubers and legumes common and novel to European rotational systems.

Funded through Horizon Europe, the key EU research and innovation programme, Root2Res has received the green light amidst growing concern for food security. Focusing on drought and excess water as primary climate change hazards, the thirteen-nation project aims to provide diversified and resilient crops, securing healthy and nutritious food while enhancing nutrient use efficiency, carbon sequestration and reducing greenhouse gas emissions.

Cultivars developed by Root2Res could lead to global impacts: notably resilient yields that make rural economies viable, with higher quality of life for the farmers; resource-efficient crops with minimal impacts on changing environments; and, ultimately, feasible carbon-neutral societies.

UFZ Project within Root2Res: WP 5 " In-depth traits assessment and understanding of plasticity"
Contact: Prof. Dr. Doris Vetterlein

Partners: Coordinated by ARVALIS-Institut du végétal and scientifically led by ARVALIS and the James Hutton Institute, teams from RSK ADAS, KWS-L, ICARDA, CNR, FIBL, IRTA, BOKU, FJZ, UFZ, FEUGA, NEYKER, SOLYNTA, WU, UPM, KIS, UVIGO, ARC, TEAGASC, AU and UNIVDUN
Project term: 2019 - 2021
Project: Agricultural and aquatic systems
The aim of the "Agricultural and aquatic systems" project is to record the development of these sensitive and complex systems with regard to climatic extremes in Germany. We want to predict as closely as possible the development of soil functions, agricultural productivity, as well as the water quality of river ecosystems for different climate scenarios.
Contact: Dr. Mareike Ließ , Prof. Dr. Hans-Jörg Vogel , Prof. Dr. Markus Weitere , Prof. Dr. Claudia Künzer

Partner: DLR

Web: Hi-Cam