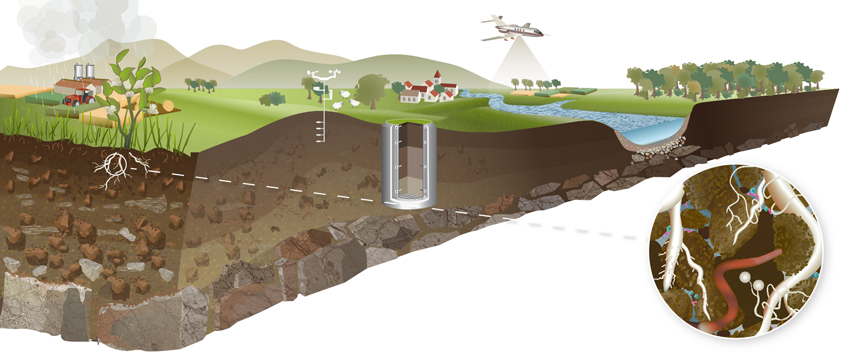 Current Research Projects

Measuring and modelling of soil functions
Structure and Functions of Soils
Funding: Deutsche Forschungsgemeinschaft - DFG
Project term: 2018 - 2024
Rhizosphere Spatiotemporal Organisation – a Key to Rhizosphere Functions (SPP 2089)
This Priority Programme aims at the identification of spatiotemporal patterns in the rhizosphere and at the explanation of the underlying mechanisms. The key concept of the programme consists of approaching the rhizosphere as a self-organised system. Self-organisation arises from a cascade of feedback loops between root, microbiome and soil. Emerging patterns in the rhizosphere cannot be understood from studying the components in isolation. This call invites proposals from appropriate disciplines such as rhizosphere research, soil chemistry, plant genomics and physiology, soil microbiology, soil physics, exudate analysis, image/pattern analysis and modelling.
Speaker: Prof. Dr. Doris Vetterlein
P2 - Z-project
Application of 15N and 13C in the central experimental platform to investigate spatial gradients in the rhizosphere in respect to uptake and release
Contact:
Prof. Dr. Doris Vetterlein , Prof. Dr. Johanna Pausch
Partner: University of Bayreuth
Web: Z-project
P21 - Dynamics & Structure
Relevance of root growth and related soil structure formation for spatiotemporal patterns of chemical and biological properties and emergent system functions
Contact:

Prof. Dr. Doris Vetterlein , Dr. Steffen Schlüter
Project term: 2019 - 2021
Project: Agricultural and aquatic systems
The aim of the "Agricultural and aquatic systems" project is to record the development of these sensitive and complex systems with regard to climatic extremes in Germany. We want to predict as closely as possible the development of soil functions, agricultural productivity, as well as the water quality of river ecosystems for different climate scenarios.
Contact: Dr. Mareike Ließ , Prof. Dr. Hans-Jörg Vogel , Prof. Dr. Markus Weitere , Prof. Dr. Claudia Künzer

Partner: DLR

Web: Hi-Cam