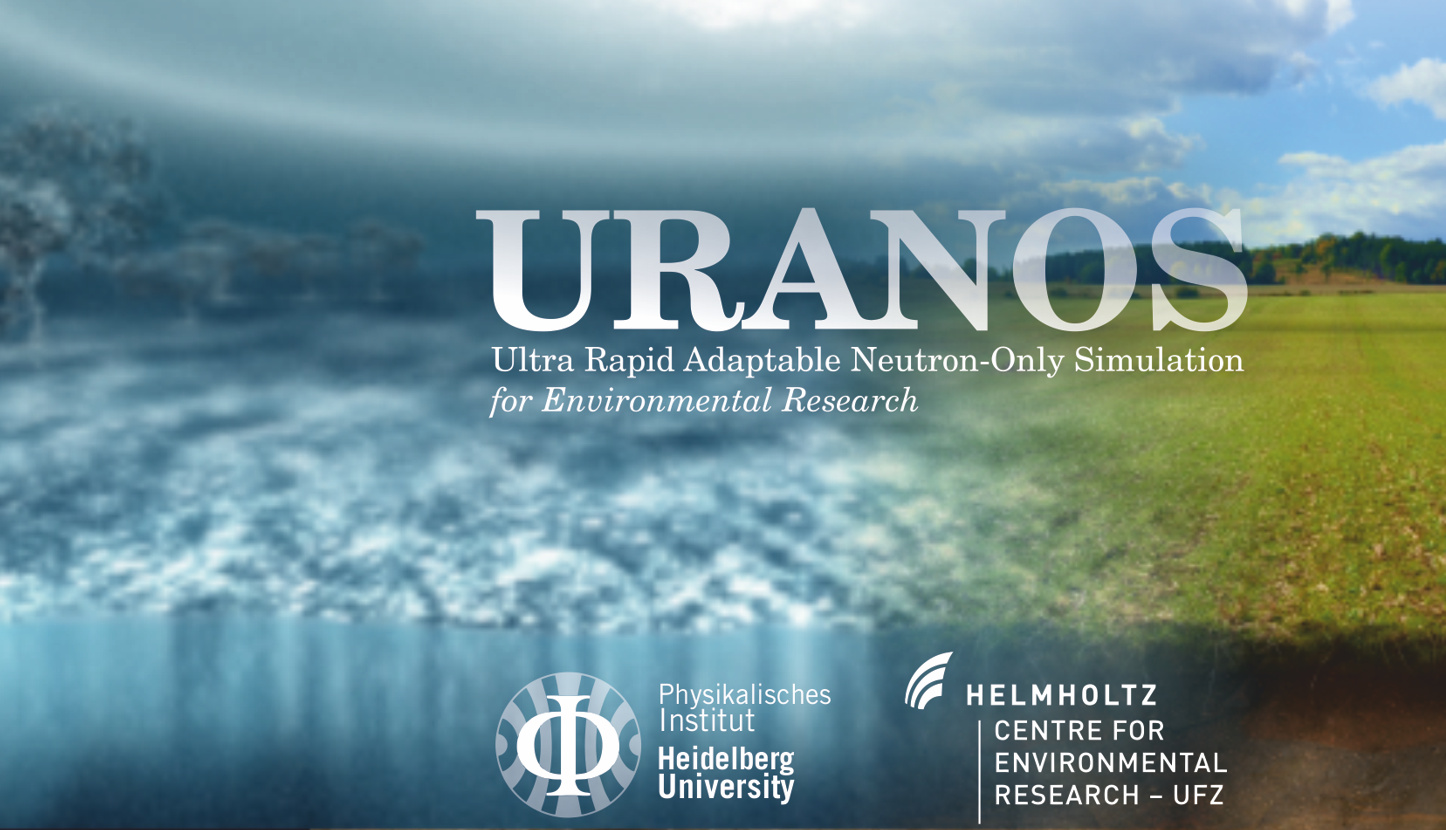 1 Physics Institute, Heidelberg University,
2 Department of Monitoring and Exploration Technologies, UFZ Leipzig
Cite as:
Köhli, M., Schrön, M., Zacharias, S., and Schmidt, U.: "URANOS v1.0 – the Ultra Rapid Adaptable Neutron-Only Simulation for Environmental Research", Geosci. Model Dev. Discuss. [preprint],

doi:10.5194/gmd-2022-93

,

in review

, 2022.

Köhli, M., Schrön, et al., 2015, "Footprint characteristics revised for field-scale soil moisture monitoring with cosmic-ray neutrons", Water Resources Research, 51, 5772-5790,

doi:10.1002/2015WR017169
Abstract
The Monte-Carlo code URANOS was specifically tailored to address the open questions of cosmic-ray neutron sensing for environmental applications (Köhli et al. 2015). The model's designated purpose is the precise description of neutron interactions in nuclear physics, where it is used as a tool to study the response of detectors for time-of-flight based interferometric methods (see Köhli et al. 2016). Recently, the response functions of cosmic-ray neutron detectors have been analysed with URANOS (Köhli et al. 2018). The model is able to predict the response of cosmic-ray neutrons to user-defined and spatially variable conditions in the soil, atmosphere, and biosphere (Schrön et al. 2018a, 2018b). URANOS is very efficient, as it only accounts for the most relevant neutron interaction processes, namely elastic collisions, inelastic collisions, absorption, and evaporation. The main model features are:

tracking of particle histories from creation to detection (ray-tracing),
detector representation as layers or cylinders,
automatic model and material setup based on color codes in 2D bitmap images
Using ENDF/B-VII and JENDL-HE, the model refers to the same physics database as other particle transport codes, like MCNP or Geant4. Nevertheless, this software should be considered as research in progress.

User community
Currently 24 subscriptions.
Stay up to date! We'd like to encourage you to subscribe to the mailing list of URANOS users. This way we can inform you about important updates and new features of the software. You can also share your experience or ask questions to the user community by mailing to:
uranos-users@ufz.de

Download
Support
For technical support or questions please contact:
Publications using URANOS
If you use URANOS in a scientific publication, please forward a copy to us. This will help to support the development of URANOS in the future.

Acknowledgements
URANOS was developed for the project "Neutron Detectors for the MIEZE method" funded by the German Federal Ministry of Education and Research (BMBF), grant identifier: 05K10VHA. Source code and support for URANOS can be provided by M. Köhli. The research was funded and supported by Terrestrial Environmental Observatories (TERENO), which is a joint collaboration program involving several Helmholtz Research Centers in Germany.