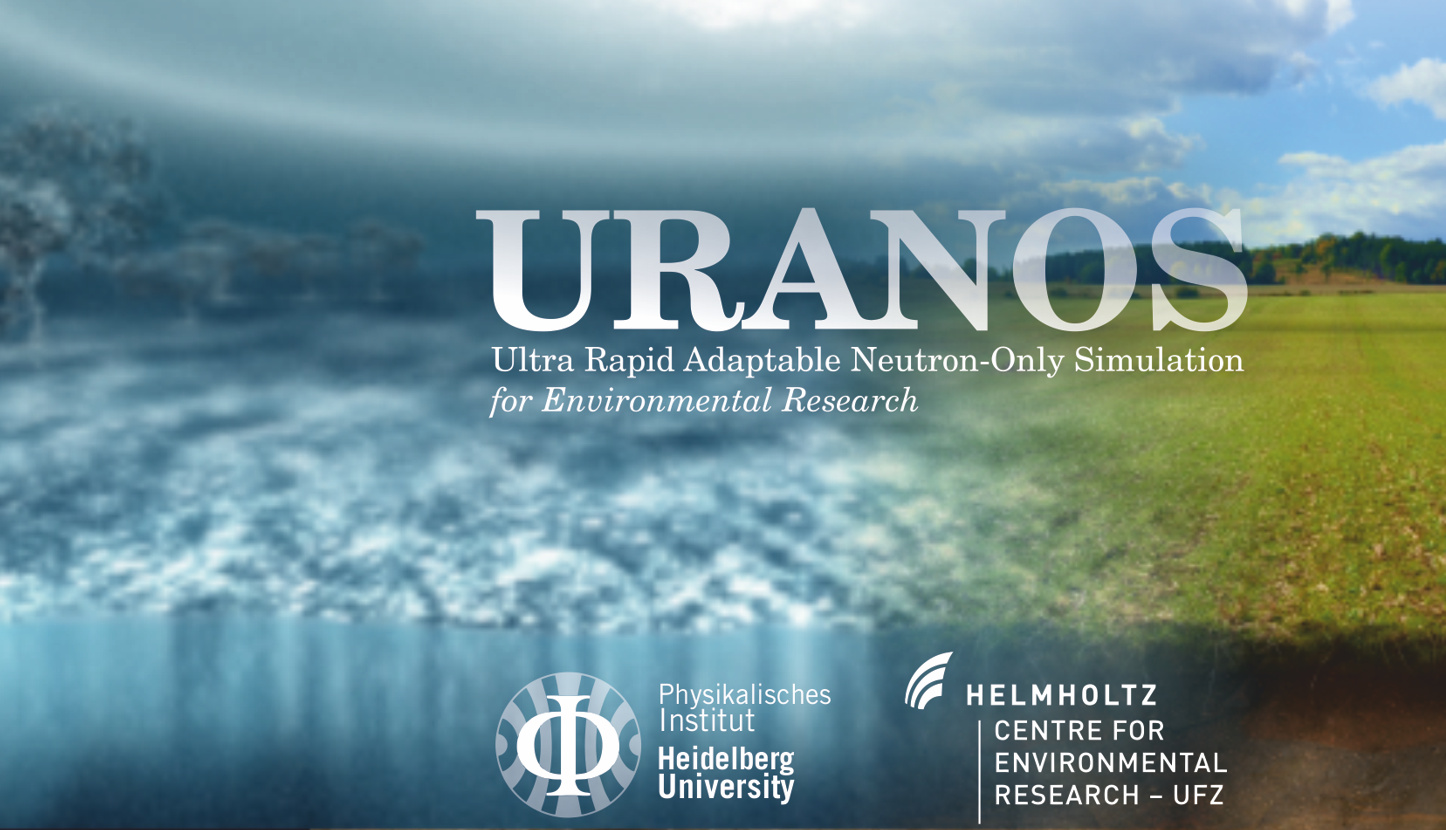 1 Physics Institute, Heidelberg University,
2 Department of Monitoring and Exploration Technologies, UFZ Leipzig
Cite as:
Köhli, M., Schrön, M., Zacharias, S., and Schmidt, U.: URANOS v1.0 – the Ultra Rapid Adaptable Neutron-Only Simulation for Environmental Research, Geosci. Model Dev., 16, 449–477, 2023.

doi:10.5194/gmd-16-449-2023
About
URANOS is a Monte Carlo toolkit specifically tailored for environmental sciences. It can be used to simulate cosmogenic neutron radiation near the Earth's surface and to study its response to environmental factors, such as soil water content, snow, or biomass.
Key features:
stand-alone executable,
parallelization (can run performantly in multiple parallel instances),
graphical user interface (optional) for the command line.
3D voxel engine to allow the generation of complex environments
User community
Currently 24 subscriptions.
Stay up to date! We'd like to encourage you to subscribe to the mailing list of URANOS users. This way we can inform you about important updates and new features of the software. You can also share your experience or ask questions to the user community by mailing to:
uranos-users@ufz.de

Code, Downloads, & Wiki
Support
For technical support or questions please contact:
Publications using URANOS
If you use URANOS in a scientific publication, please forward a copy to us. This will help to support the development of URANOS in the future.

Supporters during 9 years of development
We particularily appreciate the support from Jannis Weimar, Paul Schattan, Daniel Rasche, Jannis Jakobi, Cosimo Brogi, Sugan Kanagasenthinathan, Patrick Stowell, Tatsuhiko Sato, Peter Dietrich.