THE UFZ GREEN ROOF RESEARCH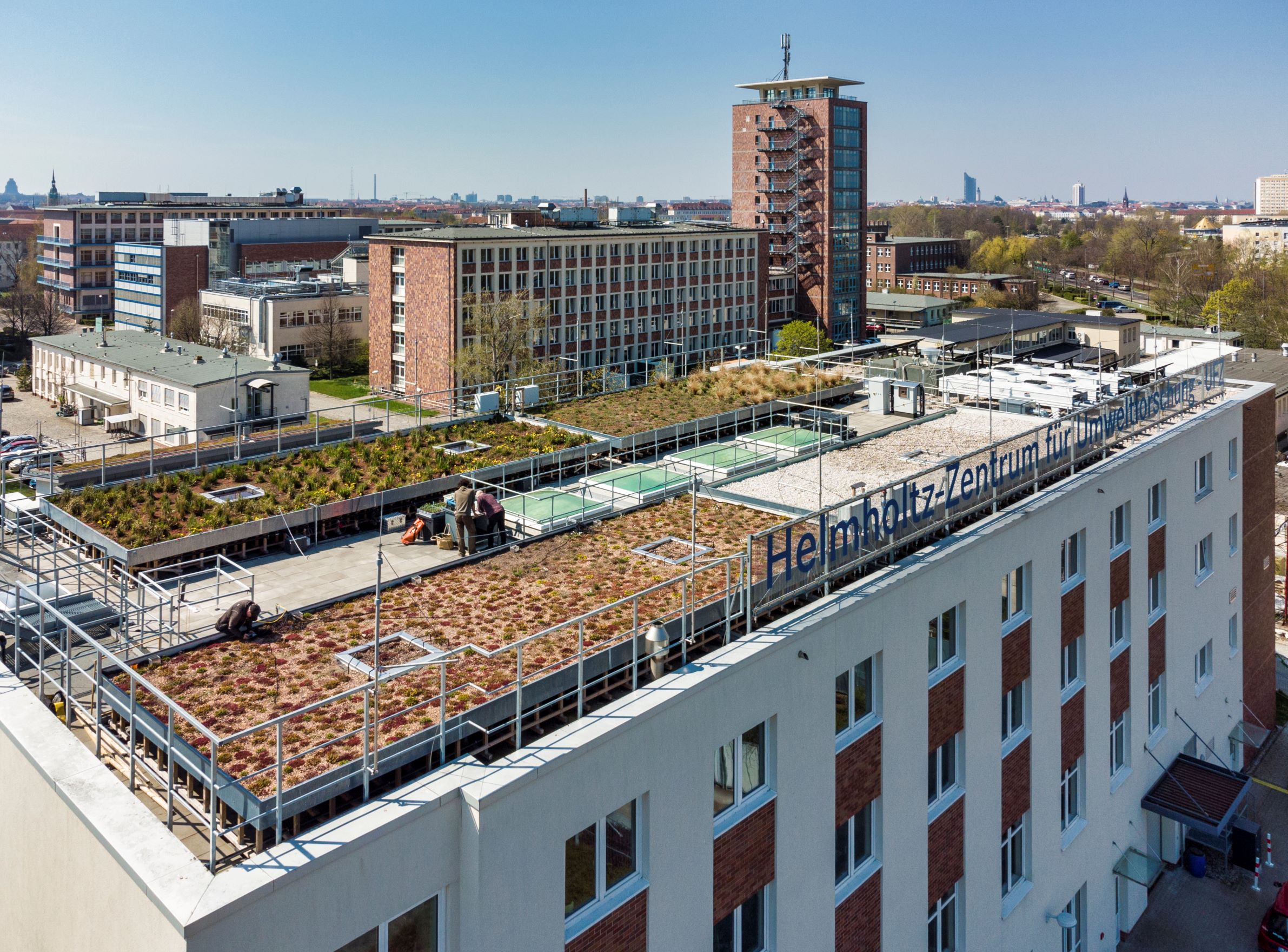 Given the challenges of the present and future associated with adapting cities to climate change, countermeasures are necessary. This is where green roofs come in as promising blue-green infrastructures, because they can absorb water and cool the environment through evapotranspiration, store water and release it to the sewer system in a delayed manner, thus enabling smart stormwater management, and because they can serve as sinks for CO2 and particulate matter. In addition, they serve as places for all-around biodiversity - for both plants and animals.

The multifunctionality of green roofs is undisputed. However, it is necessary to explore in more detail which of the green roof types is the best option for each problem. The questions to be explored are:
How can green roofs be integrated into urban stormwater management concepts as stormwater storage and retention space?
What are the temperature impacts of different green roof options?
Which plants are best suited for the extreme location of green roofs?
What influence do different green roof types have on biodiversity? Which arthropods (especially insects) occur on green roofs?
Can green roofs serve as sinks for airborne pollutants?
Are green roofs suitable as decentralized treatment plants for low-polluted wastewater (e.g. for graywater)?

Answering these and other questions is the goal of the UFZ Green Roof Research Consortium.

THE WORKING GROUPS OF THE UFZ GREEN ROOF RESEARCH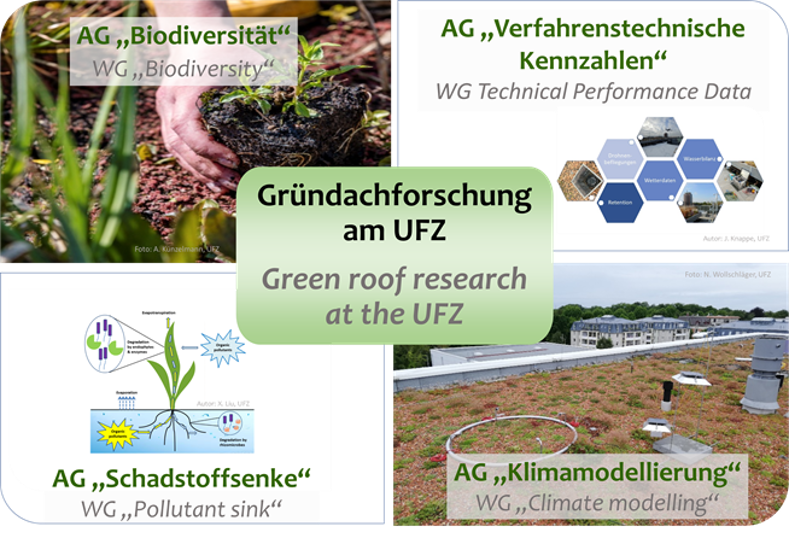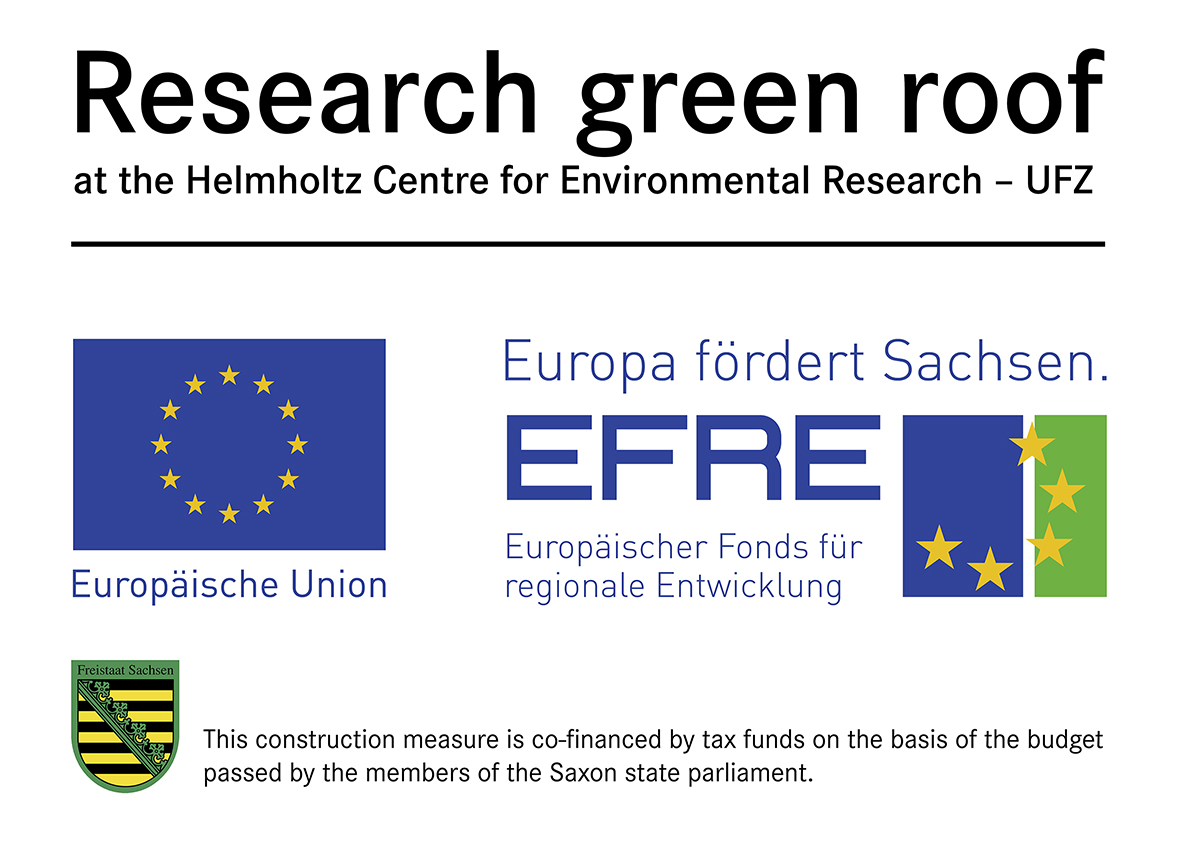 Since April 2020, the UFZ Research Green Roof has been contributing to the interdisciplinary answering of current questions about the optimized effect of the green roofs in urban areas, with the focus on upgrading urban green roofs for rain and gray water management as well as improving the inner-city climate.
For this purpose, an intensely greened, an evaporation-optimized and an extensively greened section (approx. 80 m2 each) were installed on the roof of UFZ-buildung 7.1 and equipped with the necessary measuring technology, a gravel area serves as a reference.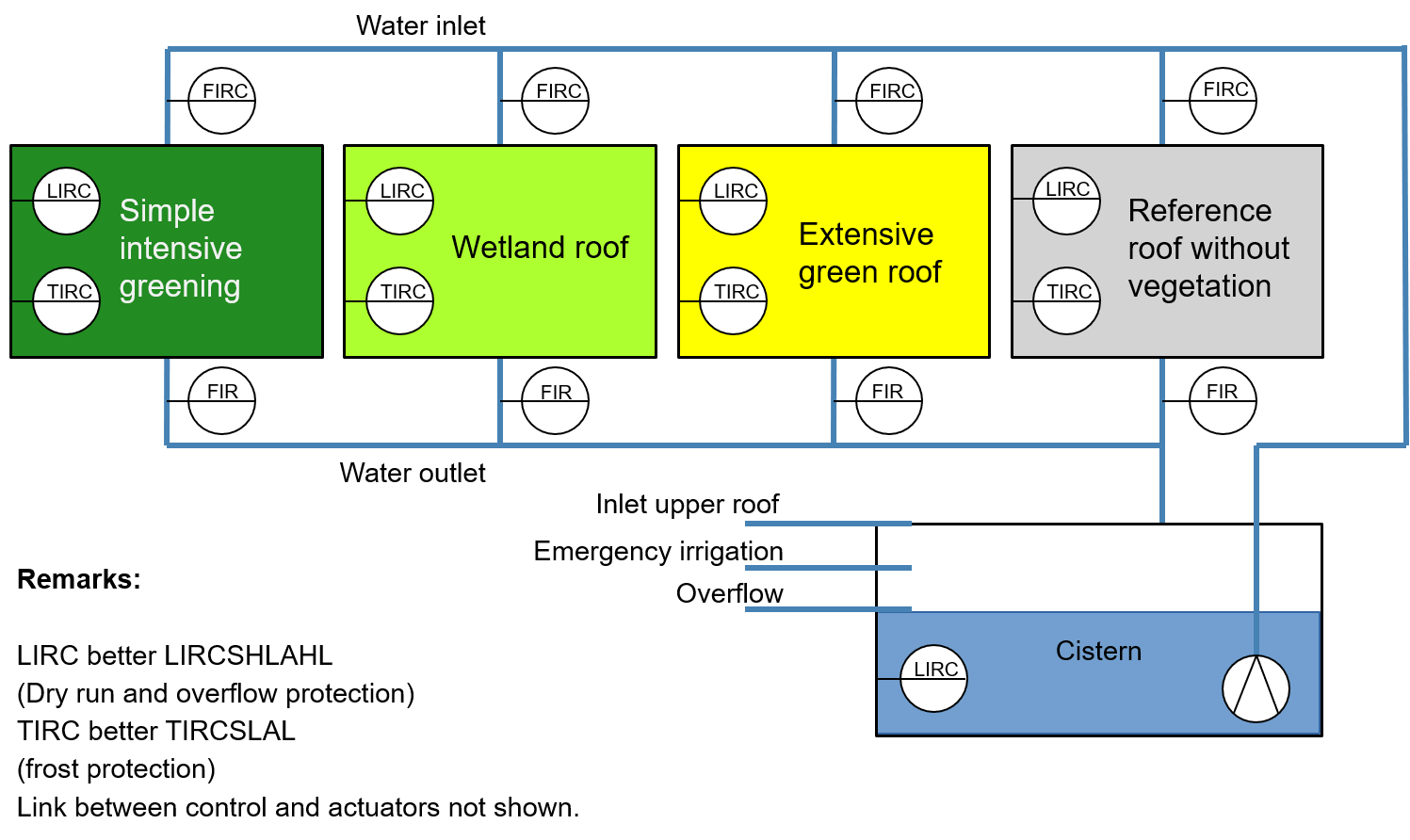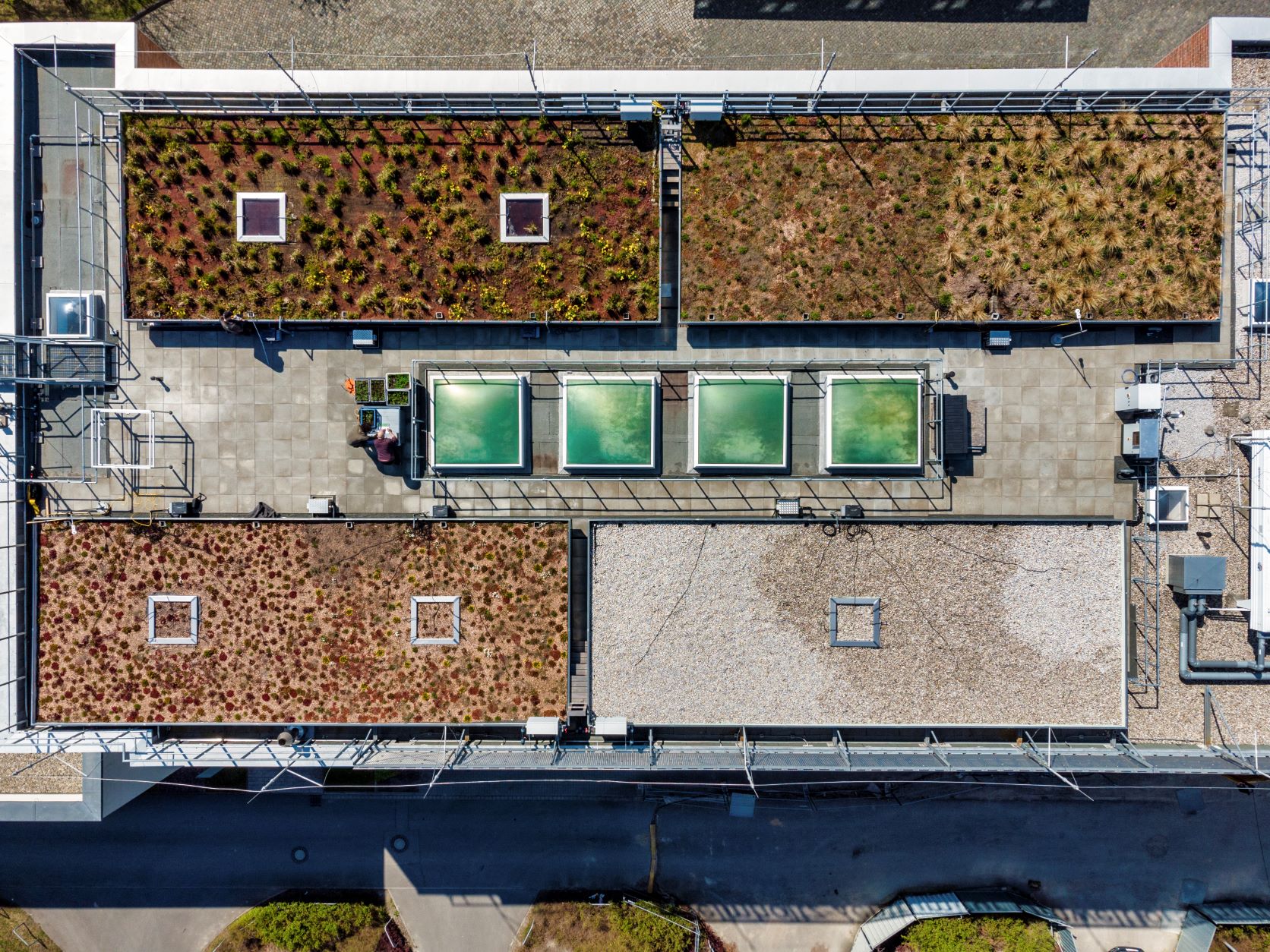 TOPICS FOR STUDENTS

We are always looking for interested and committed young people with an interest in interdisciplinary research for the better future of our cities. To access the current topics for student research please click on the following link: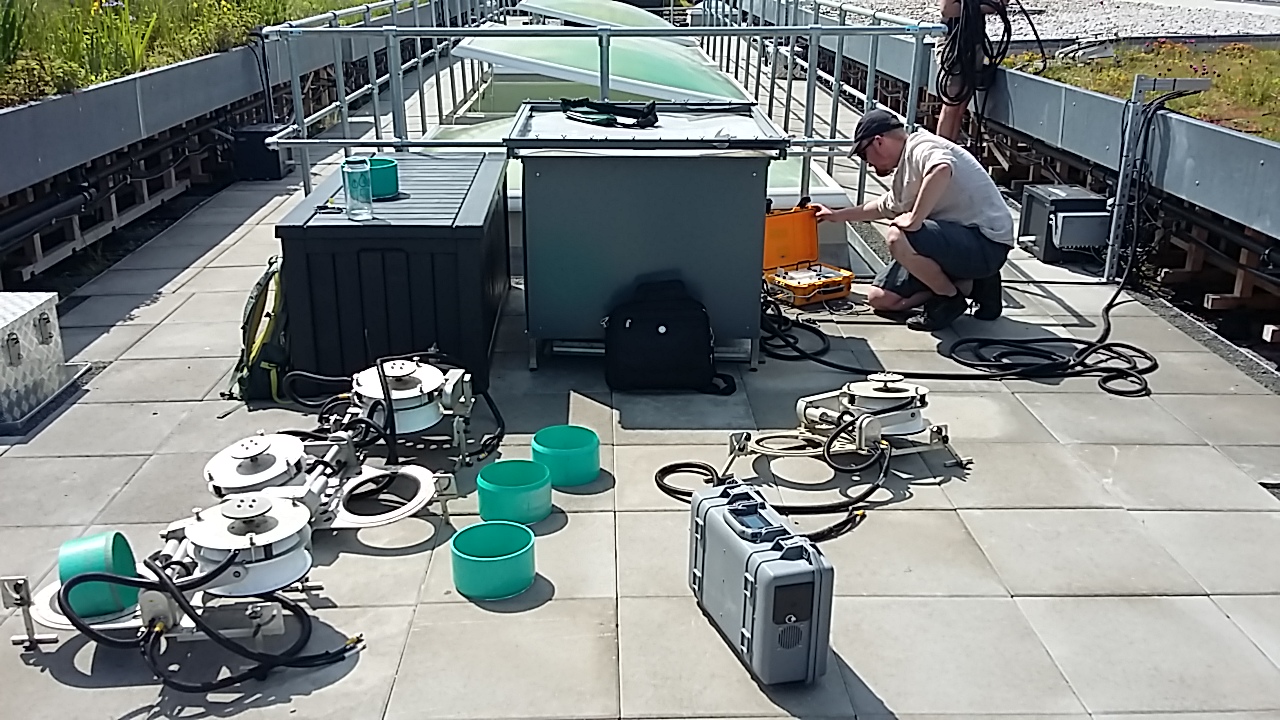 PUBLICATIONS

Here you will find the publications published by our researchers as part of their green roof research:
UFZ GREEN ROOF RESEARCH IN THE MEDIA
SCHWAMMSTÄDTE GEGEN STARKGEREN
published on August 16, 2021 in 3sat nano (UFZ research green roof from min 2:19)
FURTHER INFORMATION

Next meeting of the UFZ Green Roof Research team:
14 December 2023 at 10:00 am in Saal 1CD, KUBUS