Former Team Members


Dr. Katja Sigel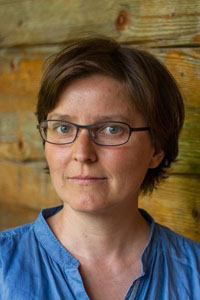 Areas of Expertise and Research
Socioeconomic research on sustainability in the water sector with particular focus on

Integrated water resources management, implementation of the EU Water Framework Directive
Analysis of water use and sanitation in emerging and developing countries (Mongolia, Jordan)
Economic valuation of water resources and water services
Analysis of the political and institutional framework conditions for the implementation of sustainable water infrastructure systems
Concepts and methods for participatory planning
Environmental decision-making under uncertainty and ignorance

Transdisciplinary research

Curriculum Vitae
Researcher, Department of Economics, Helmholtz Centre for Environmental Research – UFZ, Leipzig (Germany)
Dr. rer. nat. (equiv. Ph.D. in Natural Sciences), University of Osnabrück (Germany), thesis: "Environmental problems and uncertainty – A conceptual and empirical analysis using the example of the European Water Framework Directive"
Visiting Researcher, Finnish Environment Institute Syke, Department of Water Management, Helsinki (Finland)
Ph.D. student, Department of Economics, Helmholtz Centre for Environmental Research – UFZ, Leipzig (Germany), and University of Osnabrück (Germany)
Academic Assistant, Bavarian Ministry for Regional Development and Environmental Affairs, State Office for Water Management, Hof (Germany)
Studies in Geoecology at the University of Bayreuth (Degree: Dipl.-Geoökol., Master of Science equivalent), diploma thesis: "Analysis of the correlation between road salt input and aluminum output in a drinking-water catchment on base-poor sandstone"
Completed Projects
HarmoniRiB: Harmonised Techniques and Representative River Basin Data for Assessment and Use of Uncertainty Information in Integrated Water Management (European FP5-RTD project)

Teaching experience

Lecturer, Institute of Geography, Ruprecht-Karls-Universität Heidelberg (since 2015)
Publications
Recent Publications

Klauer, B., Sigel, K., Schiller, J. (2016): Disproportionate Costs in the EU Water Framework Directive – How to justify less stringent environmental objectives. Environmental Science & Policy 59, 10-17.
Sigel, K., Klauer, B., Schiller, J. (2015): Begründung "weniger strenger Umweltziele" nach EG-Wasserrahmenrichtlinie mit unverhältnismäßigen Kosten – ein Verfahrensvorschlag. KW – Korrespondenz Wasserwirtschaft, Heft Nr. 12, S. 268-774.
Klassert, C., Sigel, K., Gawel, E., Klauer, B. (2015): Modeling Residential Water Consumption in Amman: The Role of Intermittency, Storage, and Pricing for Piped and Tanker Water. water 7 (7), 3643-3670.