Visualization of Urban Environments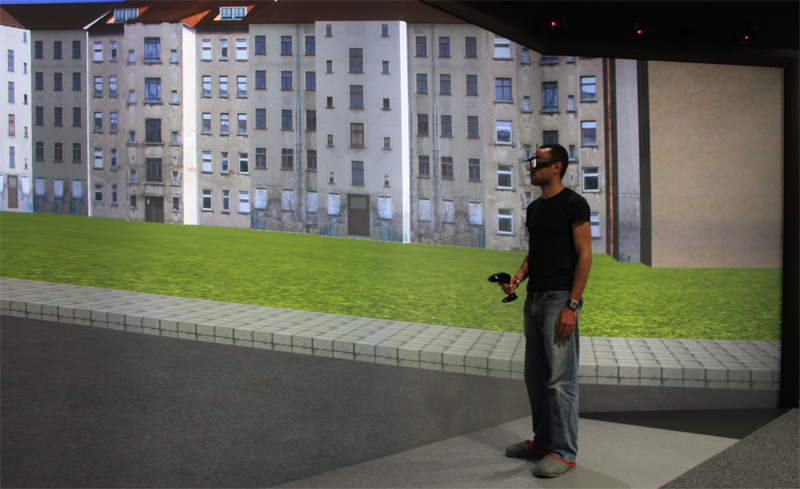 In order to develop know-how for the visualization of urban environments, different experiments and work have been carried out to generate 3D models. As a first step Michael Vieweg and Miguel Fonseca modelled an area 2x6 blocks in size representing a small part of Leipzig. This was done entirely by hand, using the Software Cinema4D. The resulting 3D model was limited to simple geometries of the houses, while the impression of detail was generated by using photographs as textures. This worked well for visualizations at a normal monitor where no stereoscopy is present. However, when using the visualization center it soon became obvious that the facades appeared flat and had no 3D contours. Furthermore it turned out that a more detailed modelling of the houses, such as representing the windows and window sills or the plastering on the facades, would require quite a large additional input of effort.

One attempt to minimize this was the automatic generation of geometries on the basis of the GIS data describing the distribution of the plots of land. This was done in collaboration with the HTWK-Leipzig by Lars Bilke in the form of a Masters Thesis, supervised by Prof. Dr. Vyhnal (HTWK) and Dr. Björn Zehner (UFZ). In the context of this work a software system based on the scene graph OpenSG was developed, which generates virtual models of buildings and facades and urban areas with the aid of a procedural method and simple building components, like window and door models. A rule system based on formal grammars was used as the procedural algorithm, which determines the architectural structure and characteristics of a building. Facades and their structure can be defined and produced by a graphical tool. Using these rule definitions and a city scene definition with roads, building blocks and lots, a virtual city model was created with another software tool that was also developed for this project. Facades and building models in the style of late 19th- and early 20th-century houses, such as are commonly seen in many parts of Leipzig, were used as examples to demonstrate the ability of the system.