Transfer News
2022

2021

2020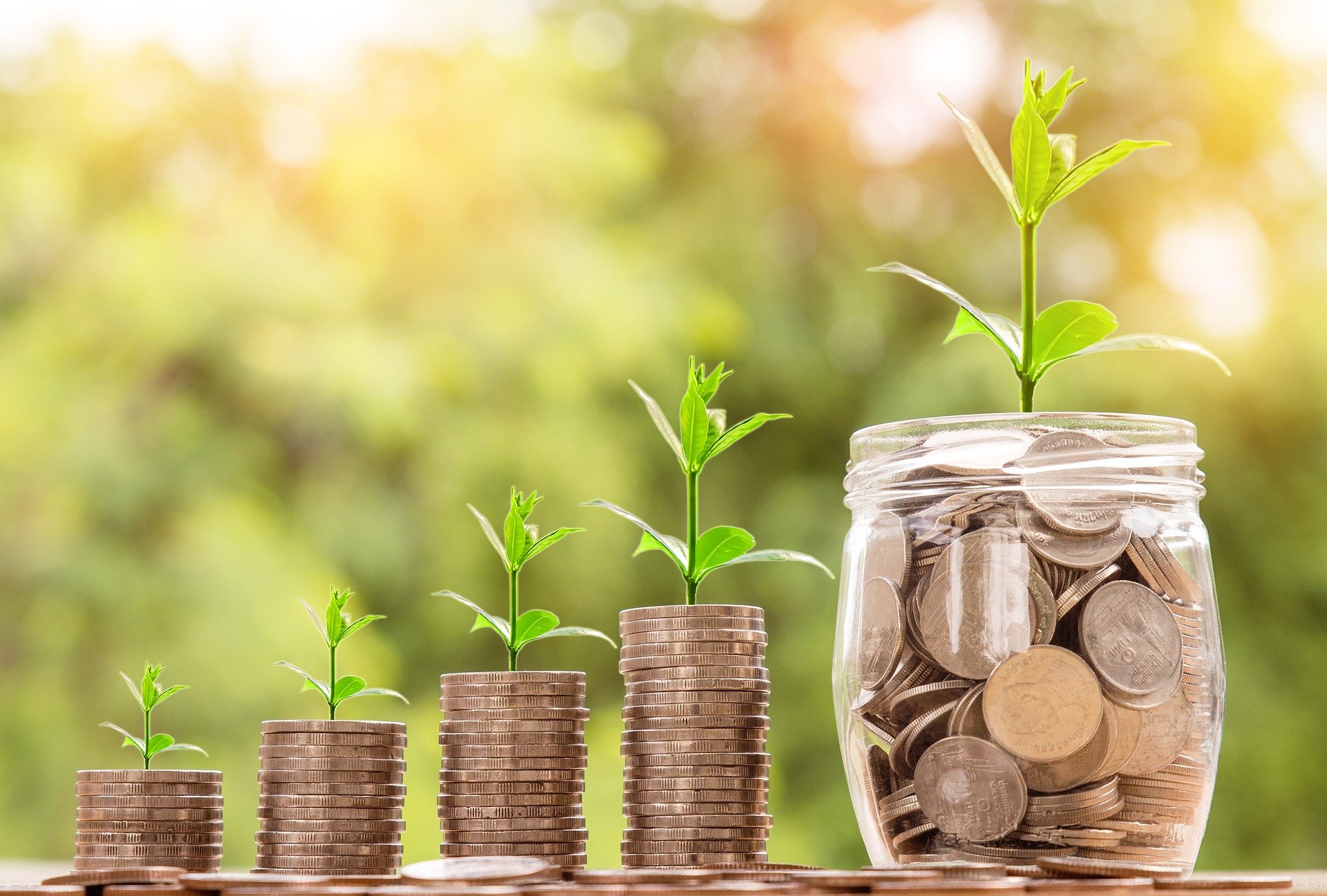 Manufacturing processes today must not only be economically viable, but also socio-economically and ecologically sound to bring products successfully to market. With scientists around Norbert Kohlheb (Centre for Environmental Biotechnology) and Jens Krömer (Department of Solar Materials), the UFZ has expertise in analysing process parameters and costs for scaling up biotechnological processes within the framework of an early sustainability assessment. Examples of sustainable processes include the synthesis of "green chemicals" such as citric acid from waste frying oil (1) or para-hydroxybenzoic acid as a model process for bio-based aromatics (2), but also processes for treating wastewater with algae and bacteria (3).

Publications:
(1) Early‐stage sustainability assessment of biotechnological processes: A case study of citric acid production, doi.org/10.1002/elsc.201800198
(2) Economic Process Evaluation and Environmental Life-Cycle Assessment of Bio-Aromatics Production, doi: 10.3389/fbioe.2020.00403
(3) Assessing the life-cycle sustainability of algae and bacteria-based wastewater treatment systems: High-rate algae pond and sequencing batch reactor, doi.org/10.1016/j.jenvman.2020.110459

Further Information:
Dr. Norbert Kohlheb ( norbert.kohlheb@ufz.de ), Centre for Environmental Biotechnology
Dr. Jens Krömer ( jens.kroemer@ufz.de ), Department of Solar Materials


November 2020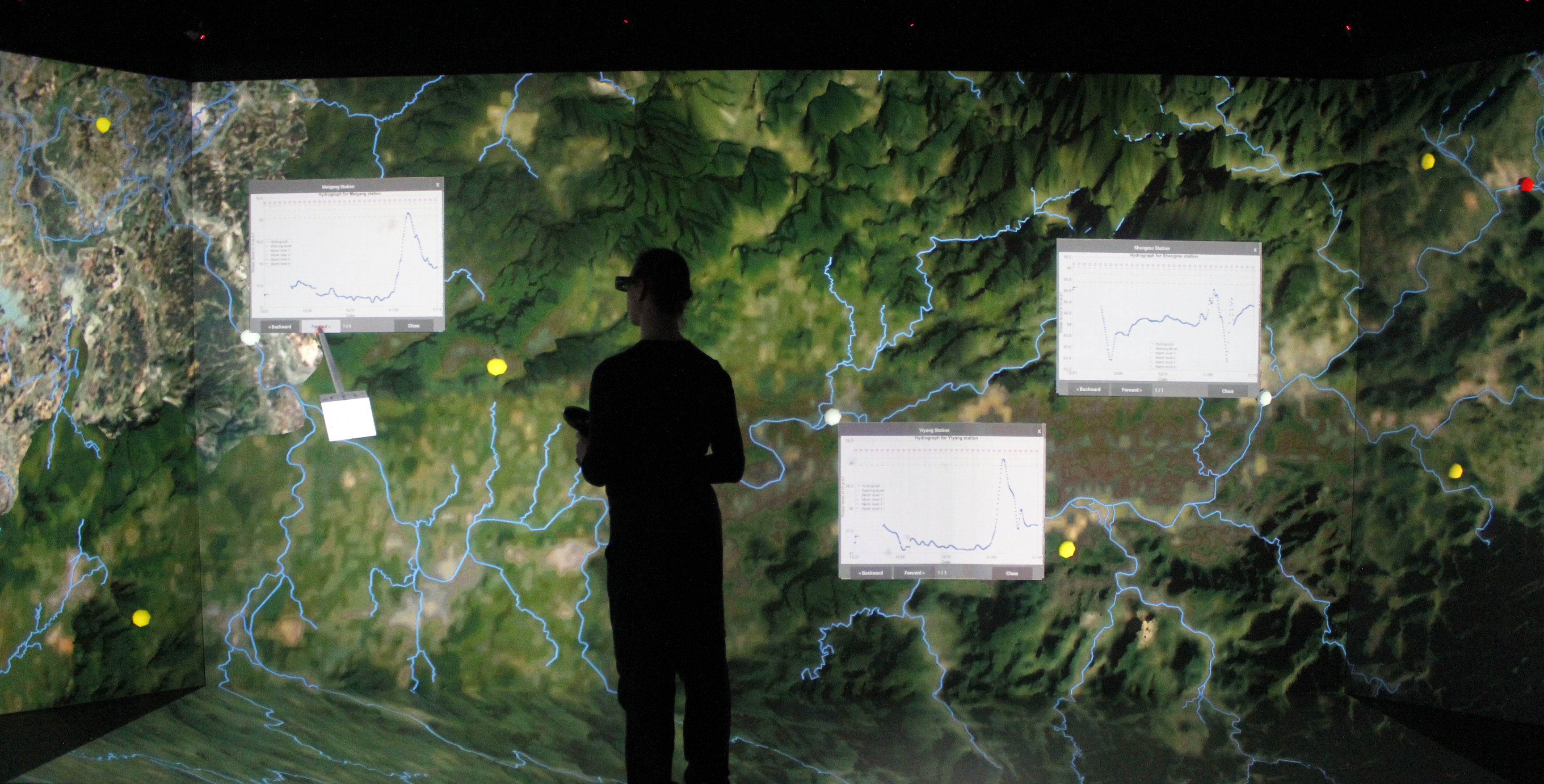 in the UFZ VisLab, Photo: UFZ
Today, an increasing amount of data from remote sensing and simulations is available for the analysis of complex environmental processes. This analysis can be facilitated by an appropriate visualisation of the data. With the TESSIN VisLab, the UFZ has a unique research infrastructure that combines hardware such as a 6 m x 3 m large main screen as well as visualisation and virtual reality software to visualise research data from terrestrial systems. Typical applications range from water supply in urban systems, and groundwater analysis in hydrosystems to the exploration of geothermal energy systems or climate and ecosystems. The illustrative visualisation not only stimulates scientific exchange, but also allows knowledge transfer to decision-makers and the general public.
Together with Chinese co-workers, the UFZ experts Dr Karsten Rink and Lars Bilke from the UFZ Department of Environmental Informatics developed a software platform for the 3D visualisation of environmental data such as terrain, weather, river system, water level, land use changes and interrelations between these data sets. For this purpose, several software tools are being used: data integration and processing are handled by the OpenGeoSys Data Explorer and ParaView, while the visualisation and presentation is handled by Unity, a 3D game engine, and MiddleVR, to allow user interaction with the 3D world. The scientists provide an open standardised software framework and show the feasibility for the Chinese Poyang lake basin. Furthermore, it can be used as a platform to adopt the software easily for other regions in the world facing environmental challenges.
Publication:
K. Rink, E. Nixdorf, C. Zhou, M. Hillmann, L. Bilke. A Virtual Geographic Environment for Multi-Compartment Water and Solute Dynamics in Large Catchments. J. Hydrol 582, art. 124507 (2020)
https://doi.org/10.1016/j.jhydrol.2019.124507

Contact and further information:

Dr. Karsten Rink, karsten.rink@ufz.de
Lars Bilke lars.bilke@ufz.de

TESSIN VISLab
OpenGeoSys
Video on YouTube

November 2020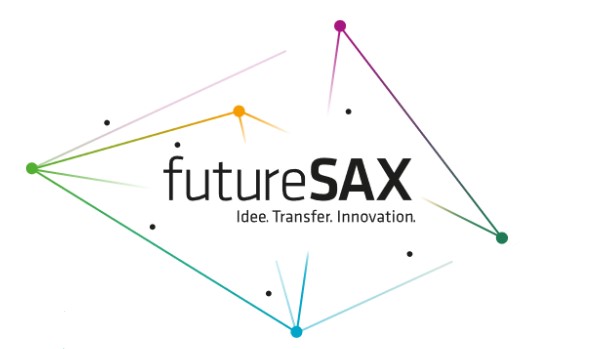 In cooperation with the Leipzig Science Network, futureSAX invites you to discover the Leipzig science region on 3 November 2020.
The UFZ will also be present at this first Saxon transfer forum to support the exchange on best practice examples of Saxon knowledge and technology transfer and to get to know the Leipzig science region.
The UFZ is contributing its experience from the BMBF-funded project "Sektorale Verwertung - Professionalisierung des Technologietransfers am UFZ" - FKZ: 01IO1424 (sectoral exploitation – professionalising technology transfer at UFZ – grant 01IO1424), which was successfully completed in 2018.
Key results of the funding were the establishment of efficient processes, the development of a transfer project pipeline with measures that target the further development of priority transfer projects, the strengthening of technology marketing and professionalising of intellectual property management, including out-licensing. At the end of the project, the tools and processes developed were again discussed and reviewed with Atrineo AG, an external exploitation agency.

In addition to captivating keynote speeches and discussion rounds, four workshops will be held, aimed at a transfer community from science and industry, interested scientists and multipliers.
The UFZ is looking forward to this exciting event and to you!
Click here to register!
Would you like to know more about our technologies and processes? Then get in touch with us:

Joachim Nöller, Dept. of Knowledge and Technology Transfer - WTT ( joachim.noeller@ufz.de )
October 2020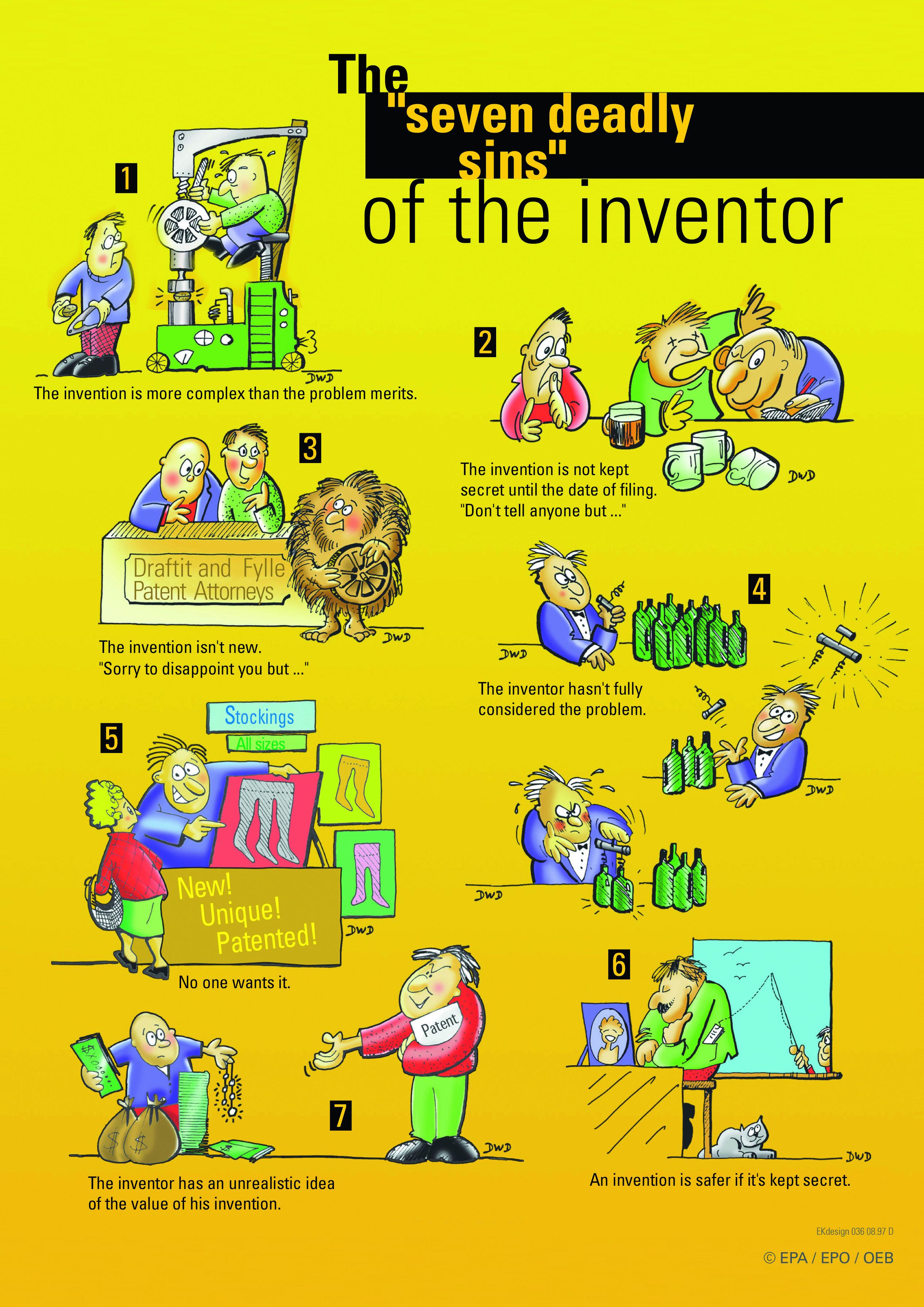 © EPO When patenting innovative technologies, many researchers unknowingly fall into avoidable traps, thereby jeopardising the protection of their valuable ideas.
On 25 September 2020, the Department of Knowledge and Technology Transfer organised the workshop "How to write a patent application" with Dr. Jens Glienke as guest lecturer. Glienke is a patent lawyer at Gulde & Partner, a Berlin-based law firm specialising in patents. He studied biology and worked in oncological research and development before becoming a patent expert at a pharmaceutical company, thereby shifting his career from research to legal protection. During the workshop, Glienke shared his expertise in patent analysis and registration and talked about property rights and the opportunities of and requirements for patenting, while offering a practical guide to drafting claims and filing patent applications. Glienke particularly focussed on the wording, structure, and content of patent applications, while also pointing out potential pitfalls.
This workshop was organised as part of the department's advisory service for entrepreneurs.

Contact: Joachim Nöller, Dept. of Knowledge and Technology Transfer ( joachim.noeller@ufz.de )
October 2020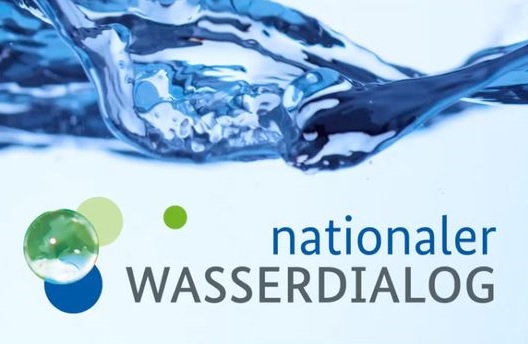 © i.Stock.com/viafilms / Logo: BMI The German water industry is facing new challenges: Climate change, demographic developments, changes in land use, technological innovations and changing consumer behaviour are bringing about comprehensive changes. In addition, new political framework conditions, such as the EU budget or changes in the Common Agricultural Policy, lead to other priorities and challenges.
The National Water Dialogue forms the basis for the transformation of water management
The Federal Environment Ministry (BMU) and the Federal Environment Agency (UBA) jointly conducted the National Water Dialogue, which was intensively processed and accompanied by the UFZ. In this two-year dialogue process, experts from science, industry, field, administration and interest groups identified the main future challenges, guidelines and objectives. Options and fields of action for the future development of German water management and the management of water and water bodies were developed.
This dialogue process was concluded with the 2nd National Water Forum on 8 October 2020 and the final report on the National Water Dialogue was handed over to the Federal Environment Minister and the President of the Federal Environment Agency. At the same time, the key messages were summarised and published in a brochure. These include:
- Strengthening the appreciation of water in politics and society and inter-sectoral networking,
- Better combining water protection and nature conservation,
- Jointly developing standards for water-sensitive land use by agriculture and water management
What comes next
The BMU will use building blocks from the National Water Dialogue essentially contributing to the development of a National Water Strategy until 2050. The draft of the BMU Water Strategy is scheduled to be published for June 2021.

Contact: Dietrich Borchardt, Department of Aquatic Ecosystem Analysis ( dietrich.borchardt@ufz.de )
October 2020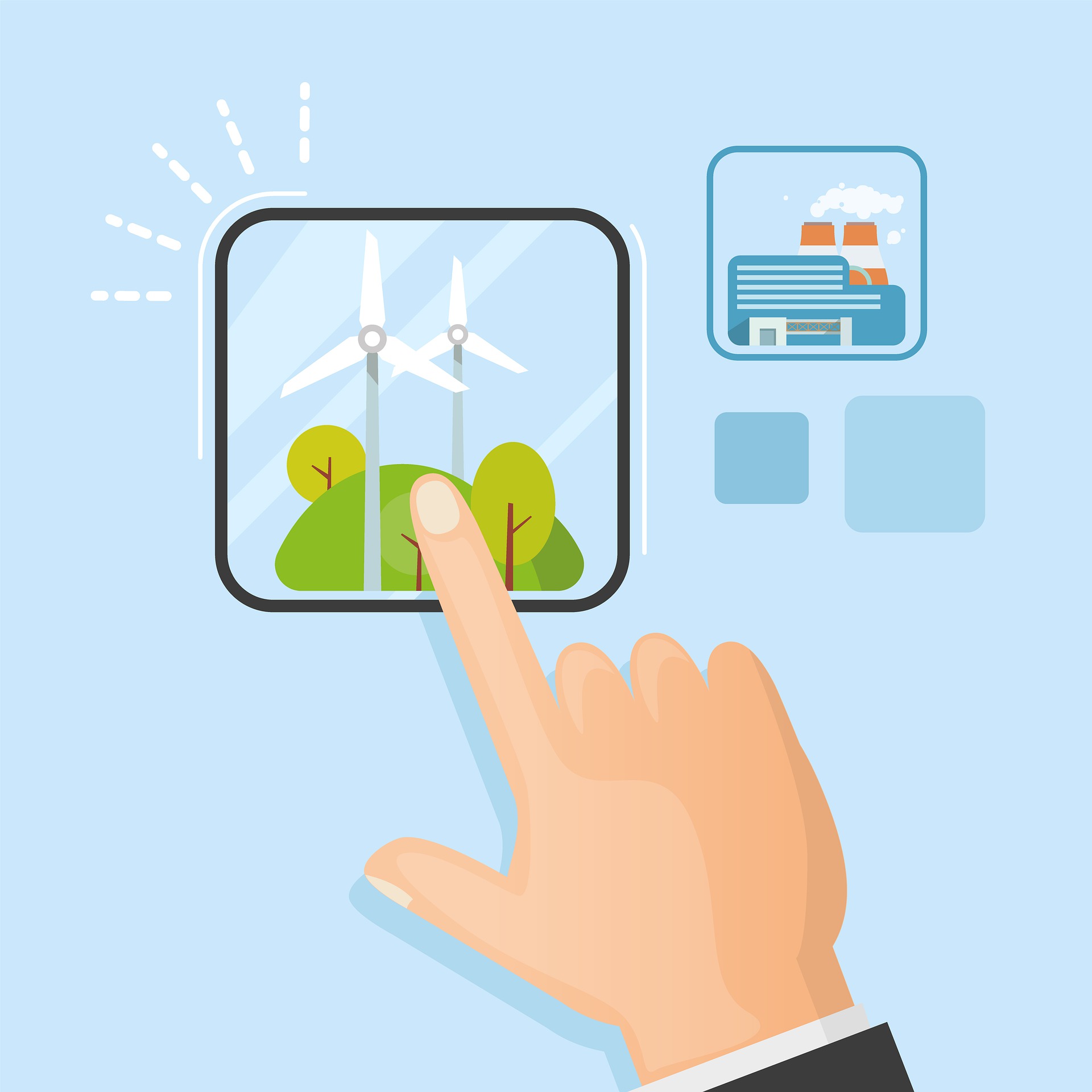 The high number of bioeconomy (BE) policies and strategies shows the interest that many nations have in BE. The development of BE holds opportunities but also risks for sustainability. Thus, future development of a sustainable BE should be based on coherent policy frameworks.

However, the published study by UFZ, SQ Consult, TU Berlin and DBFZ revealed that coherence amongst the sustainability criteria included in various BE frameworks should be increased. Groundwork developed by non-governmental governance approaches should be picked up by policy makers for more harmonised terminologies of sustainability requirements, BE definitions, etc. BE monitoring approaches should take policy targets, sustainability requirements and sustainability risks into account and should adjust them in a dynamic way.
The aim of this study was to evaluate how the current EU policy framework for the bio-economy takes sustainability aspects into account and whether non-governmental governance approaches could support its improvement.
Within the study, sustainability requirements have been identified in 56% of the policy documents. The influence of the policy frameworks on the industry was found to be rather low. Specific targets and goals are included in 72% of the analysed BE policy documents, but only 50% are quantifiable. Identification of major sustainability risks revealed that in the biomass production stage, mostly environmental risks are most relevant. A "hot spot sector" with accumulated sustainability risk perceptions or a tendency to higher risk levels was not identified. Most important sustainability risk perceptions matched with requirements in policy documents, but requirements were mostly stated in a noncommittal way.

For further details please see:
Strengths and gaps of the EU frameworks for the sustainability assessment of bio-based products and bioenergy
By: D. Moosmann, S. Majer, S. Ugarte, L. Ladu, S. Wurster, D. Thraen
In: Energy, Sustainability and Society, May 2020, DOI: 10.1186/s13705-020-00251-8
Download here

Further information
: Prof. Dr.-Ing. Daniela Thrän (
daniela.thraen@ufz.de
), Department of Bioenergy

August 2020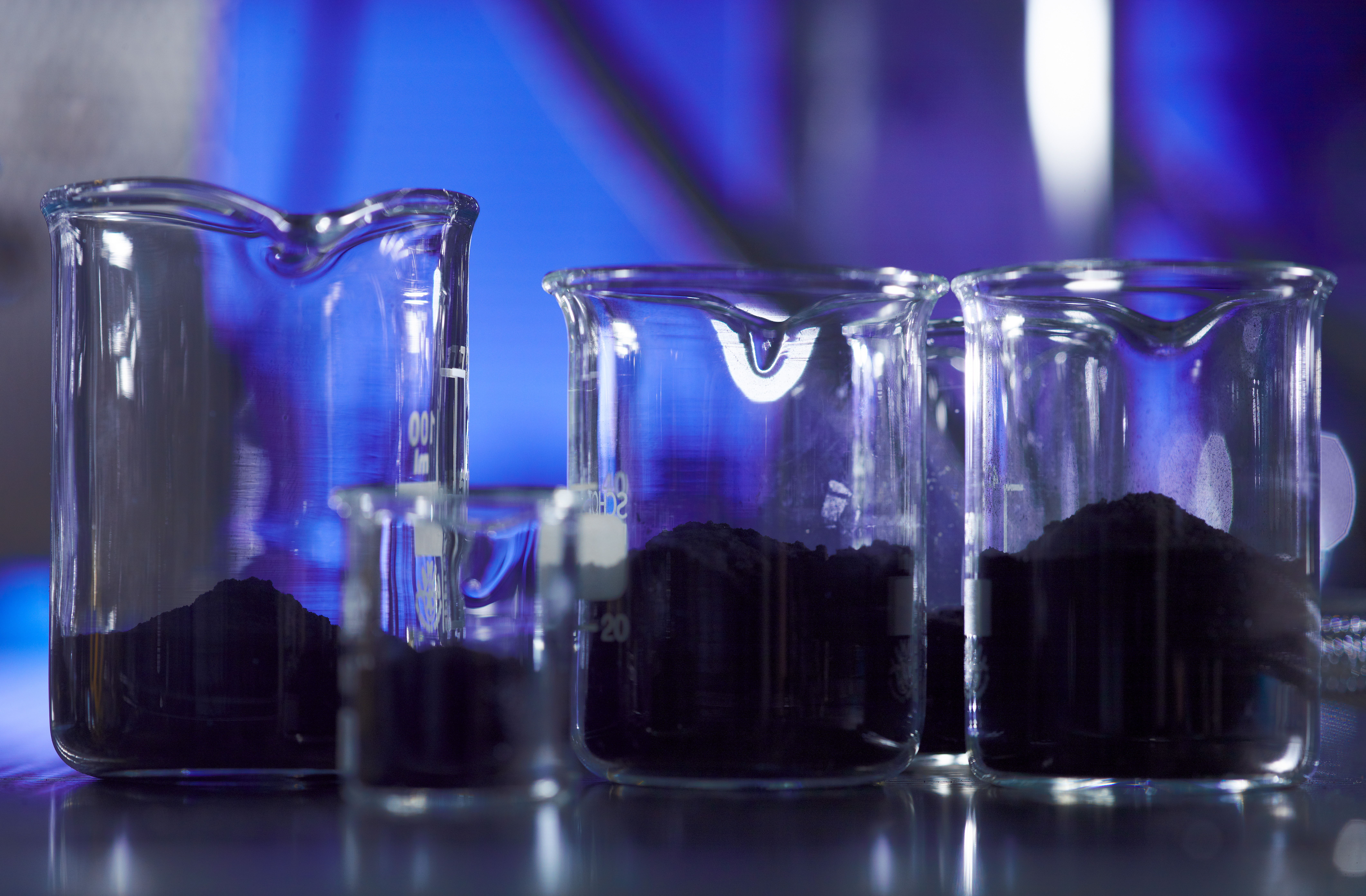 Beakers with Carbo Iron made of colloidal activated carbon and iron for cleaning chemically contaminated groundwater, Photo: UFZ Intrapore, exclusive licensee of Carbo-Iron®, successfully used 500 kg of the innovative composite material in a case of damage in Germany.
The product Carbo-Iron® was developed by the UFZ to decompose organic pollutants in contaminated soil and aquifers in an environmentally friendly way. The in-situ reagent is injected into the groundwater, collects pollutants and converts them into harmless compounds through chemical reduction. Now, for the first time, 500 kg were successfully used by the licensee Intrapore at a contaminated site in Germany.

Congratulations! For the UFZ and Intrapore it was a hard way from development to testing of the composite material Carbo-Iron® in numerous successful field studies.
With the milestone that has now been reached, the way has finally been paved for tackling major cases of damage. In Germany alone - an industrial nation with the highest environmental standards and regulations - there are over 300,000 suspected cases of contaminated sites, 15,000 of which have already been classified as contaminated. Therefore, remediation methods are urgently needed.
Intrapore and UFZ are taking up this challenge and will continue cooperation on new materials e.g. to decompose perfluorooctanoic acid (PFOA) in an environmentally friendly way in the future.
For further information please refer to:
Dr. Joachim Nöller ( joachim.noeller@ufz.de ), UFZ, Knowledge and Technology Transfer
Dr. Julian Bosch ( info@intrapore.com ), Intrapore GmbH
August 2020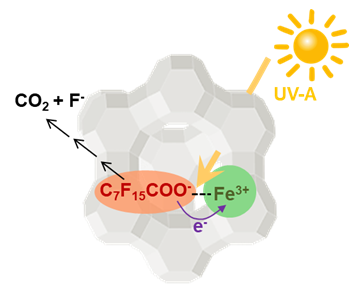 Degradation of pollutants in zeolite, graphic: UFZ Perfluorooctanoic acid (PFOA) is of emerging concern due to its environmental persistence and global distribution as industrial surfactant in chemical processes or material feedstock. Efficient degradation approaches are so far limited. UFZ scientists around Dr. Anett Georgi from the Department of Environmental Engineering have developed a novel approach for PFOA degradation under UV-A irradiation after adsorption on colloidal Fe-zeolites, called Trap-Ox©.

Fe-Zeolites are very suitable as sorption-active support for oxidation catalysts since they are highly porous and in contrast to activated carbon resistant to oxidation. The iron can be incorporated into the zeolite by ion exchange and can function as efficient redox catalyst e.g. for activation of hydrogen peroxide over a wide range of pH.

In the mentioned paper, the scientists of the UFZ and IQS Barcelona published first results of a new approach applying this material for the degradation of PFOA. This extremely persistent contaminant can be degraded by UV-A irradiation after adsorption into the Fe-zeolite using oxygen from air as the only oxidant. The material is superior compared to a homogeneous ferric ion catalyst system in terms of performance, operation pH and UV range. The published results confirmed catalyst recyclability and tolerance against relevant inorganic anions. The new approach is therefore exploitable for adsorptive PFOA removal from contaminated water with on-site adsorbent regeneration.

Beside this novel approach, the UFZ is developing an entire toolbox of methods for the remediation of contaminated aquifers using both, fixed bed reactors as well as in-situ approaches. Thereby, the UFZ focusses on the optimisation of Trap-Ox© Fe-zeolites for degradation of other perfluoroalkyl substances in fixed bed reactors via production of sulfate radicals from persulfate as oxidising agent for regeneration of the Fe-zeolites (EP3646946A1). Further applications of the Fe-zeolites focus on in-situ groundwater remediation of contaminations with volatile chlorinated hydrocarbons using a process driven by hydroxyl radicals. A first field study has started this year together with our partner Intrapore GmbH at a contaminated site in Germany.

Publication:

"Degradation of perfluorooctanoic acid adsorbed on Fe-zeolites with molecular oxygen as oxidant under UV-A irradiation", L. Qian, A. Georgi, R. Gonzalez-Olmos, F.-D. Kopinke in Applied Catalysis B: Environmental, December 2020, Link
Further information: Dr. Anett Georgi, anett.georgi@ufz.de , Department of Environmental Engineering
August 2020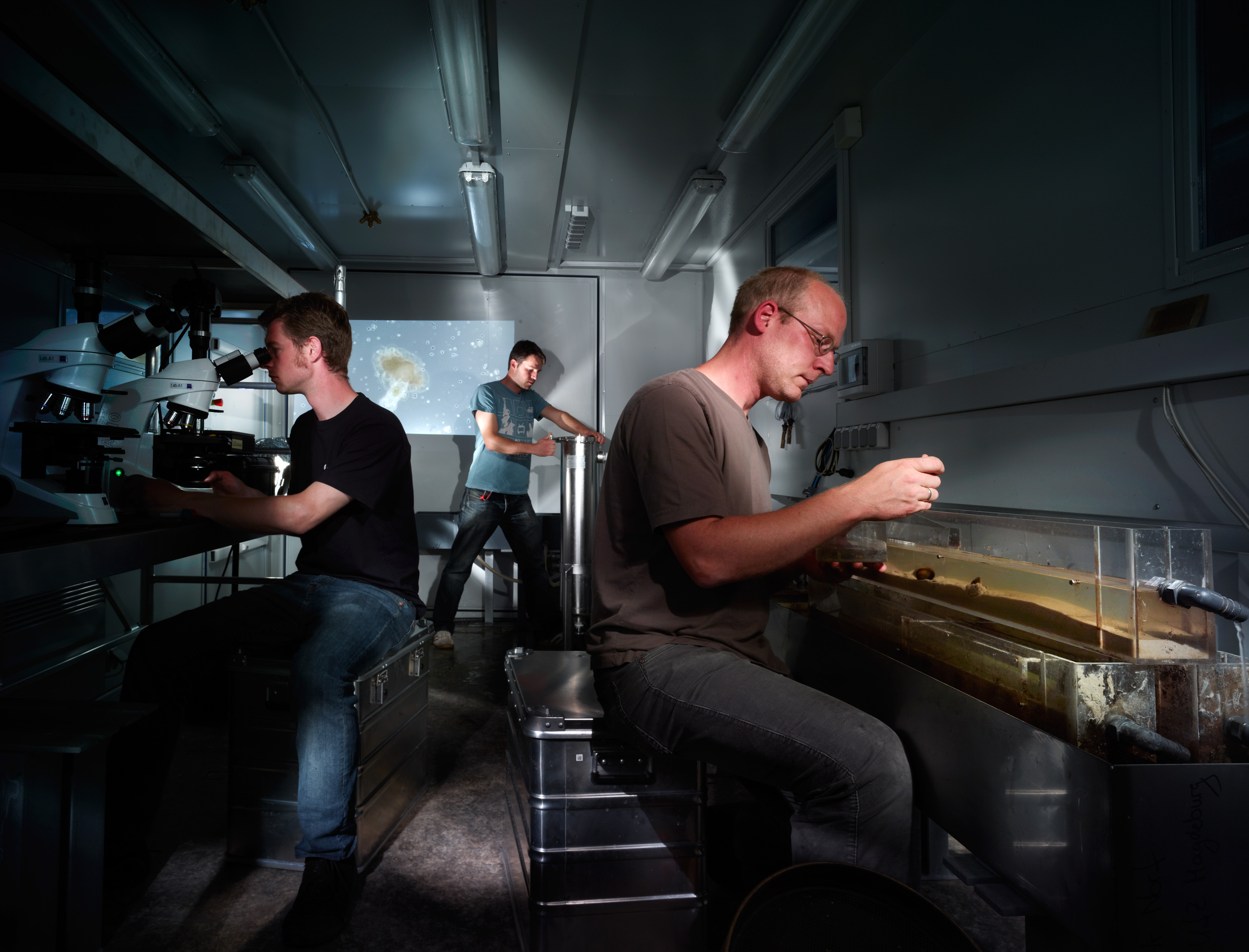 UFZ researchers in the MOBICOS container, Photo: UFZ
Two new case studies demonstrate the versatility of MOBICOS - a new modular research infrastructure of the UFZ to study hydro-ecological processes over different catchment-scale gradients.

MOBICOS is a unique research platform of the UFZ consisting of eight mobile container-based artificial stream laboratories. They enable the analysis of ecological processes in running waters as natural as field studies and as controllable as laboratory experiments. UFZ scientists highlight in their paper the versatility of the MOBICOS experimental infrastructure with two case studies.
Why establishing MOBICOS?
A key research aim for lotic ecosystems is the identification of natural and anthropogenic pressures that impact ecosystem status and functions. As a consequence of these perturbations, many lotic ecosystems are exposed to complex combinations of nonchemical and chemical stressors. These stressors comprise temperature fluctuations, flow alterations, elevated solute loads or xenobiotics. All these factors can pose stress upon aquatic ecosystems on different temporal, spatial and biological scales. Factorial experiments are essential to reveal causal relationships especially between combined stressors and their effects in the environment. However, experimental tools that account for the complexity of running waters across different ecosystem compartments, levels of biological organisation, natural or anthropogenic environmental gradients, and replicability are rare.

The experimental tool MOBICOS at a glance

The new research UFZ-infrastructure consisting of streamside mobile mesocosms (MOBICOS) allows analysing the effects of stressors and stressor combinations through multifactorial experiments in near-natural settings and across anthropogenic pressure gradients. Consisting of eight container-based running water laboratories operated as bypasses to running surface waters, MOBICOS combines in situ real-time monitoring of physicochemical and biological parameters with manipulative experiments across ranges of environmental conditions. Different flume types can be set up within MOBICOS to separate and combine different ecosystem compartments (pelagic, epibenthic and hyporheic zones) in a flexible and modular way. Due to its compact design, the MOBICOS units can be shifted easily to particular sites of interest. Furthermore, simultaneous operation of multiple MOBICOS units at different sites allows the integration of natural gradients in multifactorial experiments. Thus, the MOBICOS units have the potential to significantly advance our understanding of causal relationships between natural environmental oscillations, anthropogenic stressors and their combined ecological impacts on lotic aquatic ecosystems beyond existing stream mesocosm approaches. The capabilities are shown by addressing two case studies (a) hydraulic control of lotic biofilms and (b) pollution-induced community tolerance of biofilms along an environmental gradient.

Paper:

Streamside mobile mesocosms (MOBICOS): A new modular research infrastructure for hydro-ecological process studies across catchment-scale gradients; By: Fink, Patrick; Norf, Helge; Anlanger, Christine; Brauns, Mario; Kamjunke, Norbert; Risse-Buhl, Ute; Schmitt-Jansen, Mechthild; Weitere, Markus; Borchardt, Dietrich; INTERNATIONAL REVIEW OF HYDROBIOLOGY; DOI: 10.1002/iroh.201902009
You can find further information on this here.

July 2020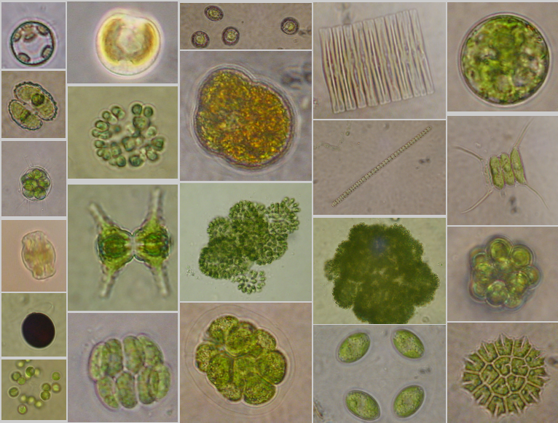 Dr. Susanne Dunker (UFZ Department of Physiological Diversity) is developing a powerful method with which small biological particles from environmental samples including algae and pollen can be quantified very quickly in a high throughput like matter. In the current paper she describes practical applications and demonstrates impressively the capabilities of this new approach.
About the new technology
Susanne Dunker has filed a patent (WO 2019/068352 A1, under review) for the novel technological design of a flow cytometer and its ecological applications. In collaboration with computer scientists, she has combined methods of machine learning to efficiently use this unique high-throughput technology and the large data streams it will produce: The combination of technology and data computing will enable rapid, automated identification and quantification of microorganisms. In biodiversity research (and beyond) new questions can be answered for which the existing methods and technologies were not sufficient. With Susanne Dunker's imaging flow cytometry, sampling capability can be increased by orders of magnitude: significantly more samples in less time and a much greater taxonomic diversity of information. Approx. 5000 cells per second can be individually analysed. The data provide information about cell shape, fluorescence (pigmentation) or life cycle stage. In first pilot studies with computer-aided deep learning methods, species can be identified with an accuracy of more than 95%. This opens new doors for the identification of pollen diversity, which plays an important role in air quality (pollen are allergens) and wind and insect pollination. A species reference library for algae is to be established because water samples can now be analysed with higher resolution and frequency. Coexistence and resilience mechanisms of phytoplankton organisms under environmental stress will be investigated. The technology will significantly advance monitoring in terrestrial and aquatic ecosystems.
Application of the method for a case-study in Leipzig - Urban ponds as biodiversity hotspots
Due to methodological limitations, ponds are an insufficiently studied research object but represent a biodiversity hotspot and have a high value for ecosystem services like recreation, water retention, or angling. Especially urban ponds create a direct contact for citizens experiencing nature. But on the other side, these systems also suffer from several pressures caused by humans, for example, high nutrient and salt influxes, or high temperatures. Phytoplankton organisms play a pivotal role for a pond ecosystem. An understanding of community composition is crucial especially when eutrophication and high temperatures lead to dominance of unpleasant toxic cyanobacteria.

With traditional microscopic methods for phytoplankton analysis, monitoring is not feasible with high spatial resolution and frequency. Therefore, a new approach of imaging flow cytometry to classify phytoplankton species in either taxonomic or morphologically based functional groups (MBFGs) is suggested. In this case-study, both classifications could be successfully applied to a natural phytoplankton community in an urban pond in Leipzig with minor modifications.

Both classifications in combination provide a good mechanistic understanding of phytoplankton community dynamics. In addition, a great advantage of the measurements is the achievability of microscopic images allowing a comprehensive respective data analysis. Two examples of detailed trait and image analysis are demonstrated to investigate single-cell traits for cyanobacteria and chlorophytes/euglenophytes and to follow the fate of a cyanobacterial bloom affected by a fungal infection.

Paper:

Dunker, Susanne: Imaging Flow Cytometry for Phylogenetic and Morphologically Based Functional Group Clustering of a Natural Phytoplankton Community over 1 Year in an Urban Pond, CYTOMETRY PART A, DOI: 10.1002/cyto.a.24044

Further information: Dr. Susanne Dunker ( susanne.dunker@ufz.de ), Department of Physiological Diversity
July 2020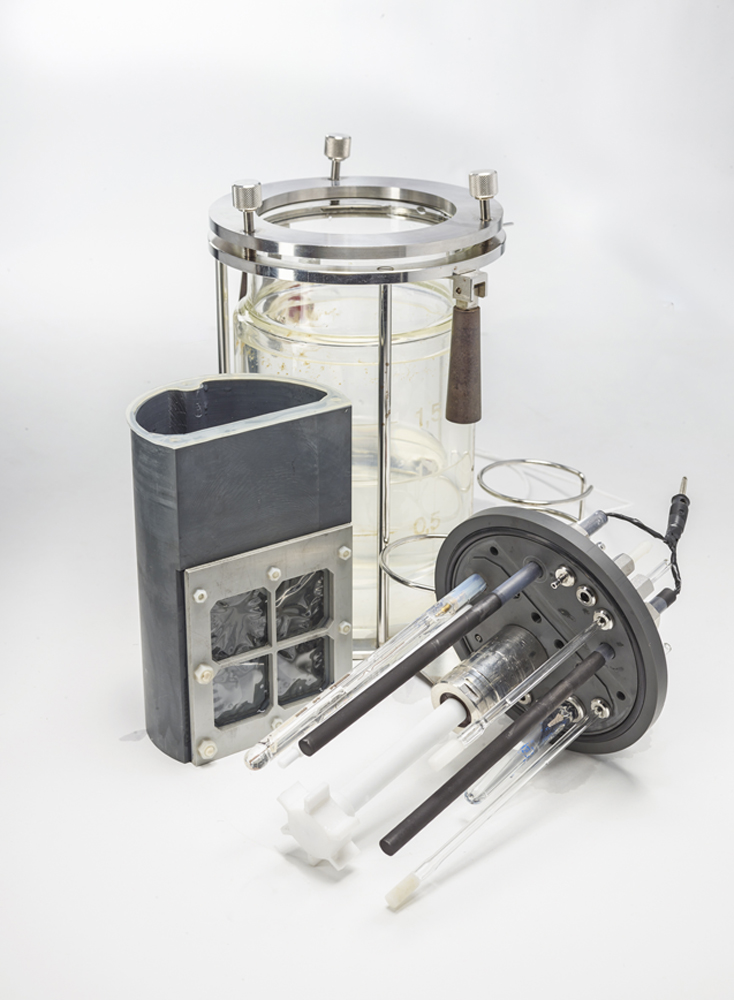 Bioelectrosyntheses can make a significant contribution to future bioeconomy. The patented upgrade kit allows expanding conventional bioreactors, enabling their use for microbial bioelectrosynthesis - according to the motto: from a do-it-yourself construction towards reproducible research conditions [1].
Bioelectrosyntheses as essential building blocks of a successful bioeconomy

Electrobiotechnology already covers a broad spectrum of possible applications, ranging from bio fuel cells for the purification of wastewater to biosensors, the removal of pollutants from water or soil and the synthesis of complex chemicals. CO2 can be used as a raw material in bioelectrosyntheses and help to achieve the goals of the "National Research Strategy BioEconomy 2030". However, research to date is still in an early stage with regard to the technology used [2].
With the upgrade kit, existing bioreactors, associated control systems and peripherals can be used, such that standard bioreactors can be converted into bioreactors for bioelectrosynthesis if required. This conversion step is reversible, i.e. expensive double purchases are unnecessary. Furthermore, this system allows - in contrast to other approaches - processes to be systematically scaled.
What we offer
We are looking for an industrial partner (preferably manufacturers of bioreactors or electrochemical reaction technology) to develop existing prototypes further as well as for production and distribution of the upgrade kit for bioreactors for bioelectrosynthesis.
Based on today's promising research results, the UFZ and its partners want to develop a technology of tomorrow in order to make a significant contribution to securing raw materials, sustainability and climate protection. Become part of the team!
[1] Patents: WO2015/082490 and EP18701701
[2] DECHEMA position paper (in German)
Further information: Prof. Dr. Falk Harnisch ( falk.harnisch@ufz.de ), Department of Analytical Environmental Microbiology

July 2020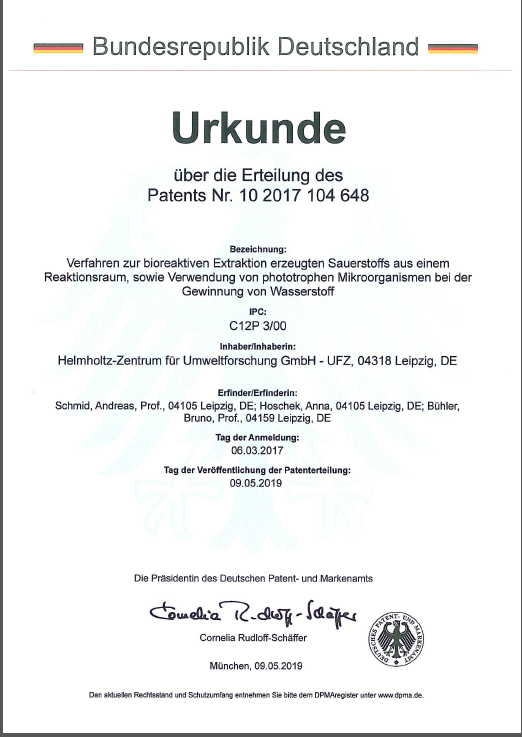 Germany wants to secure its global leading role in hydrogen technologies and has just published a National Hydrogen Strategy. Hydrogen will thus play a central role in the further development and completion of the German energy transition. This means that renewable energies will be used to significantly reduce CO2 emissions, especially in industry and transport. The use of solar energy for the chemical or biological production of hydrogen is an attractive and environmentally friendly technological goal that has been pursued at the UFZ for several years in the Department of Solar Materials.

State of the art
Photocatalytic water splitting - the splitting of water into hydrogen and oxygen using sunlight - is an important alternative to electrolytic water splitting which requires a lot of energy. In this process, algae or cyanobacteria are usually used, which under certain conditions can release hydrogen into the environment during the metabolic process. In algae reactors, for example, sunlight can be converted directly into hydrogen by means of photosynthesis. The most significant disadvantage of all techniques is the formation of oxyhydrogen gas. Even the use of membrane technology cannot prevent the inactivation of an oxygen-sensitive enzyme system and thus inhibit hydrogen production.
The UFZ contribution
UFZ scientists around Professor Dr. Andreas Schmid (https://www.ufz.de/index.php?en=34239) developed and patented a basic process step for the later production of hydrogen. The process avoids the formation of explosive oxyhydrogen gas by separating oxygen formation and hydrogen production. Furthermore, the use of single-cell biocatalysis will return higher yields in the long term.
The granted patent is an important basic patent. Although it does not describe a scalable process yet, it can be the fundament for developing a sustainable and marketable process for hydrogen production.

The UFZ is looking for partners to jointly make a significant contribution to the energy transition in the next few years and help establish hydrogen as an important and safe energy carrier of the future.

Patent:
DE102017104648B4: A. Schmid, A. Hoschek, B. Bühler, Method for the bioreactive extraction of produced oxygen from a reaction chamber, and use of phototrophic microorganisms when obtaining hydrogen
Further information: Dr. Joachim Nöller ( joachim.noeller@ufz.de ), Department of Knowledge and Technology Transfer
June 2020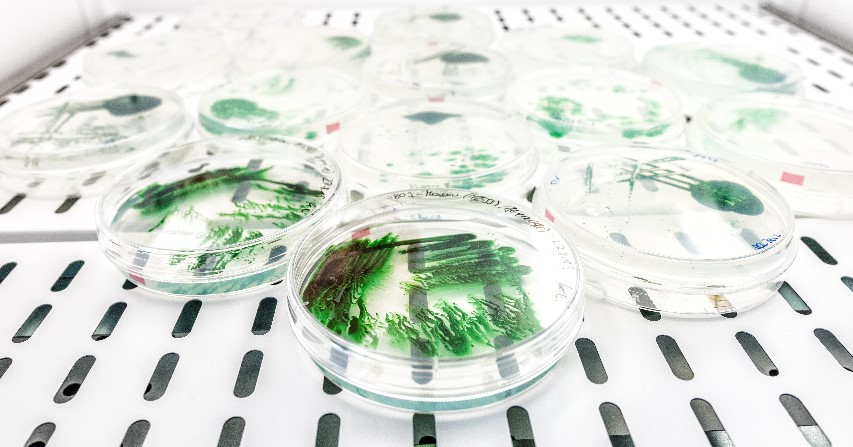 The industrial synthesis of C6 monomers for subsequent nylon production is currently typically based on cyclohexane oxidation at high temperatures and high pressures. In this process, especially the initial oxyfunctionalisation of cyclohexane is a critical step in terms of economic and ecological process efficiency. Therefore, the aerobic oxidation of a single thermodynamically stable and kinetically inert C-H bond in cyclohexane under sustainable and environmentally compatible conditions represents a major challenge in current academic and industrial research.
UFZ scientists of the Department of Solar Materials use cytochrome P450 monooxygenases (Cyps) which effectively catalyse regiospecific oxyfunctionalisations of inert C-H bonds under mild conditions. Due to their cofactor dependency and instability in isolated form, oxygenases are preferably applied in living microbial cells with Pseudomonas strains constituting potent host organisms for Cyps. The group around Bruno Bühler presents in the paper a holistic genetic engineering approach, considering gene dosage, transcriptional, and translational levels, to engineer an effective Cyp-based whole-cell biocatalyst, building on recombinant Pseudomonas taiwanensis VLB120 for cyclohexane hydroxylation. The optimised strain allows for a hydroxylation activity of 55 units per gram cell dry weight, a remarkably high value which has never been reported so far. Applying 5 mM cyclohexane, molar conversion and biomass-specific yields of 82.5% and 2.46 mmol cyclohexanol per gram of biomass were achieved, respectively. Furthermore, the strain was shown to be highly stable. Therefore, the strain now serves as a platform to design in vivo cascades and bioprocesses for the production of polymer building blocks such as epsilon-caprolactone.
The results of this study were also presented by the PhD student Lisa Schäfer during the Annual Meeting 2020 of the Association for General and Applied Microbiology (VAAM) in Leipzig in March (https://www.dghm-vaam.de/).
Paper: Maximizing Biocatalytic Cyclohexane Hydroxylation by Modulating Cytochrome P450 Monooxygenase Expression in P. taiwanensis VLB120, Schaefer, Lisa; Karande, Rohan; Buehler, Bruno. Front. Bioeng. Biotechnol., 2020;8:140. Published 2020 Feb 27. DOI: 10.3389/fbioe.2020.00140

Further information: Prof. Dr. Bruno Bühler ( bruno.buehler@ufz.de ), Department of Solar Materials
June 2020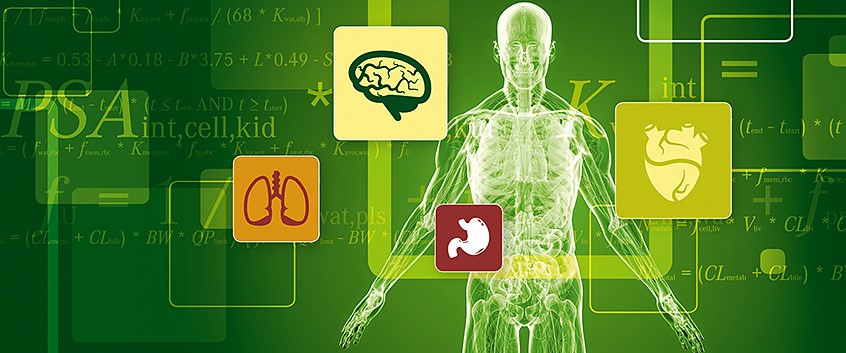 UFZ scientists from the Department of Analytical Environmental Chemistry present a new and entirely mechanistic COSMOperm method to predict passive membrane permeabilities for neutral compounds, as well as anions and cations. The COSMOperm approach is based on compound-specific free energy profiles within a membrane of interest from COSMO-RS (conductor-like screening model for realistic solvation) calculations. A fully predictive calculation of passive permeation through phospholipid bilayer membranes results in a performance of r2 = 0.92; rmsd = 0.90 log10, units for neutral compounds and anions, as compared to gold standard black lipid membrane experiments. The paper demonstrates that new membrane types can be generated by the related COSMOplex method and directly used for permeability studies by COSMOperm.
In a second paper, the UFZ scientists propose a new model to predict pH-dependent baseline toxicity based on Kmem/w, which considers the permeation of both neutral and anionic species. For this approach, the bioaccumulative behaviour of six perfluoroalkyl carboxylic acids (PFCAs), three perfluoroalkanesulfonic acids, and four alternatives were investigated by various methods and predicted well by the COSMO-RS theory.


Papers:
COSMOperm: Mechanistic Prediction of Passive Membrane Permeability for Neutral Compounds and Ions and its pH Dependence; Schwoebel, Johannes A. H.; Ebert, Andrea; Bittermann, Kai; Huniar, Uwe; Goss, Kai-Uwe; Klamt, Andreas; J. Phys. Chem. B., DOI: 10.1021/acs.jpcb.9b11728
Membrane/Water Partitioning and Permeabilities of Perfluoroalkyl Acids and Four of their Alternatives and the Effects on Toxicokinetic Behavior; Ebert, Andrea; Allendorf, Flora; Berger, Urs; Goss, Kai-Uwe; Ulrich, Nadin; Environ. Sci. Technol., DOI: 10.1021/acs.est.0c00175


Further information: Prof. Dr. Kai-Uwe Goss ( kai-uwe.goss@ufz.de ), Department of Analytical Environmental Chemistry

June 2020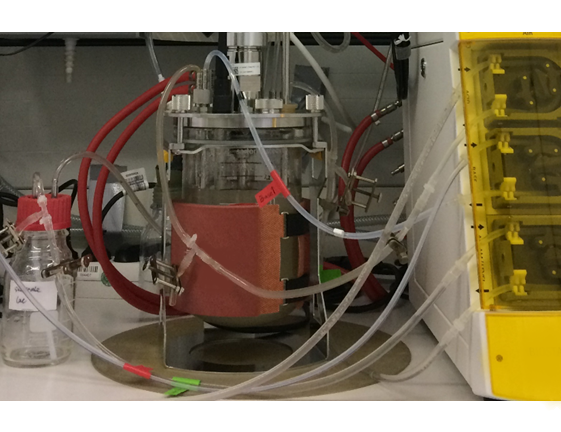 The medium-chain fatty acids caproic (C6) and caprylic acid (C8) are valuable chemicals. However, industrial production of these fatty acids requires palm kernel and coconut oil. C6 and C8 fatty acids are widely used as additives in lubricants, detergents, cosmetics, food and feed additives. To this end, the UFZ develops a promising and significantly more sustainable production method, for which a demonstration plant is being planned.

A group of scientists around Dr. Heike Sträuber from the UFZ Department of Environmental Microbiology is developing an anaerobic fermentation process using dedicated or residual biomass and waste for the production of fatty acids by means of lactate-based microbial chain elongation. Due to the complexity of this process and with the substrate, mixed microbial communities are used in the bioreactor. Various chain elongating bacteria are known. Lactic acid bacteria also play an important role in this process, but so far, little is known about the interplay between acid-forming microorganisms involved in chain elongation (from C2/C4 acids to C6/C8 acids) and lactic acid bacteria.

In the present study, dynamics of the metabolism and the composition of the microbial community in the bioreactor were investigated and modelled in a long-term experiment over 148 days. Different product formation phases were identified and the metabolites were analysed to determine which microorganisms dominate in the different phases. Furthermore, it was found that in the initial phase an increased production of caproic and caprylic acid occurs, whereas in a closed reactor system butyrate-producing bacteria prevail in the long-time run.

These findings mean another important step towards the development of a marketable process to produce caproic and caprylic acid, contributing to a circular bioeconomy if embedded in a biorefinery concept, and will be included in the planning for a demonstration plant. For further information on the entire process and its capacities, please contact us ( wtt@ufz.de ).

Paper: Competition between Butyrate Fermenters and Chain-Elongating Bacteria Limits the Efficiency of Medium-Chain Carboxylate Production; Bin Liu, Sabine Kleinsteuber, Florian Centler, Hauke Harms u. Heike Sträuber; Frontiers in Microbiology, Vol. 11, Art. Number 336, March 2020

Further information: Dr. Heike Sträuber ( heike.straeuber@ufz.de ), Department of Environmental Microbiology

May 2020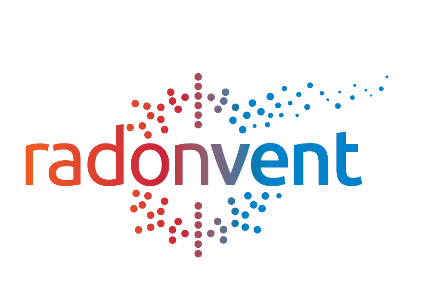 Since 31 December 2018, a new Radiation Protection Act has been in force in Germany, which prescribes a reference value for radon-222 activity concentration of 300 Bq/m3 averaged over the year in homes, schools and workplaces. In many regions of Germany, radon activity concentrations in soil air exceed 40,000 Bq/m³, so that measures must be taken to protect the population (Federal Office for Radiation Protection – BFS, 2019).
Scientists at the UFZ Department of Environmental Informatics around Prof. Dr. Holger Weiß have already shown in a first study that different meteorological parameters contribute to fluctuations of indoor radon activity concentrations (Schubert, Musolff, Weiss, 2018). First field tests, which were financed by the UFZ technology transfer fund, were carried out in various residential buildings in the Erzgebirge region. It could be demonstrated that the radon activity concentrations can be considerably reduced by using different ventilation control systems (Dehnert et al., 2019). Based on these results, a system will be developed in a third party funded ZIM project (ZIM – Central Innovation Programme for SME) that wirelessly integrates the radon activity concentration as a control parameter in decentralized ventilation systems with heat recovery and zone control and automatically controls the ventilation. Cooperation partners of the UFZ are SARAD GmbH in Dresden, inVENTer GmbH in Löberschütz, Bergsicherung Schneeberg GmbH & Co. KG, the housing administration company Gebäude- und Wohnungsverwaltung GmbH Schlema, and two Saxon authorities: Staatliche Betriebsgesellschaft für Umwelt und Landwirtschaft (Public Operating Company for Environment and Agriculture) and the sächsische Strahlenschutzbehörde (Saxon State Office for Radiation Protection) at the Landesamt für Umwelt, Landwirtschaft und Geologie (Saxon State Office for Environment, Agriculture and Geology).

Further reading:

Bundesamt für Strahlenschutz (BFS) (2019): Radon-Handbuch Deutschland 2019; Available online

Schubert, M., Musolff, A., & Weiss, H. (2018): Influences of meteorological parameters on indoor radon concentrations ((222)Rn) excluding the effects of forced ventilation and radon exhalation from soil and building materials. J Environ Radioact, 192, 81-85. doi: 10.1016/j.jenvrad.2018.06.011

Dehnert et al. (2019): Radonschutz in Wohnungen durch radonaktivitätskonzentrationsgesteuerte Lüfter. Jahrestagung 2019 Fachverband für Strahlenschutz e.V.; Strahlenschutz und Medizin, Patienten - Beschäftigte – Gesellschaft; Würzburg, 9.-12. September 2019.
Avaiblabe online

Further information: Prof. Holger Weiß ( holger.weiss@ufz.de ), Department of Environmental Informatics

May 2020

The Steering Committee of the DECHEMA Biotechnology Association has been reconstituted in the course of the spring meeting of biotechnologists. Prof. Dr. Andreas Schmid from the UFZ (Department of Solar Materials) was elected as a member by the general meeting. In future, Prof. Dr. Andreas Liese, Hamburg University of Technology, will head the committee.
With more than 1,800 members, the DECHEMA Biotechnology Association offers a forum where experts from academic research and industry can cooperate and exchange their ideas. Topics range from algae biotechnology and bioprocess technology to synthetic biology and cell culture technology. The Steering Committee is responsible for the coordination of activities and for the portfolio of committees within the DECHEMA Biotechnology Association. In addition, the committee develops proposals for strategic initiatives, deals with cross-committee topics and maintains contact with other organisations. The members of the Steering Committee are elected for three years.

Source: DECHEMA press release of 03 Feb 2020

Further information: Prof. Andreas Schmid ( andreas.schmid@ufz.de ), Department of Solar Materials
March 2020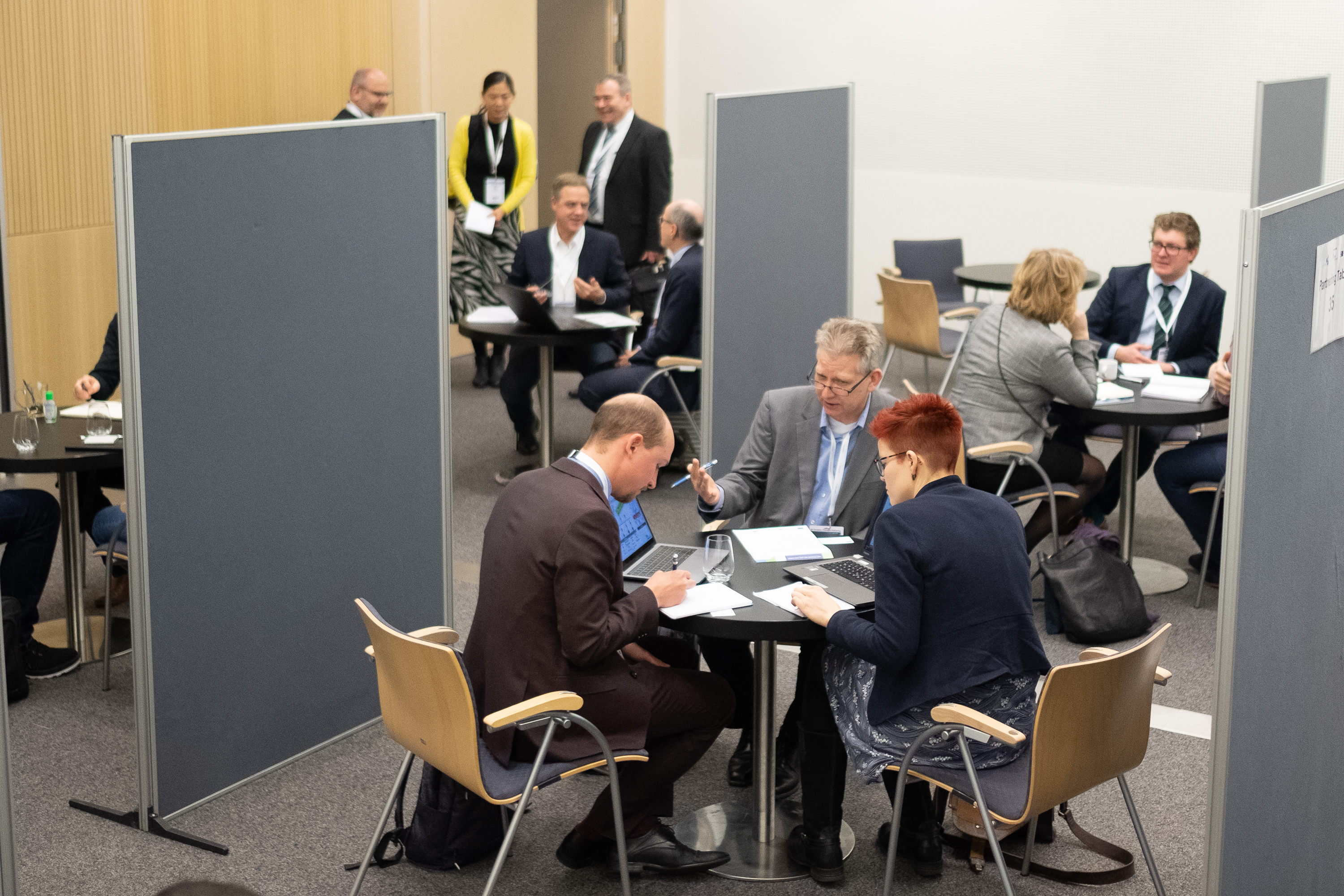 Department of Knowledge & Technology Transfer presents UFZ research and gains valuable insights and contacts
The European Chemistry Partnering in Frankfurt, Germany, is an important networking event for the chemical industry in Germany and beyond. The UFZ, in turn, regards this sector as a key partner for the development and application of new, environmentally friendly processes and products. This sector plays an equally important role in the avoidance or remediation of environmental damage caused by existing production processes.
On 27 February 2020, representatives of the Department of Knowledge and Technology Transfer (WTT) attended one-on-one meetings set in a "speed dating" format and presented selected topics and research work in the thematic area "Environmental engineering and biotechnology" to identify common interests with relevant partners. Almost all of these meetings were followed up by a further exchange of information and providing first-time contacts to relevant UFZ scientists. The partnering event was a great success and is likely to be repeated in the future.
For questions and comments, please contact: Dr. Lydia Woiterski ( lydia.woiterski@ufz.de ), Department of Knowledge and Technology Transfer (WTT)
March 2020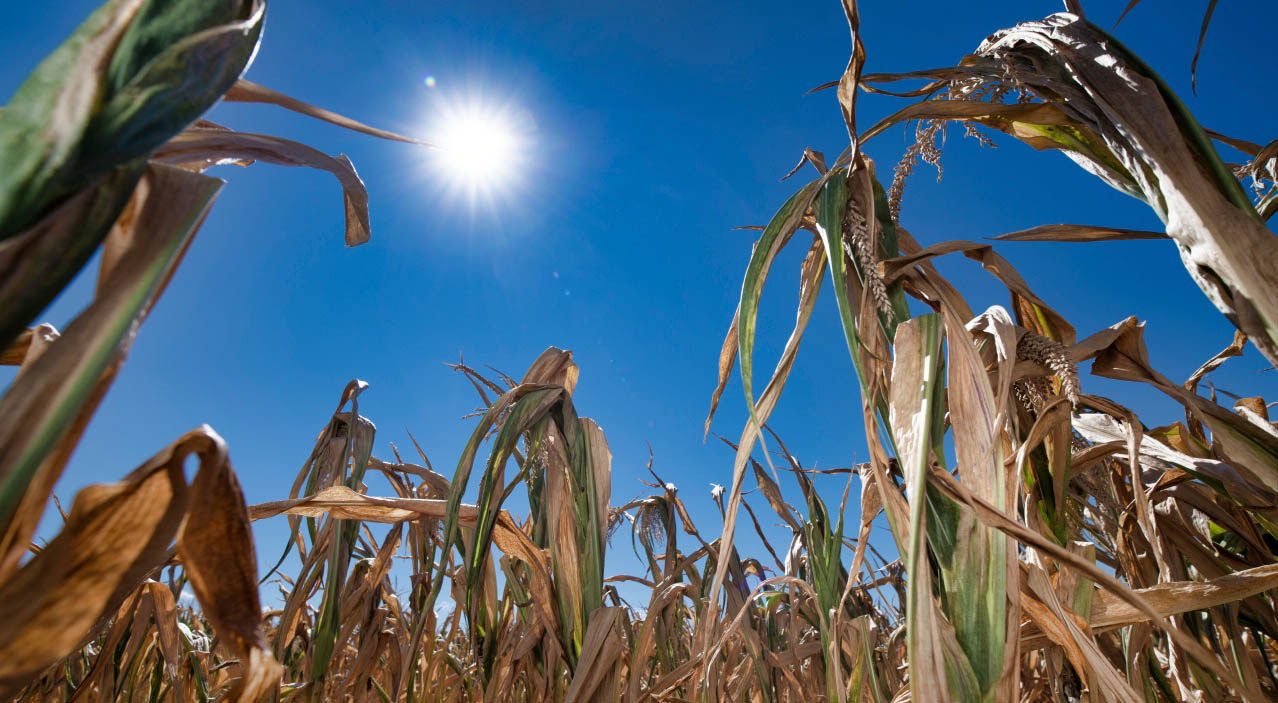 © UFZ
About 150 participants met on 14-15 January at the UFZ conference "Droughts in Central Germany – Impacts, Challenges, Adaptation Options". The UFZ invited participants from science, practice, politics and administration to Leipzig to discuss the consequences of past droughts for agriculture and forestry. The participants also discussed how farmers and forest owners can adapt to changing climate conditions in the future and what input science can provide. The concrete results and demands are summarised below.
The consequences of the 2018/2019 drought
2018 and 2019 were generally considerably warmer years in Germany compared to the long-term average, with below-average precipitation. This led to a long-lasting, extreme drought, resulting in loss of agricultural yields, drought damage and pest infestation in the forests and had negative effects on shipping, the energy industry and tourism. In addition, there was an increase in land and forest fires in 2018. In many places, the dryness of the soil has led to very low groundwater recharge rates, the long-term effects of which cannot be predicted yet.
Will drought events become more frequent in the future?
The probability of heat waves, as in July 2019 in Germany, has increased about tenfold on average. Numerous studies have shown that these will occur both more frequently and more intensively in the future, including also longer periods of drought in Germany.
Need for political action
At present, the German Government and the Federal States are supporting agriculture and forestry above all in compensating for the worst financial consequences (e.g. drought aid). However, a more integrated and forward-looking policy approach by the Federal States and the Government is needed, including the following points:
• The coordinated and comprehensive assessment of future drought risks (e.g. for agriculture, forestry and water management, but also for ecosystems and their services);
• The development of political framework conditions that specifically promote sustainable and climate-related innovations in agriculture, forestry and water management (drought risk management);
• Regular review and updating of risk assessment and management approaches (monitoring and evaluation).

Research needs
Droughts are risks that have a negative impact on plant and animal species, ecosystems and society. Therefore, integrated drought research is needed, bringing together different disciplines from the natural and social sciences.
For example, trans- and interdisciplinary drought research must be established with the aim of assessing drought risks comprehensively and on different scales on a sectoral basis and developing sustainable and climate-specific adaptation measures and strategies.
It would also be important to develop a database on the consequences of droughts. The database should be multisectoral and could be based on the European Drought Impact Report Inventory (EDII) or European Drought Reference (EDR) database.
The conference in January 2020 was supported as part of the Helmholtz Climate Initiative and the CLIMALERT project, which is funded by the German Federal Ministry of Education and Research within the European Research Area for Climate Services (ERA4CS, http://climalert.eu). The event was organised by the UFZ Department of Urban and Environmental Sociology and the Climate Office for Central Germany at the UFZ.
Further information: Prof. Christian Kuhlicke ( christian.kuhlicke@ufz.de ), Department of Urban and Environmental Sociology

February 2020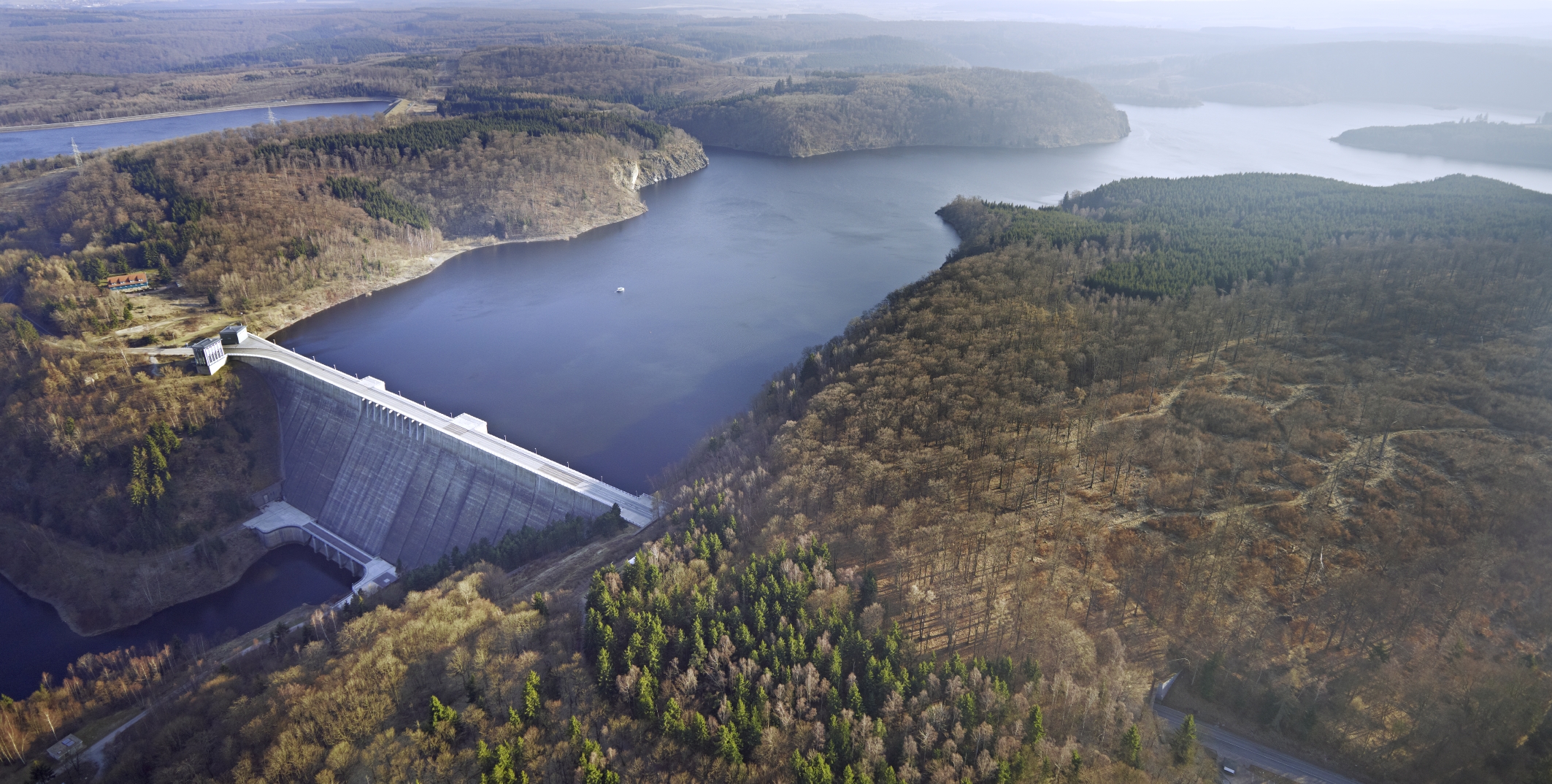 Rappbode dam in the eastern Harz Mountains; Photo André Künzelmann, UFZ UFZ operates a unique monitoring infrastructure, namely the Talsperren-Observatorium Rappbode (TOR), at the Rappbode Reservoir in the Harz Mountains – the largest drinking water reservoir in Germany. TOR was built in 2011 as part of the TERENO project and includes 8 online stations for monitoring water quality. A special feature of TOR is the detailed monitoring of inflows into the reservoir. Most national and international monitoring activities focus only on the reservoir, whereby the monitoring of tributaries is neglected. TOR thus allows linkage between the catchment area and the water body - an extremely important driving factor for the quality of water in reservoirs.
The Saxony-Anhalt Dam Management company (TSB) was integrated into the project right from the start and provides working space and access to water and electricity. This cooperation was intensified in the course of the BMBF project TALKO, in which the dynamics of dissolved organic carbon (DOC) in drinking water reservoirs were investigated and predictions of the development of DOC concentrations in the reservoir were made. Due to the further increasing DOC content, DOC has not only become the most important water quality determinant of the dam, but also has very serious negative effects on the drinking water treatment by Fernwasserversorgung Elbaue-Ostharz GmbH (FWV). The possibilities for the dam management company to minimise DOC inputs are extremely limited and require an adaptive control of water transfer to the Rappbode reservoir from the Bode system (possible by controlling the Königshütte pre-dam). TOR was also extremely beneficial to TSB and FWV. UFZ initiated an automatic forwarding of online data to the data storage facilities of TSB and FWV and TOR thus became an integral part of their operational management.
In summer 2019, it became evident that an overhaul of the installed sensor technology was inevitable. TSB took over all costs for the renewal of sensors, thus ensuring a successful operation of the observatory for the next years. TOR will continue to be operated jointly by UFZ, TSB and FWV and the collected data will be available to research and industry alike. Since its establishment, 30 international publications have appeared in the context of TOR.

Further information on TOR (in German)

February 2020

Oman is one of the countries in the world that will have to contend with even greater water shortages in the future. Water scarcity is largely caused by unfavourable distribution and pollution of water resources. Therefore, wastewater treatment plays a key role in combating water scarcity. The aim is to close local water cycles and to prevent water pollution through safe collection and treatment. At the same time, treated water is made available for reuse. For this purpose, one focus of the Institute of Advanced Technology Integration (IATI) in Oman is to develop new solutions, which is supported by the UFZ.
Improvement of a reliable technology
In cooperation with the Research Council (TRC) of Oman and the Department of Environmental and Biotechnological Centre (UBZ) at the UFZ, the scientists developed an innovative system for integrated wastewater treatment and recycling. It was registered as a utility model with the title "A multi-functional cover layer unit for aerated wastewater treatment wetlands with integrated freshwater production and land recovery for recreational use and crop cultivation) in the Sultanate of Oman (OM/P/2019/000412)". Conventional wastewater treatment systems, such as aerated constructed wetlands (ACWs) according to the German design guidelines (DWA, 2017) require a relatively large area of land. In warm climate zones such as Oman and neighbouring countries, such a large area leads to high water losses (through evapotranspiration) and can therefore impair the function of these wetlands, as hydrology is the most important design factor. The new technological approach can remedy this disadvantage. It allows the production of high quality treated water that complies with the most stringent treatment class, i.e. 95% removal of BOD5, 90% removal of total P and 90% nitrification. Such treated water is suitable for agricultural irrigation and domestic use, especially in arid regions and arid countries.

Innovation Award and technical up-scaling
Shamsa Al Saadi of IATI, Oman, who received her doctorate from the UFZ, was awarded third place in the "Innovation" category for her outstanding solutions at the 2019 Water Research and Innovation Award Forum in Oman. The system developed was tested at the German BDZ Demonstration and Training Facility in Leipzig and is now to be implemented as a pilot plant on a technical scale in Oman.

Contact
Dr. Manfred van Afferden ( manfred.afferden@ufz.de ), Centre for Environmental Biotechnology)
January 2020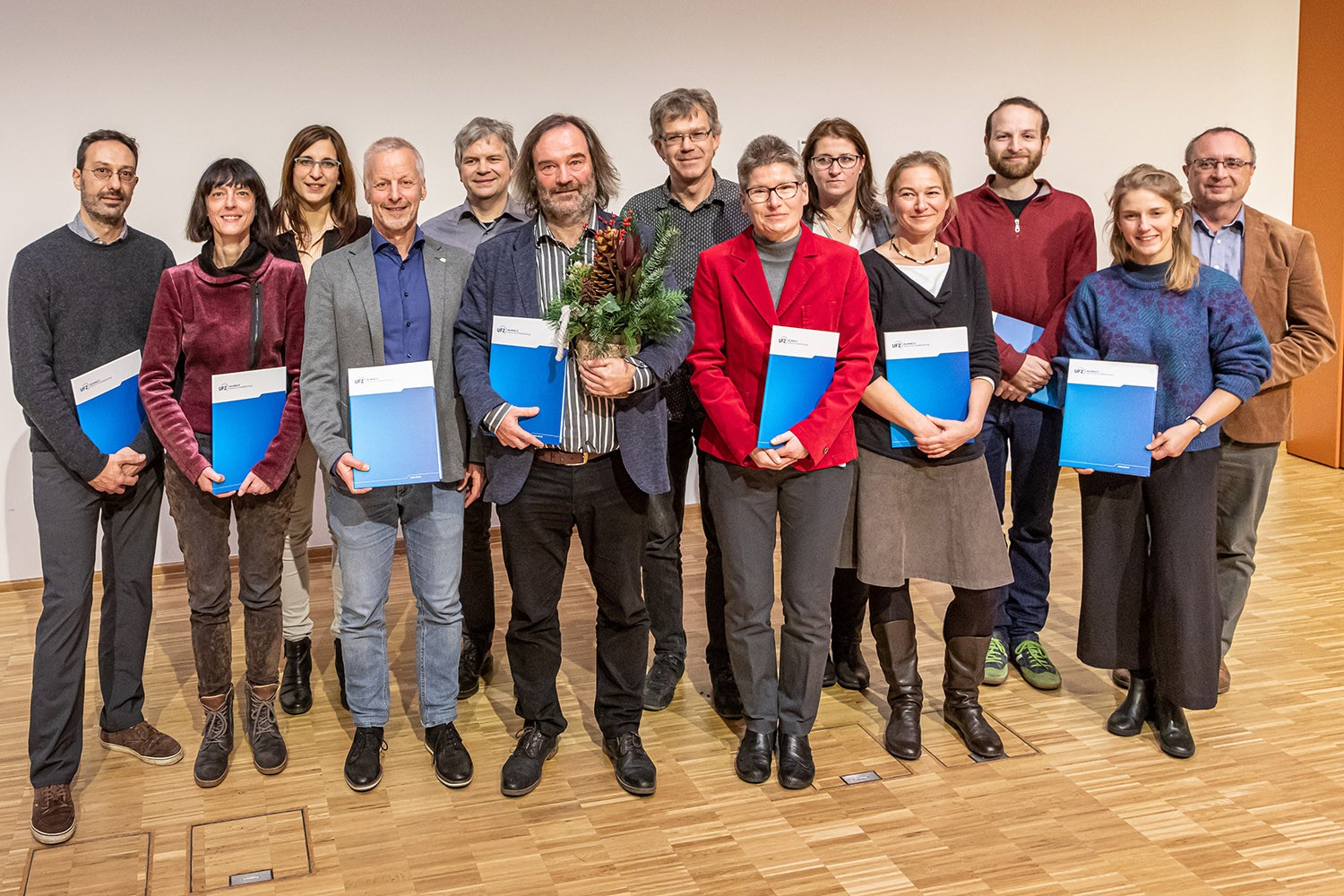 UFZ Research Prize Awardees 2019
© Klaus-Dieter Sonntag The ecotoxicologist Prof. Dr. Rolf Altenburger and the team of the EU-project SOLUTIONS led by PD Dr. Werner Brack received the Research Award 2019 of the Helmholtz Centre for Environmental Research (UFZ) endowed with 10,000 euros.

Prof. Altenburger, head of the Department of Bioanalytical Ecotoxicology (BIOTOX), has been investigating mixtures of chemicals for several decades. Although concentrations of single chemicals decreased over the years, humans constantly bring new chemicals with new properties and unexpected effects into the environment which makes his research still indispensable. He is not only an excellent scientist, but also brings together interdisciplinary experts, acts as consultant and stimulates knowledge transfer with stakeholders and authorities like the Federal Environment Agency, European scientific committees or the Joint Research Centre of the EU Commission and contributes with his research to the regulation of chemicals on national and international level.

The second awardee is the team of the SOLUTIONS project funded with 12 million euros by the European Commission. A consortium of 39 cooperation partners (UFZ Departments of Effect-Directed Analysis, Ecological Chemistry, Cell Toxicology and BIOTOX) from 17 countries worked together with users from politics and authorities to find solutions for present and future emerging pollutants in land and water resources management. The monitoring of individual pollutants in water bodies is not sufficient. Therefore, this project focused on the monitoring of complex chemical mixtures and their degradation products and the assessment of the risk potential for the environment and humans. New monitoring tools, models and methods have been successfully developed and approved in case studies. Finally, novel approaches for the risk assessment and the reduction of pollution burden were transferred into recommendations and policy briefs to improve the European Water Framework Directive.


Further information

Brack, W. Solutions for present and future emerging pollutants in land and water resources management. Policy briefs summarizing scientific project results for decision makers. Environ Sci Eur 31, 74 (2019).


Contact

Prof. Rolf Altenburger ( rolf.altenburger@ufz.de ), Head of Department of Bioanalytical Ecotoxicology
PD Dr. Werner Brack ( werner.brack@ufz.de ), Head of Department of Effect-Directed Analysis

January 2020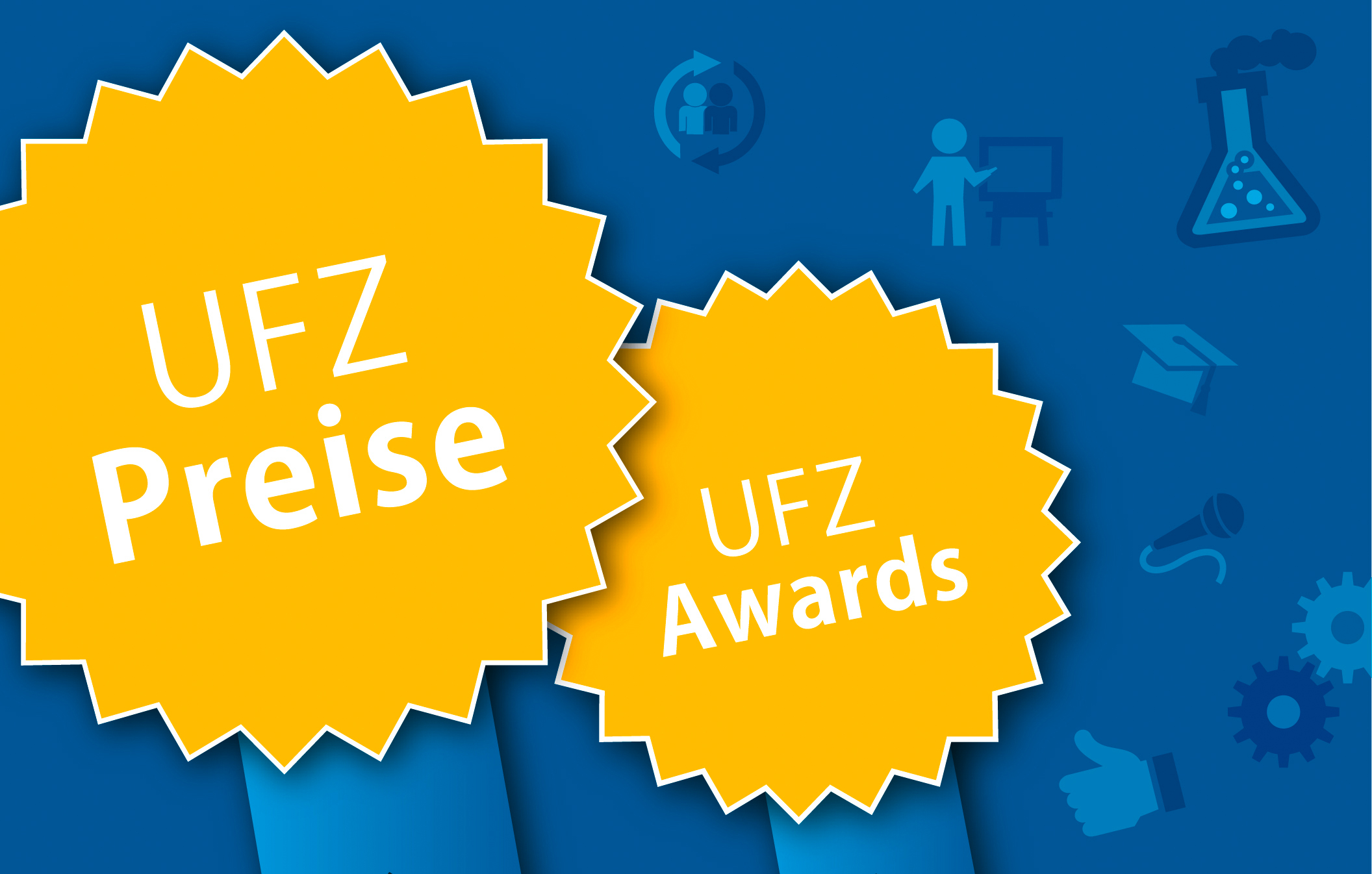 In autumn 2019, the UFZ awards were presented for the sixth time. Every year, the UFZ honours outstanding achievements of UFZ staff and their special commitment to the UFZ. The UFZ Technology Transfer Award and the UFZ Knowledge Transfer Award were given to the following scientists.
Dr. Susanne Dunker (Department of Physiological Diversity) received the UFZ Technology Transfer Award 2019 for her research and development work on high-throughput analysis of ecological samples with imaging flow cytometry.

A team of scientists consisting of Dr. Christiane Schulz-Zunkel, Mathias Scholz (both Department of Conservation Biology), Dr. Mario Brauns and Prof. Dr. Markus Weitere (both Department of River Ecology) were awarded the UFZ Knowledge Transfer Award 2019. In the "Wilde Mulde" project, the team has created extensive transdisciplinary foundations with which long stretches of large Central European rivers can be successfully restored to its natural state.

January 2020