Transfer News
July – September 2023

Project launched to produce bio-based nylon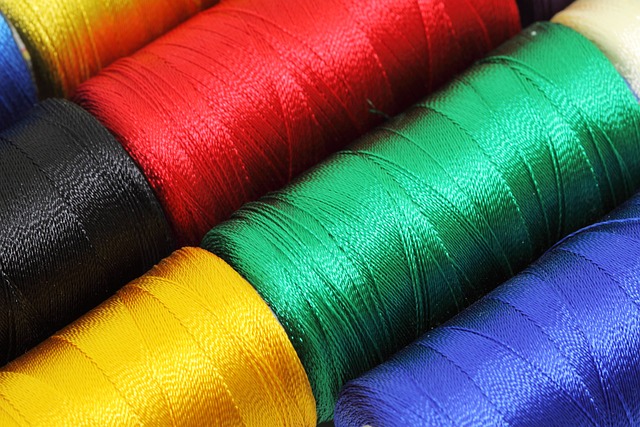 Nylon (also called polyamide) is a synthetic fibre used, for example, for shirts, stockings, ropes and is a component of parachutes and car tyres. Until now, the environmentally harmful production of nylon has been based on fossil petroleum, from which the actual raw material phenol is extracted. It is then converted into nylon in an energy-intensive petrochemical process at high temperatures, high gas pressure and using organic solvents. This environmentally harmful process also leads to a lot of climate-damaging nitrous oxide (laughing gas) and CO2 being emitted.
Now, a process has been developed in the laboratory with which adipic acid can be produced from phenol through electrochemical synthesis and the use of microorganisms. Adipic acid is one of two basic materials of nylon. In addition, it was possible to obtain phenol from waste materials from the wood industry. Thus, bio-based nylon could be produced.

Source: UFZ
The research team consisted of the working groups led by Dr. Falk Harnisch of the Helmholtz Centre for Environmental Research (Working group Electrobiotechnology at the UFZ) and Dr. Rohan Karande of the University of Leipzig (Research and Transfer Centre for bioactive Matter b-ACT). An article in the journal Green Chemistry describes the basic concept of this production pathway.
"Our goal is to make the entire production chain of nylon green. This is possible if we access bio-based waste as feedstock and make the synthesis process sustainable," says Prof. Dr. Falk Harnisch, head of the electrobiotechnology working group at the UFZ.
Perspective
Yet the lignin-containing nylon is still not ready for the market and is based on laboratory tests. Through the cooperation of a research team from science (UFZ and Leipzig University) and industry (DOMO Caproleuna GmbH), the process is now to be brought to pilot plant scale and the entire process optimised over the next two years.

Falk Harnisch and Rohan Karande agree: "The process for the lignin-containing nylon shows the great potential of electrochemical-microbial processes, as the intelligent way of combining different components allows an optimal process chain to be set up."
The process for developing biobased nylon is funded through the UFZ's "transfun" programme for innovations, which supports the implementation of such ideas in applications at the UFZ. The project funding of 250,000 euros provided by the UFZ is supplemented by the University of Leipzig's and DOMO's own contributions.
Publication
Micjel Chávez Morejón, Alexander Franz, Rohan Karande, and Falk Harnisch: Integrated electrosynthesis and biosynthesis for the production of adipic acid from lignin-derived phenols. Green Chemistry, https://doi.org/10.1039/D3GC01105D (https://doi.org/10.1039/D3GC01105D
More information

Prof. Dr. Falk Harnisch, UFZ Department of Environmental Microbiology / Electrobiotechnology Group Leader, falk.harnisch@ufz.de
Source: UFZ press release of 4 July 2023
July 2023

Dr. Flávio Baleeiro has received the Helmholtz Doctoral Award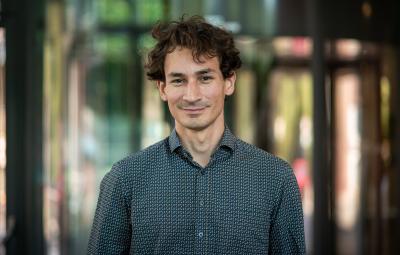 Dr. Flávio Baleeiro came to the UFZ as a young scientist with a scholarship from the Brazilian CAPES Foundation and conducts research in the Department of Environmental Microbiology in the working group Microbiology of Anaerobic Systems. Because of his always application-oriented and conceptually very convincing research, he was nominated for the Helmholtz PhD Award (in German). The award whih is endowed with 5,000 euros, was presented to him by the President of the Helmholtz Association, Prof. Dr. Otmar D. Wiestler, in Berlin on 13 July 2023.
Flávio Baleeiro developed a biotechnological process for the further use of CO2 and CO as raw materials in the production process for platform chemicals such as carboxylates. This novel technology enables a wide range of industries to close material loops, develop sustainable manufacturing routes and support the move towards climate neutrality worldwide.
By focusing on the energy-intensive steel industry, for example, he could jointly develop new solutions to enable the necessary transformation to finding more sustainable solutions and make sites in Germany and Europe more competitive.
With his technical expertise, good networking skills and constant focus on practical applicability, Flávio Baleeiro has all the prerequisites to develop his technology further to pilot scale and ultimately bring it to application.
We congratulate Flávio Baleeiro and wish him many more successful ventures!

July 2023

Business meets science at the first UFZ Innovation Forum "Pathways to Sustainability"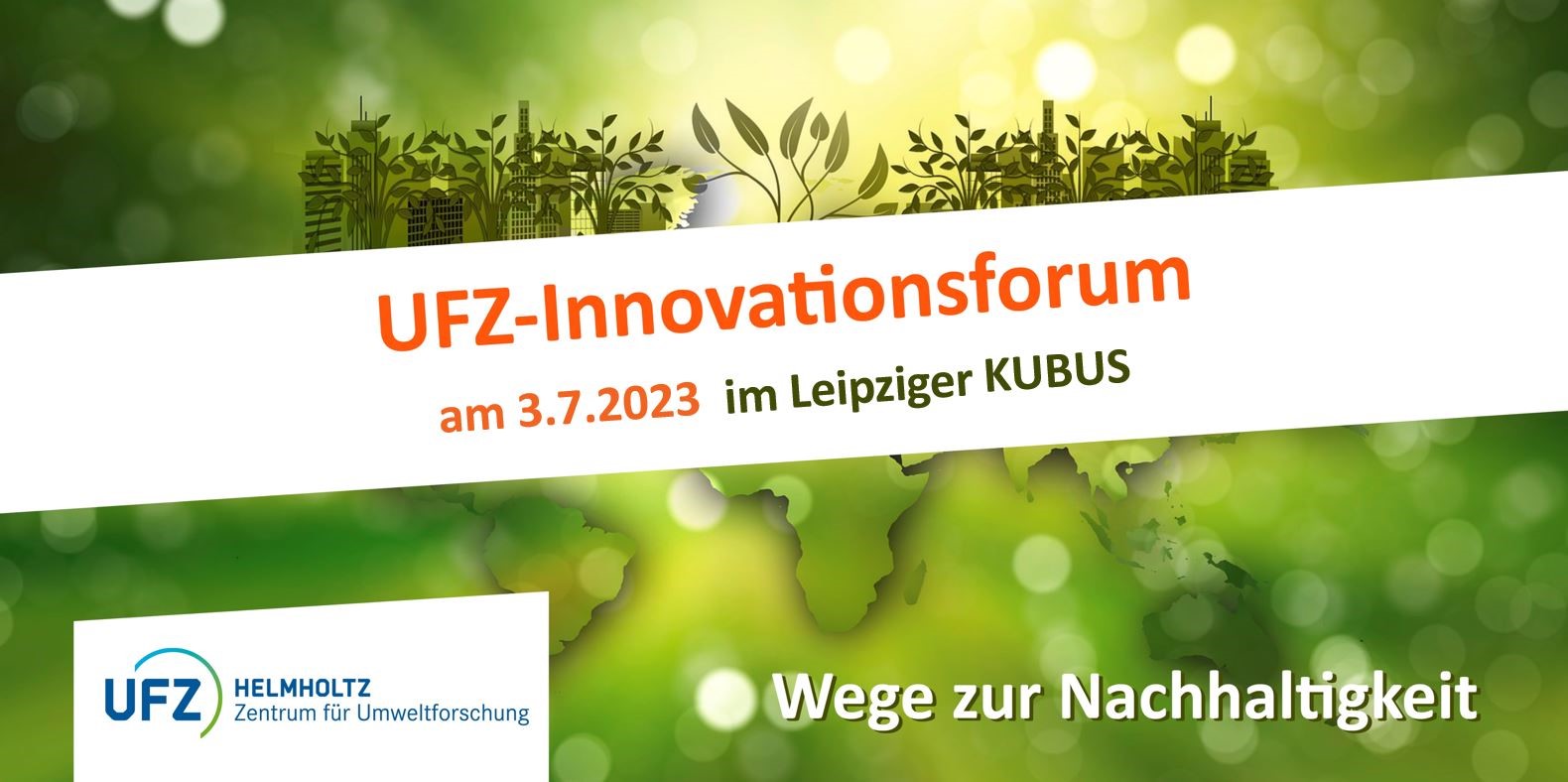 On 3 July 2023, the first UFZ Innovation Forum took place at Leipziger KUBUS under the motto "Pathways to Sustainability". Since such transformation processes can only be shaped jointly by science and industry, people from companies and science had their say in the keynote speeches. The programme was complemented by pitches from start-ups and start-up initiatives.

But before the presentations started, the Scientific Director Prof. Rolf Dr. Altenburger welcomed the 75 participants from business and science, and at the subsequent speed dating all participants took the opportunity to make new contacts.
In the first thematic section, sustainable production routes were examined from very different perspectives. New synthesis routes for chemicals on various scales were presented, including BASF's industrial process for the production of Sanatol as a more sustainable alternative to sandalwood oil. UFZ and the University of Leipzig presented a new process for the production of bio-based nylon, by replacing waste materials from the wood industry with the current use of petroleum-based feedstocks. Sustainability is also the focus in Leuna at UPM Biochemicals' new biorefinery, which will in future produce plastics for the packaging and textile industries and for coolants as well as fillers for the rubber industry from renewable beech wood.

Of course, the production of renewable energy sources and chemicals should be in harmony with the sustainable use of land and resources. That is why the UFZ is also researching processes that use CO2 as a substrate for syntheses in addition to regional biomasses, e.g. for carboxylic acids, which have so far been obtained from palm oil. Due to scarce resources, however, material cycles must also be closed, so the degradation and reuse of chemicals and their building blocks is also coming into focus. This is where EST3R BIOTECH from the University of Leipzig comes in, using plastic-degrading enzymes for the molecular recycling of plastic waste, especially PET, which is found in fruit and vegetable packaging.

Sustainability means much more, however, and can only succeed if the development of processes considers not only economic aspects but also the impact on the environment and society, so that our ecosystems remain intact and new solutions are accepted by us humans. The UFZ cooperation project with the Value Balancing Alliance and other partners concentrates on sustainability reporting by companies and biodiversity, because the loss of biodiversity and ecosystems increasingly represents a systemic and thus also an economic risk. Since communication between all actors is essential, BAM! Bock auf Morgen GmbH uses "marketing as a good power" and showed how important it is that researchers and users speak the same language in order to properly communicate research results and innovations and thus enable a sustainable transformation.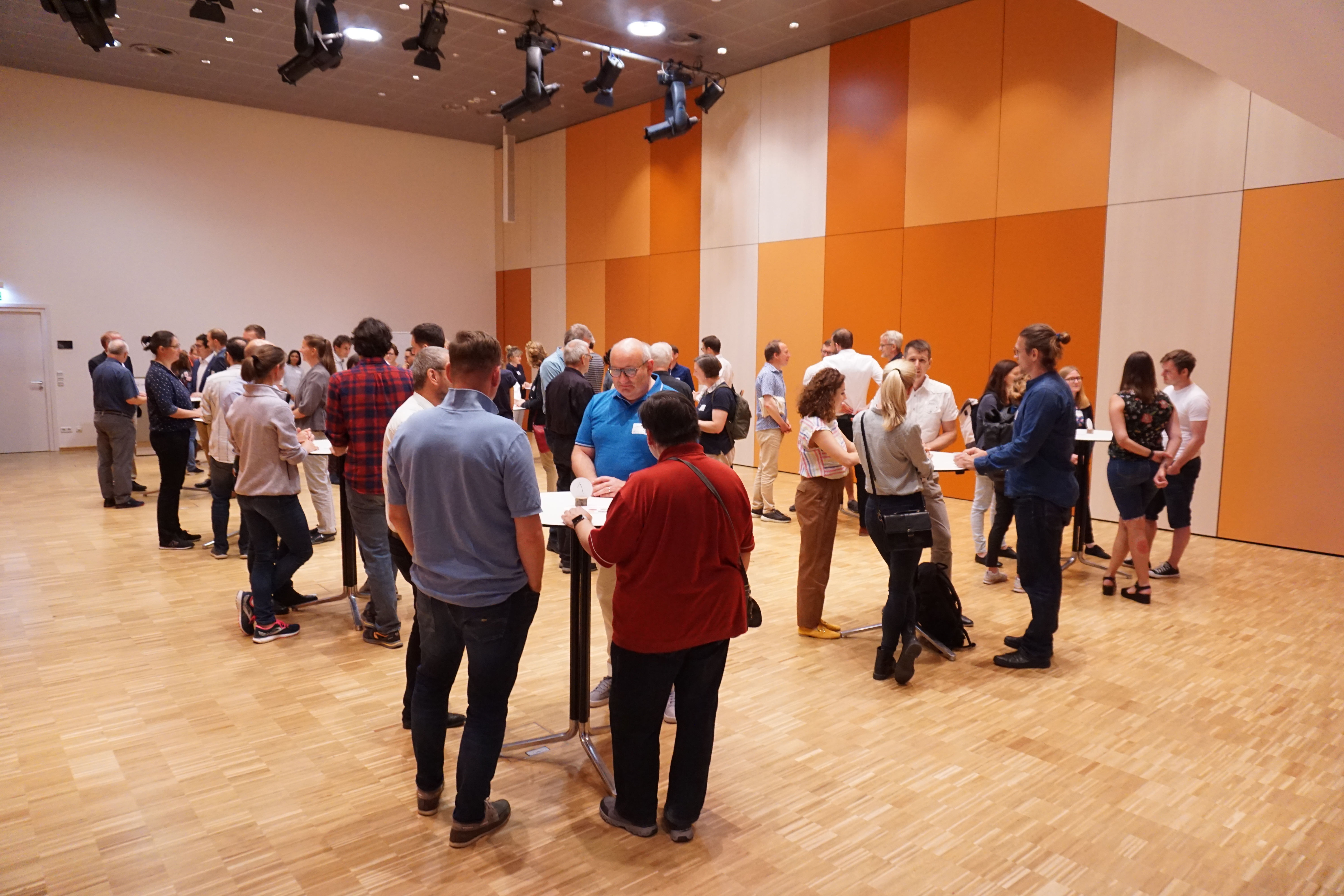 Speed dating at UFZ Innovation Forum 2023 The second thematic section included best practice examples and software solutions for energy, heat and wastewater concepts to provide practical solutions even beyond the current energy crisis. Wacker Chemie AG, for example, presented various measures for implementing its defossilisation strategy and impressed with its drone deployment programme for detecting heat losses from external components in plants, buildings or pipe bridges. Using the example of Dr. Födisch Umweltmesstechnik AG, efa Leipzig GmbH showed how different technologies for energy and heat generation and storage can be combined to operate a production hall so that it is largely powered by renewable energies, but also how one can make one's site more sustainable through charging columns and the use of rainwater for sanitary purposes.

The next presentations went below the earth's surface. How the UFZ and its partners are using near-surface geothermal energy to supply decentralised heat to urban districts was presented, as was a new project in which a contaminated aquifer in an urban area is planned to be used for heat storage and remediated at the same time. It is being realised by the UFZ with its partners at the pilot site on the grounds of the Leipzig Science Park and is scheduled to be commissioned by the UFZ in September 2023 as a research infrastructure. The sewer network of the city of Freiburg was put under the microscope in terms of software. Grimm Water Solutions GmbH and the UFZ, together with partners, are developing an efficient sewer network control system by means of a digital twin of the sewer network in order to make optimal use of the sewer network during heavy rainfall in the future. The aim is to reduce the discharge of combined sewage and the associated pollutant inputs into our watercourses.
The programme was concluded with the presentation of two IT solutions for energy systems. "Edgar" from Freiberg Institut GmbH uses simulation and multi-objective optimisation to create optimal energy concepts, i.e. minimising investment costs with minimal CO2 emissions. Established use cases of "Edgar" range from the planning of factory buildings to neighbourhoods and hydrogen filling stations, but work is also currently underway on a module for the use of green hydrogen as an energy carrier. TU Dresden has transferred its expertise in creating simulation models for buildings and heating networks to the "SIM-VICUS" software. These models can be used to determine heating and cooling requirements for entire neighbourhoods, making SIM-VICUS suitable for feasibility studies and for planning regenerative energy concepts.
Read the detailed agenda of the UFZ Innovation Forum 2023 here (in German)
The attendees also made very active use of the networking time to exchange information on the lecture and discussion content or to initiate new cooperations.

We are pleased that the topic of sustainability has met with such great interest and are eagerly following which ideas will be implemented in the future.
The UFZ continues to strive to network with companies and promote exchange between business and science. Do you have questions or are you interested in upcoming innovation forums? Write to us at wtt@ufz.de !

July 2023

Blue-green infrastructures – an approach between desire, necessity and sensitivities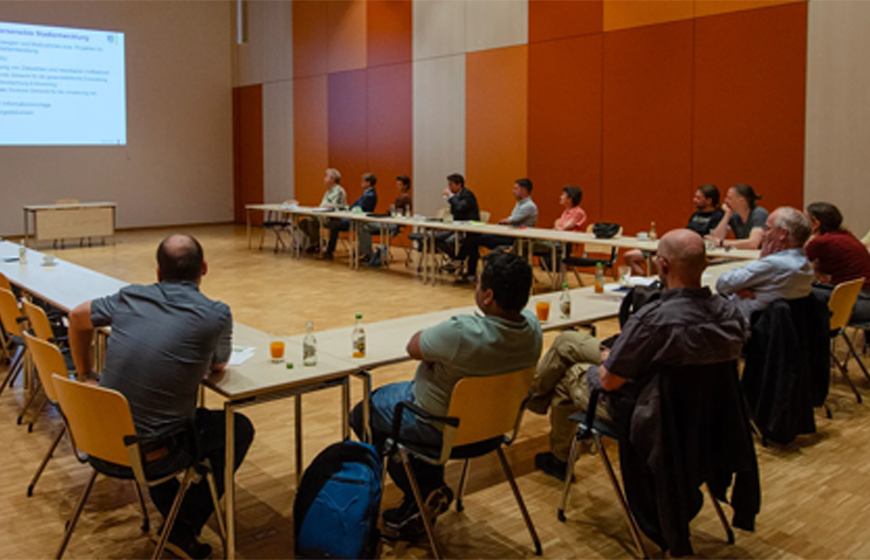 ©: Reichelt Kommunikationsberatung, NEU e. V. Climate change and the accompanying periods of drought and heat as well as heavy rainfall require an adaptation of urban (green) development, which, in addition to integrated planning and rapid implementation, also requires scientific support for solution approaches. André Berthold (Wasserwerke Leipzig), Constantin Suppee (Amt für Stadtgrün und Gewässer, Stadt Leipzig) and Dr. Frank Hüesker (UFZ) gave keynote speeches on this topic.
The discussion showed in particular that the implementation and dissemination of blue-green infrastructures has already been piloted in many places, but that there is still a lack of speed and area coverage. This can only be solved through further communication processes and especially through regulatory changes towards the consideration of water-sensitive measures. The stakeholders from municipalities, industry and science are working on this which is demonstrated by the Leipzig BlueGreen research project that is currently developing recommendations for action and processes.

The Natural Resources Cluster Team in the Energy and Environment Network (NEU e. V.) of the City of Leipzig, led by Sachsen Wasser GmbH and the UFZ, focuses on companies with expertise in the field of water and environmental technologies that are active or want to become active in Leipzig and the region. The aim of the cluster team is to network these companies regionally and to promote exchange with science and administration.

The next event will take place in autumn 2023.

For questions or interest in upcoming talks, please contact joachim.noeller@ufz.de , Knowledge and Technology Transfer (WTT), UFZ.
For more information about this event, the presentations and other content click here (in German only).

July 2023