Guilherme Nogueira, M.Sc.

Helmholtz Centre for
Environmental Research - UFZ
Permoserstr. 15
04318 Leipzig
Germany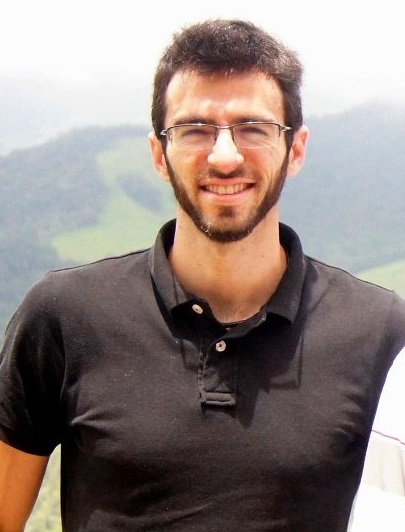 Research Topic
Identify and characterize the space and time patterns of exchange between streams and their riparian zone and the resulting potential for solute turnover by jointly using novel and advanced tracing, imaging, and modelling techniques.

Measurements of O2, NO3 in the stream and piezometers with varying distance to the stream for mapping of the turnover capacity for reactive solutes in the riparian aquifer
Tracer tests using conservative and reactive tracers together with crosshole ERT measurements for aquifer characterization
Time series analyses of O2, EC and their relation within riparian aquifer dynamics
Current project
Marie Curie Initial Training Network - ENIGMA-ITN

"European training Network for In situ imaGing of dynaMic processes in heterogeneous subsurfAce environments"
Imaging flow dynamics and resulting reactivity in the transition zone between streams and riparian aquifers


duration 2017 - 2020

Curriculum vitae
PhD student at Helmholtz Centre for Environmental Research - UFZ, Department Hydrogeology, Leipzig
M.Sc. Water Science and Engineering, UNESCO-IHE (IHE-Deflt)
Internship at Deltares, Utrecht - NL
Master student under the GroundwatCH Erasmus+ Joint Master Programme:

"GROUNDWAter: Global CHanges and Adaptations"

Assistant researcher at LEBAC - Laboratory for Watershed Studies, Rio Claro - BR


B.Sc. Geology (Geosciences), UNESP - São Paulo State University
Publications

2021 (2)
Fathi, S., Sjåstad Hagen, J., Matanó, A., Nogueira, G.E.H., (2021):
Review of GIS multi-criteria decision analysis for managed aquifer recharge in semi-arid regions
In: Pande, C.B., Moharir, K.N., (eds.)
Groundwater resources development and planning in the semi-arid region
Springer, Cham, p. 19 - 52
full text (doi)
Nogueira, G.E.H., Schmidt, C., Trauth, N., Fleckenstein, J.H., (2021):
Seasonal and short‐term controls of riparian oxygen dynamics and the implications for redox processes
Hydrol. Process. 35 (2), e14055
full text (doi)
2020 (1)
Cendón, D.I., Haldorsen, S., Chen, J., Hankin, S., Nogueira, G.E.H., Momade, F., Achimo, M., Muiuane, E., Mugabe, J., Stigter, T.Y., (2020):
Hydrogeochemical aquifer characterization and its implication for groundwater development in the Maputo district, Mozambique
Quat. Int. 547 , 113 - 126
full text (doi)
2019 (1)
Nogueira, G., Stigter, T.Y., Zhou, Y., Mussa, F., Juizo, D., (2019):
Understanding groundwater salinization mechanisms to secure freshwater resources in the water-scarce city of Maputo, Mozambique
Sci. Total Environ. 661 , 723 - 736
full text (doi)
2015 (2)

Nogueira, G., Chang, H. K., (2015): SIMULAÇÃO NUMÉRICA DE FLUXO DE ÁGUAS SUBTERRÂNEAS DO AQUÍFERO RIO CLARO, NA PORÇÃO NORDESTE DO MUNICÍPIO DE RIO CLARO, SP.
Associação Brasileira de Águas Subterrâneas (ABAS)
DOI: https://doi.org/10.14295/ras.v29i2.28304

Teramoto, E. H, Chang, H. K., Dias, R., Nogueira, G., Kiang, C. H., (2015): CORREÇÕES EMPÍRICAS PARA O APRIMORAMENTO DA CLASSIFICAÇÃO DE COBERTURAS IMPERMEÁVEIS EMPREGANDO IMAGENS DE SATÉLITE DE MÉDIA RESOLUÇÃO
Associação Brasileira de Águas Subterrâneas (ABAS)
DOI: https://doi.org/10.14295/ras.v29i1.27933

Aerial view from the Selke River and its riparian area.