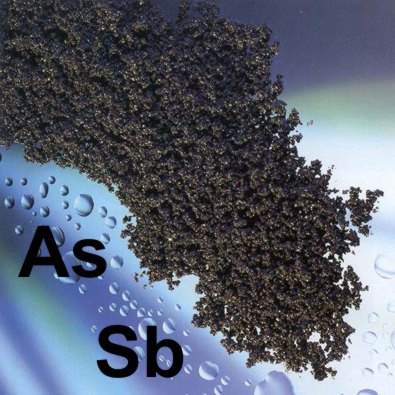 Contact:
The project is funded by the BMBF within the program Geotechnologien.
Sorption of Arsenic and Antimony Species onto Iron Containing Materials
Arsenic and antimony are toxic metalloids, which exist as several species with different properties. The concentration of arsenic and antimony is limited by German drinking water regulations in potable water – 10 µg/l for As and 5 µg/l for Sb. Hence, water in contaminated areas has to be cleaned. GEH Wasserchemie GmbH & Co. is one of the worldwide market leader in the field of arsenic adsorption, using adsorber. In practical applications a lot of interferences constrain the sorption process. Because of that the performance isn't as good as expected.
The aim of this study is the optimization of this water treatment technology in cooperation with the universities in Aachen, Tübingen, Mainz and GEH Wasserchemie GmbH & Co .

At Helmholtz Centre for Environmental Research – UFZ such problems will be addressed:

Are there differences between the different species in their sorption behaviour onto various mineral phases containing iron?
Are there any factors disturbing or influencing the sorption processes?
Which possible transformation reactions (oxidation, reduction, bio-alkylation) influence the processes? Can these processes result in a remobilisation of metalloids?
Is there a change in the speciation pattern in the water phase which has a direct influence on the sorption process?
The work is in cooperation with
Publications:
MUEHE, E. M., SCHEER L., DAUS B., KAPPLER A. (2013): Fate of As during microbial reduction of biogenic vs. abiogenic As-Fe(III)-mineral co-precipitates .- Environmental Science and Technology 47, 8297−8307.
KOLBE F., WEISS H., WENNRICH R., MATTUSCH J., SORKAU E., LORENZ W.G., DAUS B.: (2012): Analytical investigations of antimony-EDTA complexes and their use in speciation analysis.- Fresenius Environmental Bulletin 21(11), 3453 - 3458
KLEINERT, S., MUEHE E.M., POSTH N., DIPPON, U., DAUS, B., KAPPLER, A.: (2011): Biogenic Fe(III) minerals lower the efficiency of iron-mineral-based commercial filter systems for arsenic removal.- Environmental Science and Technology 45, 7533–7541.
KOLBE, F., WEISS, H., WENNRICH, R., LORENZ, W., DAUS, B. (2011): Remobilization of pentavalent antimony and vanadium from a granular iron hydroxide material – a comparative study of different leaching systems- Talanta, 85, 2089– 2093.
KOLBE, F., WEISS, H., MORGENSTERN, P., WENNRICH, R., LORENZ, W., SCHURK, K., STANJEK, H., DAUS, B. (2011): Sorption of aqueous antimony and arsenic species onto akaganeite, Journal of Colloid and Interface Sciences 357, 460 – 465.