Research Group
SALAS – Simulation and Analysis of Land Systems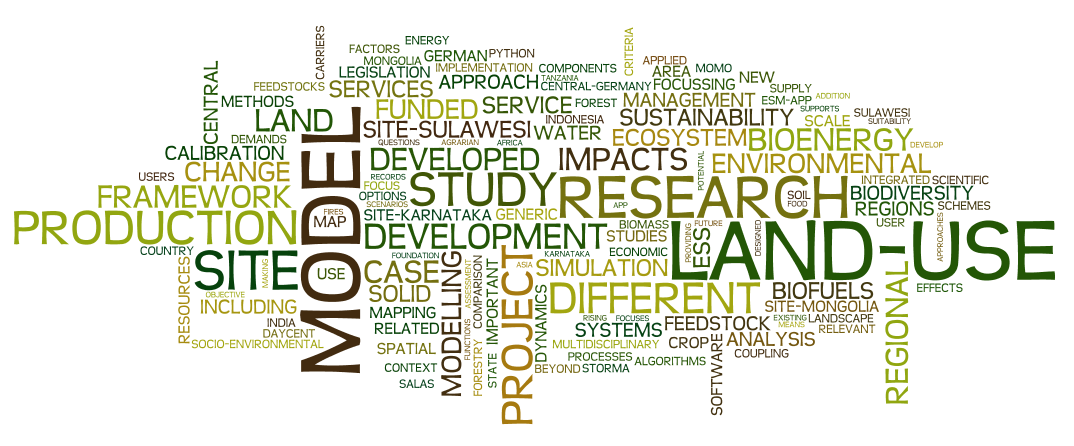 Short description

The research group SALAS (Simulation and Analysis of LAnd Systems) focuses on the analysis of land use and land-use change and its impacts on different environmental factors. The analyses are mostly conducted at regional scale and have varying thematic and spatial foci (e.g. land use change in Central Germany; green infrastructure in European cities). The scientific approach is mostly based on models and methods to investigate land-use change as well as its environmental impacts. Therefore, different empirical or process-based models are used (e.g DINAMICA, ESTIMAP, INVEST…), which we adapt to match case study requirements.
As a second focus, we develop scenarios, mostly related to land-use simulations, to quantify scenario assumptions and assess potential impacts of future land-use change trajectories.
The third focus is on mapping and assessment of ecosystem services, either in the context of the modelling and scenario approaches mentioned above, or as an independent research approach. For the latter we are developing the smartphone-based application MapNat (MapNat) to map ecosystem services.


Current Projects
UrbanGaia - Managing urban Biodiversity and Green Infrastructure to increase city resilience ( UrbanGaia )
Land use conflicts (IP12)
Case study central Germany
Study Regions
Methods, Products & Tools

Adaptation and development of simulation models for a computer-based analysis of research questions
Development of scenarios and methods for scenario development, partly in participatory approaches including stakeholder consultation
Development of sustainability indicators and indicator systems
Development of the smartphone-based application MapNat for ecosystem service mapping ( MapNat )
Contacts

Publications (selection)

2021 (6)
2020 (6)
2019 (7)
2018 (11)
2017 (6)
2016 (4)
2015 (4)
2014 (5)
Partners
David Barton (Ecosystem service mapping)
Norwegian Institute for Nature Research - NINA, Oslo, Norway
Link
Ines Dombrowsky & Anabell Houdret (Governance of land & water use)
Environmental Policy and Natural Resources Management / Umweltpolitik und Ressourcenmanagement
German Development Institute / Deutsches Institut für Entwicklungspolitik - DIE, Bonn, Germany
Link
Roy Haines-Young & Marion Potschin (Ecosystem service assessment, participatory research, scenario development)
Centre for Environmental Management - CEM
Universitiy of Nottingham - Nottingham, UK
Link
David M. Lapola (Land use, ecosystem services & mapping, bioenergy systems)
Earth System Science Lab / Laboratória de Ciência do Sistema Terrestre - LabTerra
Universidade Estadual Pauliste - UNESP, Rio Claro, Brazil
Link
Patricia Pinho (Land use, participatory research, environmental justice)
Interdisciplinary Climate Investigation Center - INCLINE
Universidade de Sao Paulo - USP, Sao Paulo, Brazil
Link
Ann van Griensven (Hydrological modelling, SITE - SWAT model coupling)
Dept. of Hydrology and Hydraulic Engineering
Vrije Universiteit Brussel - Brussels, Belgium
Link