News & Highlights

Project heat stress at neighbourhood level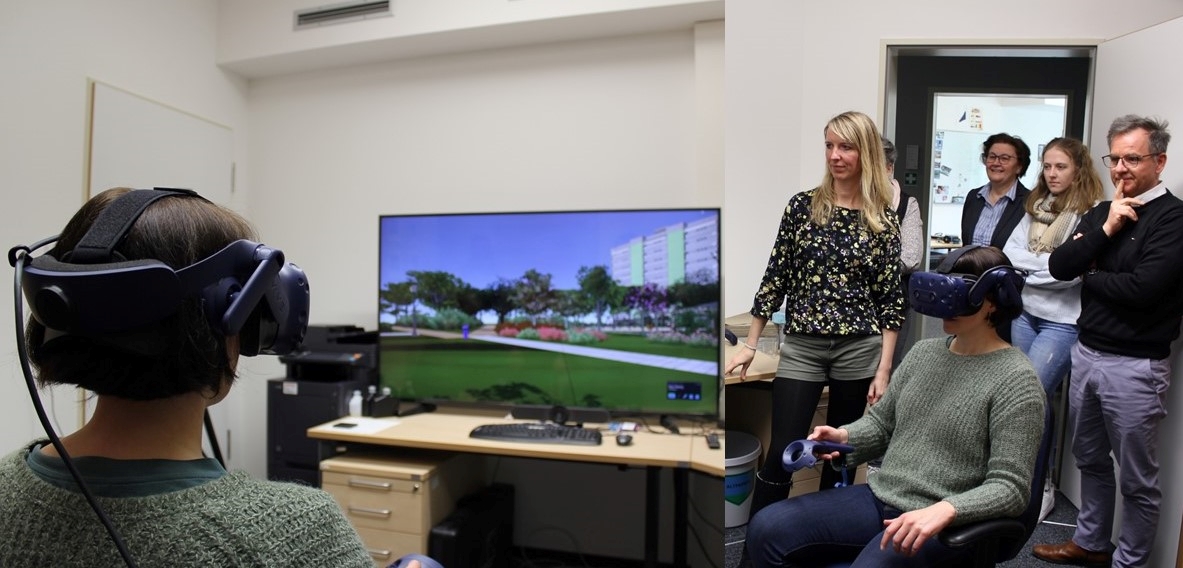 The task force of the DBU project "Planetary Health Model for the Reduction of Heat Stress at Neighbourhood Level" hold the second meeting in the VisLab of the UFZ on April 19, 2023. At the end of this project (https://www.ufz.de/index.php?en=49061), 20 representatives of various stakeholder groups (housing sector, Leipzig city offices, Health for Future, Ökolöwe, university, DBU) discussed the results: (i) the application of the Planetary Health concept to heat stress in neighbourhoods, (ii) the presentation of the method kit developed in the project, and (iii) the application of the kit to the improvement of heat resilience using the example of Grünau-Nord. Of particular interest were the simulations of different scenarios and their presentation in virtual reality. In the intensive exchange, the new possibilities for urban planning and the integration of the topic into systemic processes for improving urban living conditions were highlighted. (U. Schlink)
Urban-Rural-Partnerships − Sustainable and Resilient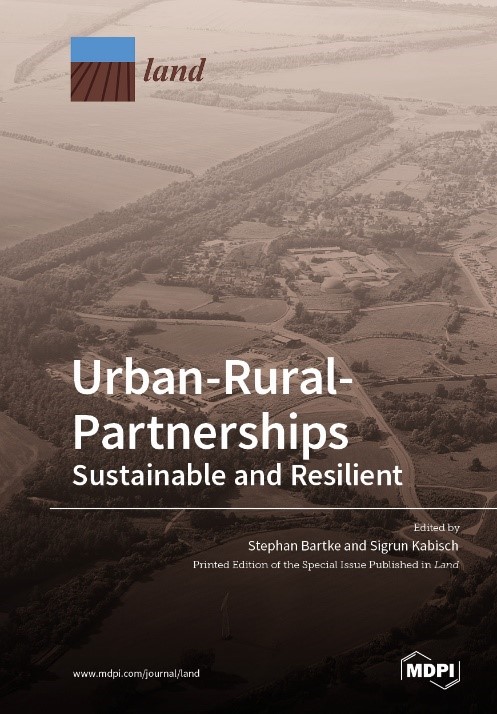 Stephan Bartke and Sigrun Kabisch, Eds., 2023, printed edition of the Special Issue published in Land

The volume consists of 16 papers by speakers attending the international conference "Sustainable & Resilient Urban-Rural Partnerships - URP 2020". The papers represent novel urban-rural imaginaries, integrated strategies and projects which explore current and future potential in terms of sustainability and resilience. They include conceptual and methodological considerations, as well as case studies dedicated to striking examples and providing transferable knowledge and solutions.
Sungju Han completed her PhD project
Sungju Han achieved a milestone in her academic journey as she successfully completed her doctorate. Her dissertation on "Perceptions of nature-based solutions in the context of floods" was defended in December 2022, and it was subsequently published in the University of Potsdam library. The project was funded primarily by the DAAD (German Academic Exchange Service), which awarded her a doctoral scholarship. She was supervised by Prof. Dr. Annegret Thieken (University of Potsdam, Institute of Environmental Science and Geography) and Prof. Dr. Christian Kuhlicke (UFZ and University of Potsdam, Institute of Environmental Science and Geography).

Sungju's work was particularly focused on understanding the factors that shape perceptions of nature-based solutions in the context of flooding. Her research followed an integrative approach that analyzed attitudinal and contextual factors that are critical in determining people's perceptions of nature-based solutions. She stressed the need for a more comprehensive understanding of the meanings and values attached to a particular place before implementing any flood control project. She also highlighted the importance of how these attributes interact with individual and community risk profiles and other contextual factors.


Sungju keeps her work on perceptions of nature-based solutions in the EU Horizon project RECONECT in the department.

URBIO Book of Abstracts published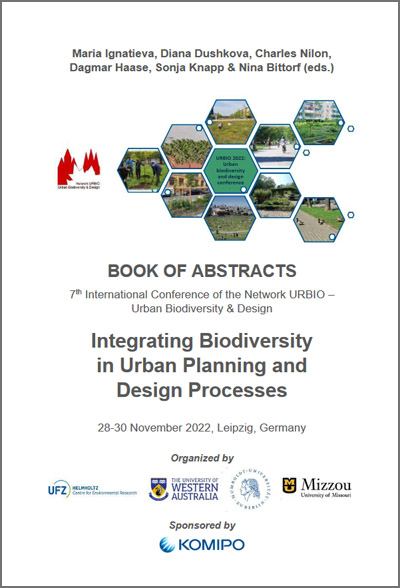 The 7th Conference of the International Network Urban Biodiversity and Design (URBIO) with the theme "Integrating Biodiversity in Urban Planning and Design Processes" took place on 28–30 Nov. 2022 at the Helmholtz Centre for Environmental Research – UFZ, Leipzig, in close cooperation with the Humboldt University of Berlin, the University of Western Australia and the University of Missouri. It was sponsored by KOMIPO (South Korea).
The conference acknowledged the growth in and understanding of the critical role of biodiversity in our cities and the necessity of its integration with practical applications such as planning and design. It highlighted the necessity of inter- and transdisciplinary collaboration and the importance of advanced research on urban biodiversity and its implementation to the planning, design and management of urban landscapes to promote integrated and multifunctional urban blue-green infrastructures for sustainable and resilient cities.
This book of abstracts comprises 62 abstracts of oral presentations and eight posters from the Conference. It is concluded by the Leipzig URBIO 2022 Declaration. The full version can be found here:

DOKORP 2023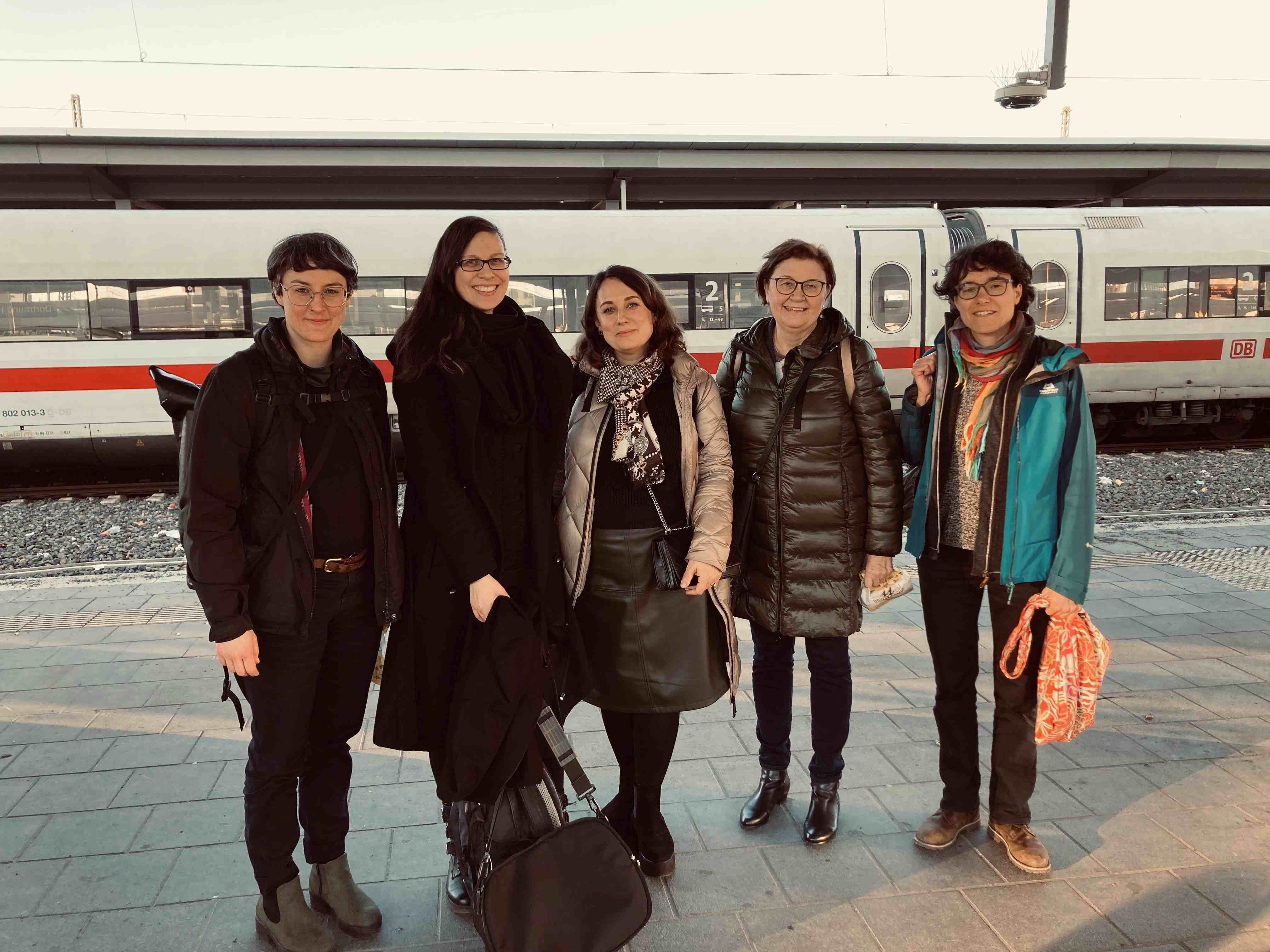 The Department Urban and Environmental Sociology was represented by five colleagues at this year's Dortmund Conference on Spatial and Planning Research under the title "If possible, please turn!" Researching and Planning for the Sustainability Turn (13-14.2.2023). The approximately 400 participants could engage in eight thematic tracks with 41 sessions, two keynotes and four roundtables.
Janine Pößneck, Anika Schmidt, Diana Dushkova, Annegret Haase and Sigrun Kabisch were involved with presentations and as session leaders. Janine gave a presentation on her experiences from the Living Lab approach in the context of the redevelopment of existing neighbourhoods. Diana moderated the session on Nature-Based Solutions and Urban Resilience and presented her own results on participatory approaches. Annegret and Janine led a session on the relevance of the neighbourhood scale for sustainable urban development. Therein, Anika gave an insight into the current status of a pilot project in Leipzig dedicated to the transfer and adaptation of the Superblock approach, and Sigrun pleaded in her contribution for a precise potential analysis on the neighbourhood level. A wide and highly interested audience from practice and science followed the presentations. Overall, the conference offered numerous opportunities for scientific exchange, critical questioning, stimulating contacts and networking.
Daniel Hertel completed his PhD project
With the defence of his dissertation in September 2022 on the topic of "Optimisation of urban heat adaptation measures" and its publication in the Leipzig University Library in November 2022, Daniel Hertel has successfully completed his PhD project. This research work was largely supported by the Deutsche Bundesstiftung Umwelt (DBU) as part of a doctoral scholarship. In addition to Prof. Dr Johannes Quaas (University of Leipzig, Institute of Meteorology), Prof. Dr Uwe Schlink (UFZ, Leipzig) was the main supervisor.

Daniel Hertel's work focused on assigning causes to urban overheating. Based on micrometeorological simulations, the developed algorithm generates maps to identify the biophysical factors responsible for local overheating. As a result of the new attribution algorithm, recommendations for more effective and targeted adaptation measures could be developed.
Risk Communication to support property level adaptation
In January 2023, the final report of the project "PIVO - Private Eigenvorsorge" was published. The project was funded by the Federal Environment Agency (UBA). Under the coordination of Prof. Dr. Christian Kuhlicke, PIVO investigated how different communication formats (a serious game on flood protection, a simulation and a precautionary information campaign) affect the motivation of citizens to take precautions against the consequences of climate change. This report provides a detailed and illustrative overview of the developed communication formats and the results of an extensive evaluation. A longitudinal survey was conducted in 11 municipalities, with six cities serving as control municipalities in order to draw controlled conclusions on the effectiveness of the communication formats.
You can find the report here
(it's in German and includes a English summary).
New project on resilience planning in German municipalities
In December, the one-year project
"Resilience in municipal practice – How about resilience?"
started with the collaboration of Prof. Dr. Christian Kuhlicke, Prof. Dr. Dieter Rink, Janine Pößneck und Anika Schmidt. Financed by and in close exchange with the German federal association on housing and urban development, called vhw, the team will elaborate a survey of debate, knowledge and planning related to urban resilience in German municipalities. Based on literature analysis and interviews a synthesis report will be published at the end of the project. The overall goal is to further refine the concept of urban resilience and elaborate suggestions for municipal planning. The project is part of the platform project "Transformations towards resilient cities".
Final meeting of cross-European project HOUSE-IN at UFZ
Final meeting of cross-European project HOUSE-IN at UFZ
From 9-11 Nov 2022, the final meeting of the JPI Urban Europe funded transdisciplinary project
HOUSE-IN
took place at UFZ. The project researches challenges at the intersection of housing and integration of forced migrants and discusses solutions in five European cities (Riga, Vienna, Helsingborg and Lund, Leipzig). It is coordinated at the Dept. SUSOZ at UFZ (by Annegret Haase and Anika Schmidt). About 20 participants, scientists and practitioners from municipalities, enterprises and civil society from 5 European countries took part in the meeting. It included hybrid working sessions and on-site excursions to local stakeholders organizing and supporting the access to housing and the settling and belonging of migrants in Leipzig. HOUSE-IN will end by 30 Nov 2022.
Uwe Schlink as a fellow at Durham University (UK)
At the Institute of Advanced Study (IAS), he presents his current research and establish academic connections during his research stay from October - December 2022. The IAS has defined "Pollution" as one of the central research topics it would like to promote in the coming years. Social determinants and aspects of health are one of the main research priorities of both the Faculty of Social and Health Sciences and the Department of Sociology. Together with Dr Keming Young and other colleagues from the Department of Sociology, as well as Dr Laura Marsiliani and her colleagues at the Business School, Uwe Schlink is working on further analyses of data collected in previous studies. Within the group of international fellows currently working at the IAS, this interdisciplinary collaboration is also supported.
New edition: International Handbook of Ignorance Studies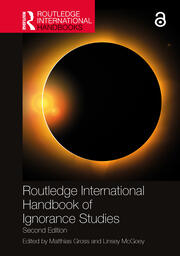 The new edition of the Routledge International Handbook of Ignorance Studies, edited by Matthias Gross and Linsey McGoey, is a seminal text in the field of studies in ignorance, secrecies, and nonknowledge. It is now fully revised and includes new and expanded chapters on religion, domestic law and jurisprudence, gender studies, memory studies, and colonial history, among many others.
New video online: Matthias Groß in Portrait

New video online: Christian Kuhlicke in Portrait

New project "Heat Stress" launched
In January 2022, the DBU-funded research project "Planetary Health Model for the Reduction of Heat Stress at the Neighborhood Level" started. In collaboration with partners from the City of Leipzig, it will run under the leadership of the UFZ until May 2023. By combining micrometeorological simulations and social science survey results, the new research field "Planetary Health" will be further developed for the neighborhood level in order to identify key factors for heat stress and to be able to provide practical recommendations for reducing the individual exposure of the population.
More information: Project homepage "Heat Stress"

Heads: Prof. Dr. Sigrun Kabisch, Prof. Dr. Uwe Schlink
Personnel: Daniel Hertel, Janine Pößneck
New project "Lebendige Wände − Living Walls"
The project "Lebendige Wände" (Living Walls) was launched in October 2021. Funded by the Saxon Ministry for Energy, Climate Protection, Environment and Agriculture, the project focuses on testing suitable facade greening concepts in Leipzig. Together with lwb, Saxony's largest municipal housing association, as well as the environmental protection association "Ökolöwe" and the citizens' initiative "Wir im Quartier", obstacles are identified, the interests of residents are recorded, and greening and maintenance concepts are developed. An elaborate climatological measuring concept allows the monitoring of the cooling capacity and the vitality of the plants during heat and drought. The results will be integrated into existing urban climatological models.
More information: Project "Living Walls − Green facades for multifunctional climate adaptation in the city"

Contact:
Prof. Dr. Uwe Schlink
,
Raphael Karutz