Dr. Stephan Weise
Contact
Department Catchment Hydrology
Helmholtz Centre
for Environmental Research - UFZ
Theodor-Lieser Str. 4
06120 Halle, Germany

Tel: +49 (0)345 558 5435
stephan.weise@ufz.de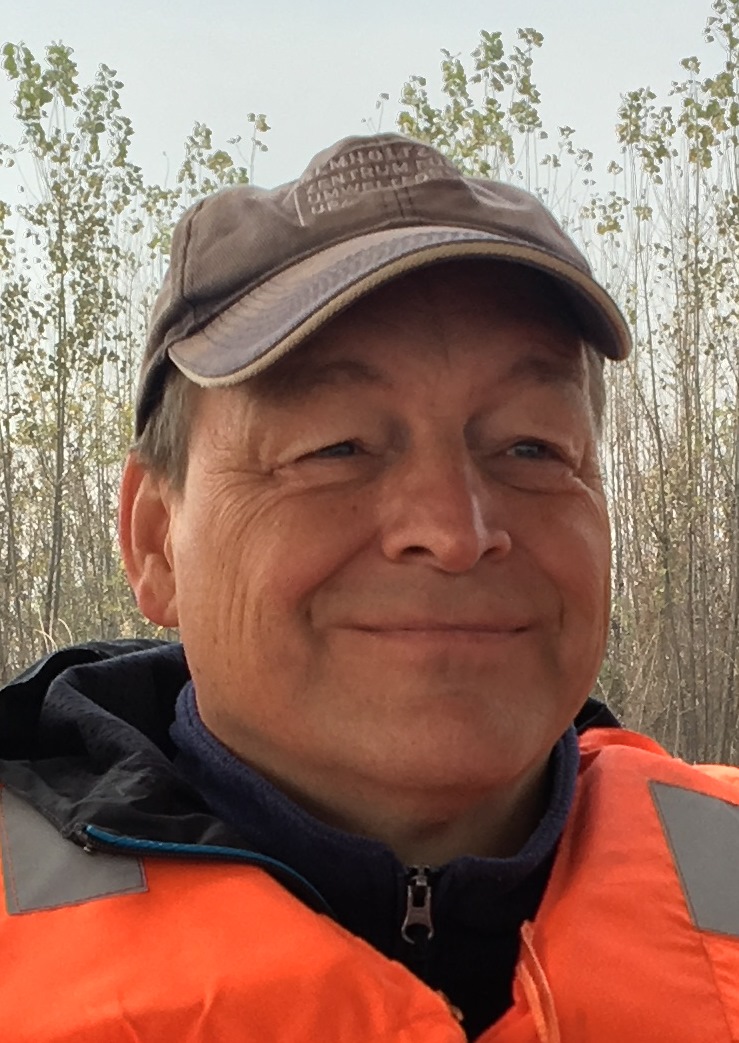 Research fields
Developing analytical and interpretational tools for helium isotopes (3He, 4He combined with the neon isotopes 20Ne, 21Ne, and 22Ne) in water and gas samples I came into touch with isotope hydrology as well as noble gas geochemistry. I did much work on groundwater dating particularly with noble gas isotopes and spread my methodical spectrum up to the isotopes of the water molecule (δ2Hwater and δ18Owater, 3H), the isotopes of nitrate and sulphate (δ15Nnitrate, δ18Onitrate, δ34Ssulphate, δ18Osulphate), to the isotopes of dissolved inorganic carbon (δ13CDIC, 14CDIC), and finally to 85Kr with following applications:
Dating "young", "old", and "very old" groundwaters for the evaluation of flow regimes
Detection and quantification of groundwater-surface water interaction
Anthropogenic contamination (diffuse and focussed) of groundwater
Age distribution of "young" groundwaters of karstified aquifers
Noble gases and seismicity
Development and application of isotopic tools for climate research
Curriculum vitae
Guest Professorship for Isotope Hydrology at the Technical University Mining Academy Freiberg

Department Catchment Hydrology, Head of Environmental Radioactive Isotopes Group
Head of Department of Isotope Hydrology, Helmholtz Centre for Environmental Research – UFZ
Research Scientist, UFZ Centre for Environmental Research Leipzig-Halle
Head of Isotope Hydrology Group

Research Scientist, GSF National Research Center
PostDoc, GSF National Research Center, Institute of Hydrology
PhD in Physics, Ludwig-Maximilians University Munich
Study of Physics, Free University of Berlin
Diploma in Physics, Ludwig-Maximilians University Munich

Activities in the scientific community
member of the European Geosciences Union - EGU
Organization of a consultant's workshop about groundwater dating G-DAT (together with Dr. Karsten Osenbrück)
Organization of the ESIR VIII Workshop of the European Society of Isotope Research (together with Dr. Gerhard Strauch)
Organization of a HGF-Workshop "Climate Variability and Human Habitat" (together with Dipl. Chem. Marika Haupt)
Member of the European Society of Isotope Research – ESIR (Secretary: 2004-2005)
Member of the German Association for Stable Isotope Research – GASIR
Educational work and lectures
IAEA two weeks Training Course "Environmental and Artificial Tracers in Hydrology and Visit to Isotope Hydrology Facilities"
IAEA Expert Mission for evaluation of three isotope laboratories in North Africa
Lectures of "Isotope Hydrology" for master students at the Technical University Mining Academy of Freiberg/Saxony (Germany)
Lectures of "Isotope Hydrogeology" for master students at the Martin-Luther University Halle-Wittenberg in Halle (Germany)
IAEA "International Training Course on Techniques for Environmental Isotope Analysis in Hydrology and Geochemistry", Topic: Noble gas isotopes
IAEA (International Atomic Energy Agency) "Advanced Regional Course on the Use of Environmental Isotopes in Hydrologie", Topic: Progress in analytical methods and isotopes only recently used in hydrological applications
Index:
2019 (5)
2017 (3)
2016 (1)
2015 (6)
2014 (4)
2013 (5)
2012 (3)
2011 (1)
2010 (5)
2009 (6)
2008 (4)
2007 (3)
2006 (6)
2005 (2)
2004 (6)
2003 (5)
2002 (3)
2001 (5)
2000 (5)
1999 (2)
1998 (1)
1997 (5)
You could use our publication index for further requests.
2019 (5)
to index
2017 (3)
Knoche, M., Merz, R., Lindner, M., Weise, S.M., (2017):
Bridging glaciological and hydrological trends in the Pamir Mountains, Central Asia
Water 9 (6), art. 422
full text (url)
Meier, C., Osenbrück, K., Seitz, H.-M., Weise, S.M., (2017):
First lithium isotope data from rivers and subsurface water in the Pamirs
Procedia Earth Planet. Sci. 17 , 574 - 577
full text (url)
Wilske, C., Rödiger, T., Suckow, A., Geyer, S., Weise, S., Merchel, S., Rugel, G., Pavetich, S., Merkel, B., Siebert, C., (2017):
Discovering complex groundwater dynamics of a multiple aquifer system on the base of stable and radio-isotope patterns
EGU General Assembly 2017, Vienna, Austria, 23–28 April 2017
Geophysical Research Abstracts 19
European Geosciences Union (EGU), p. EGU2017-15175
full text (url)
to index
2016 (1)
Musolff, A., Schmidt, C., Rode, M., Lischeid, G., Weise, S.M., Fleckenstein, J.H., (2016):
Groundwater head controls nitrate export from an agricultural lowland catchment
Adv. Water Resour. 96 , 95 - 107
full text (url)
to index
2015 (6)
Hensen, C., Scholz, F., Nuzzo, M., Valadares, V., Gràcia, E., Terrinha, P., Liebetrau, V., Kaul, N., Silva, S., Martínez-Loriente, S., Bartolome, R., Piñero, E., Magalhães, V.H., Schmidt, M., Weise, S.M., Cunha, M., Hilario, A., Perea, H., Rovelli, L., Lackschewitz, K., (2015):
Strike-slip faults mediate the rise of crustal-derived fluids and mud volcanism in the deep sea
Geology 43 (4), 339 - 342
full text (url)
Michelsen, N., Reshid, M., Siebert, C., Schulz, S., Knöller, K., Weise, S.M., Rausch, R., Al-Saud, M., Schüth, C., (2015):
Isotopic and chemical composition of precipitation in Riyadh, Saudi Arabia
Chem. Geol. 413 , 51 - 62
full text (url)
Michelsen, N., Reshid, M., Siebert, C., Schulz, S., Rausch, R., Knöller, K., Weise, S., Al-Saud, M., Schüth, C., (2015):
Isotopic composition of Riyadh rainfall, Saudi Arabia
EGU General Assembly 2015, Vienna, Austria, 12–17 April 2015
Geophysical Research Abstracts 17
European Geosciences Union (EGU), p. EGU2015-12839-1
Mishra, P.K., Prasad, S., Anoop, A., Plessen, B., Jehangir, A., Gaye, B., Menzel, P., Weise, S.M., Yousuf, A.R., (2015):
Carbonate isotopes from high altitude Tso Moriri Lake (NW Himalayas) provide clues to late glacial and Holocene moisture source and atmospheric circulation changes
Paleogeogr. Paleoclimatol. Paleoecol. 425 , 76 - 83
full text (url)
Mustafa, O., Merkel, B., Weise, S.M., (2015):
Assessment of hydrogeochemistry and environmental isotopes in karst springs of Makook anticline, Kurdistan Region, Iraq
Hydrology 2 (2), 48 - 68
full text (url)
Scholz, F., Hensen, C., Reitz, A., Romer, R.L., Liebetrau, V., Meixner, A., Weise, S.M., Haeckel, M., (2015):
Corrigendum to 'Isotopic evidence (87Sr/86Sr, δ7Li) for alteration of the oceanic crust at deep-rooted mud volcanoes in the Gulf of Cadiz, NE Atlantic Ocean' [Geochim. Cosmochim. Acta 73 (2009) 5444–5459]
Geochim. Cosmochim. Acta 152 , 52 - 63
full text (url)
to index
2014 (4)
to index
2013 (5)
Anoop, A., Prasad, S., Plessen, B., Basavaiah, N., Gaye, B., Naumann, R., Menzel, P., Weise, S., Brauer, A., (2013):
Palaeoenvironmental implications of evaporative gaylussite crystals from Lonar Lake, central India
J. Quat. Sci. 28 (4), 349 - 359
full text (url)
Haffert, L., Haeckel, M., Liebetrau, V., Berndt, C., Hensen, C., Nuzzo, M., Reitz, A., Scholz, F., Schönfeld, J., Perez-Garcia, C., Weise, S.M., (2013):
Fluid evolution and authigenic mineral paragenesis related to salt diapirism - The Mercator mud volcano in the Gulf of Cadiz
Geochim. Cosmochim. Acta 106 , 261 - 286
full text (url)
Kienel, U., Plessen, B., Schettler, G., Weise, S., Pinkerneil, S., Böhnel, H., Englebrecht, A.C., Haug, G.H., (2013):
Sensitivity of a hypersaline crater lake to the seasonality of rainfall, evaporation, and guano supply
Fundam. Appl. Limnol. 183 (2), 135 - 152
full text (url)
Meier, C., Knoche, M., Merz, R., Weise, S.M., (2013):
Stable isotopes in river waters in the Tajik Pamirs: regional and temporal characteristics
Isot. Environ. Health Stud. 49 (4), 542 - 554
full text (url)
Weise, S., (2013):
Woher kommt das Wasser der Flüsse im Pamir? Geowissenschaftler erforschen die Wege des Wassers aus den Gletschern in die Flüsse
Senckenberg : Natur, Forschung, Museum ; das Senckenberg-Wissenschaftsmagazin 142 (1/2), 20 - 23
to index
2012 (3)
Ebert, C., Knoche, M., Geyer, S., Rödiger, T., Busch, W., Gloaguen, R., Pohl, E., Osenbrück, K., Baidulloeva, J., Weise, S.M., (2012):
Isotopic and hydrochemical characterisation of a (semi)-arid catchment in the Tajik Pamirs
EGU General Assembly 2012, Vienna, Austria, 22–27 April 2012
Geophysical Research Abstracts 14
European Geosciences Union (EGU), p. EGU2012-10834
Knoche, M., Ebert, C., Rödiger, T., Siebert, C., Geyer, S., Weise, S., Gloaguen, R., Merz, R., (2012):
Precipitation downscaling and spatial trends in the Pamirs
EGU General Assembly 2012, Vienna, Austria, 22–27 April 2012
Geophysical Research Abstracts 14
European Geosciences Union (EGU), p. EGU2012-10892
Oelze, V.M., Koch, J.K., Kupke, K., Nehlich, O., Zäuner, S., Wahl, J., Weise, S.M., Rieckhoff, S., Richards, M.P., (2012):
Multi-isotopic analysis reveals individual mobility and diet at the early iron age monumental tumulus of Magdalenenberg, Germany
Am. J. Phys. Anthropol. 148 (3), 406 - 421
full text (url)
to index
2011 (1)
Reitz, A., Pape, T., Haeckel, M., Schmidt, M., Berner, U., Scholz, F., Liebetrau, V., Aloisi, G., Weise, S.M., Wallmann, K., (2011):
Sources of fluids and gases expelled at cold seeps offshore Georgia, eastern Black Sea
Geochim. Cosmochim. Acta 75 (11), 3250 - 3268
full text (url)
to index
2010 (5)
Lüders, V., Plessen, B., Romer, R.L., Weise, S.M., Banks, D.A., Hoth, P., Dulski, P., Schettler, G., (2010):
Chemistry and isotopic composition of Rotliegend and Upper Carboniferous formation waters from the North German Basin
Chem. Geol. 276 (3-4), 198 - 208
full text (url)
Marei, A., Khayat, S., Weise, S., Ghannam, S., Sbaih, M., Geyer, S., (2010):
Estimating groundwater recharge using the chloride mass-balance method in the West Bank, Palestine
Hydrol. Sci. J.-J. Sci. Hydrol. 55 (5), 780 - 791
full text (url)
Osenbrück, K., Weise, S.M., Newman, B.D., (2010):
Selected papers from the International Workshop G-DAT 2008: Groundwater Dating Using Environmental Tracers, 5-7 March 2008, Leipzig, Germany
Isot. Environ. Health Stud. 46 (3), 257 - 258
full text (url)
Seebach, A., von Rohden, C., Ilmberg, J., Weise, S.M., Knöller, K., (2010):
Dating problems with selected mining lakes and the adjacent groundwater body in Lusatia, Germany
Isot. Environ. Health Stud. 46 (3), 291 - 298
full text (url)
Siebert, C., Geyer, S., Knöller, K., Rödiger, T., Weise, S.M., Dulski, P., Möller, P., Guttman, Y., Subah, A., (2010):
Ajloun and Golan – a transboundary groundwater resource?
Transboundary Aquifers: Challenges and New directions. ISARM2010 International Conference; 6-8 December 2010; UNESCO Paris, France
UNESCO, Paris, p. 129 - 134
to index
2009 (6)
to index
2008 (4)
to index
2007 (3)
Böttger, T., Haupt, M., Knöller, K., Weise, S.M., Waterhouse, J.S., Rinne, K.T., Loader, N.J., Sonninen, E., Junger, H., Masson-Delmotte, V., Stievenard, M., Guillemin, M.T., Pierre, M., Pazdur, A., Leuenberger, M., Filot, M., Saurer, M., Reynolds, C.E., Helle, G., Schleser, G.H., (2007):
Wood cellulose preparation methods and mass spectrometric analyses of δ13C, δ18O, and nonexchangeable δ2H values in cellulose, sugar, and starch:  an interlaboratory comparison
Anal. Chem. 79 (12), 4603 - 4612
full text (url)
Knöller, K., Böttger, T., Haupt, M., Weise, S.M., (2007):
Routine hydrogen isotope measurement of cellulose nitrate by high-temperature pyrolysis - reference materials and precision
Rapid Commun. Mass Spectrom. 21 (18), 3085 - 3092
full text (url)
Osenbrück, K., Gläser, H.-R., Knöller, K., Weise, S.M., Möder, M., Wennrich, R., Schirmer, M., Reinstorf, F., Busch, W., Strauch, G., (2007):
Sources and transport of selected organic micropollutants in urban groundwater underlying the city of Halle (Saale), Germany
Water Res. 41 (15), 3259 - 3270
full text (url)
to index
2006 (6)
Fritzsche, F., Abate, A., Fetene, M., Beck, E., Weise, S., Guggenberger, G., (2006):
Soil-plant hydrology of indigenous and exotic trees in an Ethiopian montane forest
Tree Physiol. 26 (8), 1043 - 1054
full text (url)
Knöller, K., Vogt, C., Richnow, H.H., Weise, S.M., (2006):
Sulfur and oxygen isotope fractionation during benzene, toluene, ethyl benzene, and xylene degradation by sulfate-reducing bacteria
Environ. Sci. Technol. 40 (12), 3879 - 3885
full text (url)
Osenbrück, K., Fiedler, S., Knöller, K., Weise, S.M., Sültenfuß, J., Oster, H., Strauch, G., (2006):
Timescales and development of groundwater pollution by nitrate in drinking water wells of the Jahna-Aue, Saxonia, Germany
Water Resour. Res. 42 (12), W12416
full text (url)
Schulz, E., Weise, S.M., Hubert, A., Chefetz, B., Katz, A., Starinsky, A., Abed Al-Jaber, Q., El'Ama, C., Marei, A., Massalha, J., Wenzel, K.-D., (2006):
Groundwater availability and the fate of pesticide input - fundamentals of human health in the Middle East (GAPI)
FKZ 01 SF 0116
UFZ Leipzig-Halle GmbH, Leipzig, 31 pp.
Strauch, G., Oyarzun, J., Fiebig-Wittmaack, M., González, E., Weise, S.M., (2006):
Contributions of the different water sources to the Elqui river runoff (northern Chile) evaluated by H/O isotopes
Isot. Environ. Health Stud. 42 (3), 303 - 322
full text (url)
Strauch, G., Weise, S., (2006):
Selected papers of the VIII Isotope Workshop of the European Society for Isotope Research (ESIR), June 25 to 30, 2005, Leipzig, Germany - Preface
Isot. Environ. Health Stud. 42 (3), 211 - 213
full text (url)
to index
2005 (2)
Knöller, K., Böttger, T., Weise, S.M., Gehre, M., (2005):
Carbon isotope analyses of cellulose using two different on-line techniques (elemental analysis and high-temperature pyrolysis) - a comparison
Rapid Commun. Mass Spectrom. 19 (3), 343 - 348
full text (url)
Strauch, G., Weise, S.M., (eds., 2005):
European Society for Isotope Research - ESIR - VIII Isotope Workshop, Extended Abstract Volume
UFZ-Bericht 2/2005
UFZ Leipzig-Halle GmbH, Leipzig, 173 pp.
full text (pdf)
to index
2004 (6)
Bräuer, K., Kämpf, H., Koch, U., Niedermann, S., Strauch, G., Weise, S.M., (2004):
Isotopensignaturen (CO2, He) von Fluiden magmatischen Ursprungs im Vogtland und NW-Böhmen: Indikationen für die Geodynamik der Region
IAH Symposium Magmatisches Kohlendioxid und Grundwasser, Andernach, 25.-26.11.04
Bräuer, K., Kämpf, H., Niedermann, S., Strauch, G., Weise, S.M., (2004):
Evidence for a nitrogen flux directly derived from the European subcontinental mantle in the Western Eger Rift, central Europe
Geochim. Cosmochim. Acta 68 (23), 4935 - 4947
full text (url)
Knöller, K., Vogt, C., Weise, S.M., (2004):
Are oxygen isotopes of sulfate a useful tool for the quantification of sulfate reduction in a BTEX contaminated aquifer?
International Conference on Isotopes in Environmental Studies - Aquatic Forum 2004, Monte-Carlo/Monaco, 25.-29.10.2004
International Atomic Energy Agency (IAEA), Vienna, p. 145 - 146
Stadler, S., Osenbrück, K., Knöller, K., Himmelsbach, T., Suckow, A., Weise, S.M., (2004):
Origin of nitrate in groundwaters of Kalahari, Botswana
In: Bojar, A.V., Fritz, H., Bojar, H.-P., (eds.)
7th Workshop of the European Society for Isotope Research, Seggauberg/Austria, 27.6.-1.7.2004
Berichte des Institutes für Erdwissenschaften der Karl-Franzens-Universität Graz 8
Karl-Franzens-Universität Graz, Institut für Erdwissenschaften, Bereich Geologie und Paläontologie, Graz, p. 132 - 133
Trettin, R., Strauch, G., Osenbrück, K., Knöller, K., Gläser, H.R., Weise, S.M., (2004):
Tracing anthropogenic effects on the urban water system using stable isotopes
In: Bojar, A.V., Fritz, H., Bojar, H.-P., (eds.)
7th Workshop of the European Society for Isotope Research, Seggauberg/Austria, 27.6.-1.7.2004
Berichte des Institutes für Erdwissenschaften der Karl-Franzens-Universität Graz 8
Karl-Franzens-Universität Graz, Institut für Erdwissenschaften, Bereich Geologie und Paläontologie, Graz, p. 151 - 152
Zuber, A., Weise, S.M., Motyka, J., Osenbrück, K., Różański, K., (2004):
Age and flow pattern of groundwater in a Jurassic limestone aquifer and related Tertiary sands derived from combined isotope, noble gas and chemical data
J. Hydrol. 286 (1-4), 87 - 112
full text (url)
to index
2003 (5)
Bräuer, K., Kämpf, H., Niedermann, S., Strauch, G., Weise, S.M., (2003):
Upper mantle-derived free gas exhalations in central Europe - an isotope study
EGS-AGU-EUG Joint Assembly, Nice, France, 06-11 April 2003
Geophysical Research Abstracts 5
European Geosciences Union (EGU), p. abstract #784
full text (url)
Bräuer, K., Kämpf, H., Strauch, G., Weise, S.M., (2003):
Isotopic evidence (3He/4He, 13CCO2) of fluid-triggered intraplate seismicity
J. Geophys. Res. 108 (B2), ESE - ESE
full text (url)
Chmura, W., Duliński, M., Różański, K., Żurek, A., Kryza, J., Weise, S.M., (2003):
Wstępne wyniki pomiarów składu izotopowego azotanów rozpuszczonych w wodach podziemnych GZWP 333. Isotopic composition of nitrates dissolved in groundwaters of the GZWP 333 - preliminary results
Współczesne Problemy Hydrogeologii 11 (2), 73 - 80
Knöller, K., Weise, S.M., Vieth, A., Gödeke, S., Weiß, H., Schirmer, M., (2003):
Isotopic evidence for biodegradation in a sulfate-rich BTEX-contaminated aquifer
In: Sial, A.N., Chemale jr., F., McReath, I., Bettencourt, J.S., Pimentel, M.M., Macambira, M.J.B., (eds.)
Fourth South American Symposium on Isotope Geology, Salvador/Brazil, 24.-27.8.2003
Companhia Baiana de Pesquisa Mineral, Salvador, p. 438 - 440
Weinlich, F.H., Bräuer, K., Kämpf, H., Strauch, G., Tesař, J., Weise, S.M., (2003):
Gas flux and tectonic structure in the Western Eger Rift, Karlovy Vary - Oberpfalz and Oberfranken, Bavaria
GeoLines 15 , 181 - 187
to index
2002 (3)
Bräuer, K., Kämpf, H., Faber, E., Heinicke, J., Koch, U., Strauch, G., Weise, S.M., (2002):
Geochemical fluid-monitoring results in relation to the NW Bohemian earthquake swarm period 2000
27th EGS General Assembly, Nice, France, 21-26 April 2002
Geophysical Research Abstracts 4
European Geosciences Union (EGU), p. EGS02 - EGS0A
Bräuer, K., Kämpf, H., Koch, U., Strauch, G., Weise, S.M., (2002):
Transport of mantle volatiles through the crust traced by seismically released fluids: a natural experiment in the earthquake swarm area Vogtland/NW Bohemia, Central Europe
In: Ristedt, H., (ed.)
Zusammenfassungen der Tagungsbeiträge / 4. Geochemie-Tagung, 31. Mai - 3. Juni 2000, GeoForschungsZentrum Potsdam
Terra Nostra. Schriften der Alfred-Wegener-Stiftung 2
Alfred-Wegener-Stiftung, Bonn, p. 2 - 4
Weise, S.M., (2002):
3He und 85Kr - Erfahrungen und Anwendungsbeispiele
In: Hebert, D., Merkel, B., Wolkersdorfer, C., (Hrsg.)
Isotope und Tracer in der Wasserforschung. 53. Berg- und Hüttenmännischer Tag
Wissenschaftliche Mitteilungen 19
TU Bergakademie Freiberg, Institut für Geologie, Freiberg, S. 63 - 70
to index
2001 (5)
Bräuer, K., Kämpf, H., Niedermann, S., Strauch, G., Weise, S.M., (2001):
Quellgase im Umfeld der KTB: Indikationen für einen aktiven Stickstofffluss aus dem Oberen Mantel
ICDP/KTB-Kolloquium ; wissenschaftliches Programm und Abstracts ; Ruhr-Universität Bochum, 07. - 08. Juni 2001
p. 11 - 12
Bräuer, K., Kämpf, H., Strauch, G., Weise, S.M., (2001):
Mantle fluid as trigger of swarm-quake seismicity
26th EGS General Assembly, Nice, France, 25–30 March 2001
Geophysical Research Abstracts 3
European Geosciences Union (EGU), p. 135
Weise, S.M., Bräuer, K., Kämpf, H., Strauch, G., Koch, U., (2001):
Transport of mantle volatiles through the crust traced by seismically released fluids: a natural experiment in the earthquake swarm area Vogtland/NW Bohemia, Central Europe
Tectonophysics 336 , 137 - 150
full text (url)
Weise, S.M., Rau, I., Seiler, K.P., (2001):
Long-term storage behaviour of karstic aquifers deduced by multi-tracer investigations
26th EGS General Assembly, Nice, France, 25–30 March 2001
Geophysical Research Abstracts 3
European Geosciences Union (EGU), p. 2258
Weise, S.M., Stichler, W., Bertleff, B., (2001):
Ground water inflow into an excavated artificial lake (gravel pit) indicated by apparent 3He/3H ages
In: Seiler, K.P., Wohnlich, S., (eds.)
XXXI International Association of Hydrogeologists Congress "New Approaches Characterizing Groundwater Flow", München, 10.-14.9.2001
Balkema, Rotterdam, p. 225 - 228
to index
2000 (5)
Balderer, W., Martinelli, G., Weise, S.M., Wolf, M., (2000):
3He/4He anomalies in the Irpinia-Basilicata area (South Italy): Geochemical signatures of a seismically active region
Bulletin d'Hydrogéologie 18 , 147 - 160
Bräuer, K., Kämpf, H., Strauch, G., Weise, S.M., (2000):
Active hydrothermal system Schönbrunn, Vogtland
Isot. Environ. Health Stud. 36 (4), 379
full text (url)
Kämpf, H., Bräuer, K., Strauch, G., Weise, S.M., (2000):
Indications for an active mantel magma chamber in the upper mantle below the western Eger Graben, Czech Republic
In: Bonatz, M., (ed.)
Comptes-rendus / Journées Luxembourgeoises de Géodynamique : 87th session, March 7 - 8, 2000, Chateau de Munsbach, Grand Duchy of Luxembourg
p. 44 - 45
Stichler, W., Bertleff, B., Trapp, C., Weise, S.M., (2000):
Identification and quantification of lake water intake into a ground water flow system by means of environmental isotopes (2H, 18O)
Isot. Environ. Health Stud. 36 (4), 376 - 377
full text (url)
Zuber, A., Weise, S.M., Osenbrück, K., Pajnowska, H., Grabczak, J., (2000):
Age and recharge pattern of water in the Oligocene of the Mazovian basin (Poland) as indicated by environmental tracers
J. Hydrol. 233 (1-4), 174 - 188
full text (url)
to index
1999 (2)
Kämpf, H., Bräuer, K., Strauch, G., Weise, S.M., (1999):
Indications for an active mantel magma chamber in the upper mantle below the western Eger Graben, Czech Republic
Eos 80 (Suppl.), 378
Weinlich, F.H., Bräuer, K., Kaempf, H., Strauch, G., Tesař, J., Weise, S.M., (1999):
An active subcontinental mantle volatile system in the western Eger rift, Central Europe: Gas flux, isotopic (He, C and N) and compositional fingerprints
Geochim. Cosmochim. Acta 63 (21), 3653 - 3671
full text (url)
to index
1998 (1)
Weinlich, F.H., Tesař, J., Weise, S.M., Bräuer, K., Kämpf, H., (1998):
Gas flux distribution in mineral springs and tectonic structure in the western Eger Rift
Journal of the Czech Geological Society 43 (1-2), 91 - 110
to index
1997 (5)
Bräuer, K., Strauch, G., Kämpf, H., Weise, S., Weinlich, F., Kohl, T., (1997):
Modellierung und Bewertung des konvektiven Wärmeflusses zur KTB-Lokation über die Quantifizierung des Gasflusses im Umfeld der KTB sowie seine chemische und isotopische Charakterisierung : Abschlußbericht zu den Forschungsvorhaben Br 1396/3, Ka 902/6, Str 376/4 und We 1546/2 ; Schwerpunktprogramm Kontinentales Tiefbohrprogramm der Bundesrepublik Deutschland ; DFG-Abschlußbericht
Deutsche Forschungsgemeinschaft, Bonn, 43 pp.
Möller, P., Weise, S.M., Althaus, E., Bach, W., Behr, H.J., Borchardt, R., Bräuer, K., Drescher, J., Erzinger, J., Faber, E., Hansen, B.T., Horn, E.E., Huenges, E., Kämpf, H., Kessels, W., Kirsten, T., Landwehr, D., Lodemann, M., Machon, L., (1997):
Paleoluids and recent fluids in the upper continental crust: Results from the German Continental Deep Drilling Project (KTB)
J. Geophys. Res.-Solid Earth 102 (B8), 18233 - 18254
full text (url)
Strauch, G., Kämpf, H., Weise, S., Bräuer, K., Weinlich, F.H., (1997):
Fluidregime und Entgasungsverhalten Kruste/Mantel entlang eines 1000 km langen NW-SE-Profils über das Eger-Rift (Schönbrunn - Bad Brambach - Marianske Lazne - Konstantinovy Lazne) : Abschlußbericht zu den Forschungsvorhaben Str 376/2, Ka 902/3 und We 1546/1 ; Schwerpunktprogramm Kontinentales Tiefbohrprogramm der Bundesrepublik Deutschland ; Fluidregime im KTB-Umfeld
Deutsche Forschungsgemeinschaft, Bonn, 127, 32 S.
Weinlich, F.H., Weise, S., Bräuer, K., Tesar, J., Kämpf, H., Strauch, G., Weise, S., (1997):
Gas flow, gas composition and helium, carbon dioxine isotope systematics in spring gases in the nort-west Bohemian Eger Rift area
In: Strauch, G., Kämpf, H., Weise, S., Bräuer, K., Weinlich, F.H., (eds.)
Fluidregime und Entgasungsverhalten Kruste/Mantel entlang eines 1000 km langen NW-SE-Profils über das Eger-Rift (Schönbrunn - Bad Brambach - Marianske Lazne - Konstantinovy Lazne) : Abschlußbericht zu den Forschungsvorhaben Str 376/2, Ka 902/3 und We 1546/1 ; Schwerpunktprogramm Kontinentales Tiefbohrprogramm der Bundesrepublik Deutschland ; Fluidregime im KTB-Umfeld
Deutsche Forschungsgemeinschaft, Bonn, p. 1 - 32
Zuber, A., Weise, S.M., Osenbrück, K., Matenko, T., (1997):
Origin and Age of Saline Waters in Busko Spa (Southern Poland) Determined by Isotope, Noble Gas, and Hydrochemical Methods: Evidence of Interglacial and pre-Quaternary Warm Climate Recharge
Appl. Geochem. 12 , 643 - 660
full text (url)
to index