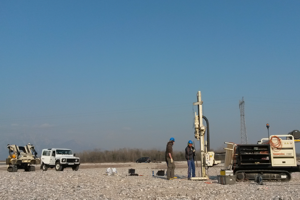 MOSAIC
Model Driven Site Assessment, Information and Control
Contact Person: Dr. Ulrike Werban
MOSAIC is a broad research platform for model supported near surface assessment and build a connection between scientist from different special fields and study areas.

The realization of MOSAIC takes place in order to enlarge the abilities and the competence of the Helmholtz Centre for Environmental Research - UFZ in the field of investigation and observation of extensive natural and anthropogenically influenced systems. The innovative mapping and monitoring technologies of MOSAIC enable high-resolution surveys of complex sub-surface structures and processes.

The basic concept of MOSAIC is funding on combination of already existing, non invasive methods in areas such as drilling, geophysical measurements and analysis methods. Apart from e.g. advanced Direct Push- technologies, a borehole logging unit there is also a field lab and a mobile swimming platform available.


MOSAIC is a new platform for research in the areas of groundwater, soil and biodiversity aiming at making a quantum leap in investigating test sites in regard to quality, efficiency and speed.