Essay
Environmental Perspectives 06/2021

Water – a blessing and a curse for sustainable neighbourhood development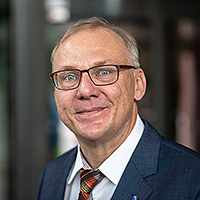 Prof. Dr. Roland Müller
Head of the Centre for Environmental Biotechnology (UBZ)

The biologist heads the Department of Environmental and Biotechnological Centre (UBZ) at the UFZ location in Leipzig. He is an appointed honorary professor for Integrated Wastewater Resource Management in the Faculty of Civil Engineering at HTWK Leipzig. His research interests lie in environmental and biotechnological issues relating to decentralised (waste) water infrastructures in a national ("Future City") and international perspective ("Water Resource Management") as well as the development of resource-efficient biological processes.
His special concern is the implementation of research results in potential national and international application and target regions. He has received several awards and prizes for this work. In 2018, he and two of his colleagues received the German Environmental Award for pioneering work on the implementation of decentralised wastewater system solutions in Germany and the Middle East.
He is active in various bodies such as the DWA, where he is on the advisory board of the federal association, on the expert committee "International Cooperation in Water Management", as spokesperson of the working group "Decentralised Wastewater Systems for Developing and Emerging Countries" and a member of the working group "System Integration". He is an appointed member of the National Jordanian Committee (NICE) for the implementation of sustainable wastewater concepts in water scarce areas. He is one of the founders of BDZ e.V., a national centre for decentralised infrastructures, of which he is vice-chairman of the board.
Sponges are made up of fine, water-permeable pores. They have no brain, no nerve cells, no organs, and no muscles. They ordinarily grow securely adhered to the ground where they start and do not move from the spot. Despite these unassuming characteristics, they currently stand for a concept for the city of the future that is even named after them: The sponge city.
More than half the global population lives in cities. It is assumed already today that this number will be almost 70 percent by 2050. Cities are thus the places that will determine how the majority of people will live in the future. With its 2030 Agenda, the global community adopted an ambitious roadmap for the future in 2015: All people should be able to live in humane conditions, whilst at the same time preserving the natural basis for existence. With global Sustainable Development Goal 11, the Agenda focuses on cities and commits to making cities inclusive, safe, resilient and sustainable. This is a tremendous challenge given the backdrop of the projected growth of urban areas, and is one that cannot be met without substantial transformation. The situation is being significantly exacerbated by climate change, which bears with it the need for still further adaptation, especially regarding the efficient handling of our water and energy resources.
On the one hand, the frequency and intensity of precipitation are increasing in many areas, resulting in increasingly frequent local flooding. The reasons for this are clear: Cities directly affect the natural water cycle through the proportion of their sealed surfaces. Extensive sealing means that precipitation no longer seeps away naturally. Surface runoff is increasing and often overtaxes the central wastewater infrastructures in times of heavy rainfall. Flooding can thus cause extensive damage. It is a cause for concern that population growth strongly promotes trends of recompacting and new compacting of surfaces in many cities. For this reason, a "100-year model rainfall" is increasingly being accounted for in municipal rainwater concepts, so that modified infrastructures can handle the anticipated water volumes. With this perspective, new regulations for urban water management increasingly stress the importance of a local water balance that is as natural as possible: Simply draining off rainwater the sewer system is no longer a sustainable approach.

On the other hand, climate change is resulting in hotter and hotter summers with increasing dryness and drought in urban areas. This effect is also accelerated not only by climate change, but also by a high degree of sealing of surfaces. Buildings, streets and squares bring about a specific microclimate with very high temperatures, so-called heat islands. Urban greenery is losing its basis for existence due to drought and a lack of water: For example, Leipzig lost roughly 1,600 urban trees due to a lack of water over the drought summers of 2019 and 2020. And the urban population also suffers from the overheating settlements.
However, the danger to urban structures due to too much or too little water only represents one side of the coin. At the same time, water can also help to mitigate the negative effects of climate change and even contribute to solving the problems addressed. This is possible with a more flexible water management design that no longer relies exclusively on central water drainage infrastructures, but rather stores water from precipitation close to the site – like a sponge. This can be implemented using so-called "blue-green" water infrastructures that can close local water cycles, store rainwater, regulate local heat risks, prevent relief overflows that are harmful to the environment and improve the quality of life in the city. Finally, these decentralised solutions also provide valuable options for action, such as the irrigation of urban green spaces in the summer months. The urban green space thus retains its key functions for the urban climate, which can be used in different ways. It helps cool cities by its evaporation, improves air quality and thus increases the quality of life in the city.
---
Leipzig is a model city in the research initiative "Resource-efficient urban districts"
---
A team of scientists from the UFZ Department of Environmental Biotechnology is working to develop these "blue-green" water infrastructures, to implement them in existing urban settlements and to equip new urban districts with them. The collaboration in planning and designing the new "Leipzig 416" city centre neighbourhood is an interesting example of successful cooperation between scientists, urban stakeholders and investors. The following cover story presents how the concept of the sponge city is being implemented there, where around 3,700 residents will live in a few years' time.

In projects like these, the researchers can draw upon a rich breadth of experience, most of which they have established abroad. They have been working for many years in world regions of water scarcity such as the Arabian Peninsula to develop flexible decentralised wastewater technologies to protect scarce and sensitive groundwater. For example, they developed a model concept for Jordan that flexibly supplements centralised sewer networks with decentralised solutions, thereby significantly improving protection of the groundwater from pollutants and pathogens. This research work, which was awarded the German Environmental Prize in 2018, was able to overcome the boundaries between the natural sciences, engineering and social sciences and implement tangible solutions. These results are now bearing fruit for the researchers in the urban spaces of Europe.
Over the coming years, scientists from a wide range of disciplines at the UFZ will continue to address questions regarding the city of the future. For example, developing concepts for climate-resilient cities in co-design with urban stakeholders. Leipzig continues to play a special role here – not only as the UFZ site and model city for the German "Resource-Efficient Urban Neighbourhoods" research initiative, but also lends its name to an important European framework for the political implementation of the 2030 Agenda – the Leipzig Charter.