UFZ Newsletter "UmweltPerspektiven"
Insights into the exciting research conducted at the UFZ are provided by the UmweltPerspektiven that comes out several times a year: UmweltPerspektiven offers a good mix of reports, interviews, points of view and profiles of current environmental research topics. You can receive a printed copy by post or read it here directly as an e-paper.

Special editions

In addition to the regular UFZ newsletters, there have been 3 editions of the special newsletters "UFZ-Special" and two editions of "UFZ-Expert".
Further newsletters can be found in German language:

UFZ Newsletter April 2012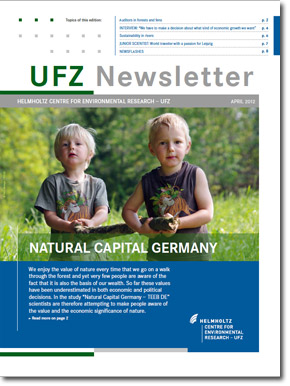 Contact and ordering
Public Relations
Tel +49 341 235 1269
Fax +49 341 235 1468
info@ufz.de
Permoserstraße 15
04318 Leipzig, Germany
Topics of this issue are:
Natural Capital Germany
Auditors in forests and fens
INTERVIEW: "We have to make a decision about what kind of economic growth we want"
Sustainability in rivers
Junior scientist: World traveller with a passion for Leipzig
Newsflashes
The UFZ newsletter from April can be downloaded here as PDF:
UFZ Newsletter April 2012 (1.4 MB)