Essay
UmweltPerspektiven 7/2020

Why the ecosystems of the future must be multifunctional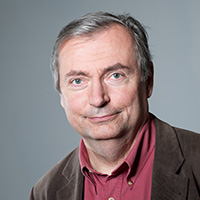 Dr. Stefan Klotz
Head of the Research Unit "Ecosystems of the Future" and of the Department of Community Ecology
He is an ecologist and head of the Research Unit "Ecosystems of the Future" as well as the Department of Community Ecology at the UFZ site in Halle. His research focuses on plant ecology, biological invasions and biogeography. He is particularly interested in the effects of land use and climate change on biodiversity in general and on ecosystem dynamics in particular.

He is a member of several scientific societies, a member of the board of the Ecological Society of Germany, Austria and Switzerland (GFÖ) and Secretary General of the European Ecological Federation (EEF), the association of ecological societies in Europe. As a member of the German Centre for Integrative Biodiversity Research (iDiv) Halle-Jena-Leipzig he promotes cooperation between different research areas. He has made a decisive contribution to the concept and implementation of the Global Change Experimental Facility (GCEF), a long-term experiment on climate and land use change. He is a member of the editorial board of Web Ecology and member several other scientific advisory boards.
The strategy to protect biodiversity until 2030 published by the EU Commission at the end of May 2020 is subtitled "Bringing nature back into our lives". The question of how we can successfully reintegrate nature into our lives is essential for the survival of humanity and is by no means new. The dominant strategy so far has been to use increasingly more natural resources to improve our lives. We now see this growth-oriented approach coming to an end. We are overexploiting most resources, including the renewable ones – and have no more means of increasing them.


Nevertheless, the spirit of the times is still characterised by the growth paradigm and the idea that it is possible to continue along this path by developing appropriate technologies or even using resources from the vastness of space. This paradigm is in complete contrast to scientific knowledge. No ecosystem – and the Earth is such a system – can constantly increase its primary production. Even the assumption of many economists that resources are replaceable by others overlooks the simple fact that we humans, as biological beings, depend on oxygen, water, carbohydrates, fats, and proteins as well as other elements. That is why there are objective limits to growth – an insight that the Club of Rome formulated as early as 1972 and which is more relevant today than ever. The idea that all we have to provide for our survival is clean air, clean water, and fertile soil overlooks the fact that this requires the diversity of life – the biodiversity of the Earth. Only this can ensure the functioning of ecosystems, maintain their productivity, and ensure the recycling of materials.
---
No ecosystem – and the Earth is such a system – can constantly increase its primary production.
---
For decades, the idea of strictly separating ecosystem and landscape functions (i.e. the use and protection of the landscape) has been prevalent. On one hand, we operate intensive agriculture and forestry focused on maximum production and develop urban areas with high levels of densely populated areas. On the other hand, we designate areas that may be used little or not at all in order to protect animals and plants. Even some representa-tives of nature conservation advocate this separation. I think it is wrong, because it causes many problems: The quality of ground- and surface water is deteriorating, erosion by water and wind and desertification are increasing, and biodiversity and its direct positive consequences, including pollination of important wild plants and agricultural crops and control of pests, are rapidly declining. Selection conditions set by humans (e.g. pesticides, general environmental changes) lead to new evolutionary processes. These can lead to new resistances and the selection of new genotypes of wild plant or animal populations.

Finally, the increasing constriction of natural systems also encourages the emergence and spread of pandemics – as we are currently experiencing with Covid19. The consequence is: We must bring nature back into our lives and economies and improve the multi-functionality of our ecosystems and landscapes.

What can science contribute? The crucial approach here is first to understand the diversity of life and the natural processes it sets into motion. We need a much better understanding of how organisms – whether microbes, plants, insects, or large mammals – interact with each other and perform all the services that are essential to us. This is followed by questions of the adaptability of ecosystems to global change – both of artificial systems (e.g. agricultural or forest systems) and existing natural systems (e.g. large boreal coniferous forests, rainforests and savannah ecosystems). It is ultimately the task of science to deal with options for use and management – from the planning of diverse landscape structures to new land use systems (e.g. organic agriculture, agroforestry systems, and climate-stable forests as well as nature conservation concepts for anthropogenic ecosystems and cultural landscapes).
---
The UFZ is also home to the world's largest experiment on the influence of land use and climate change on agroecosystems.
---
The scientists of the "Ecosystems of the Future" Research Unit of the UFZ are also committed to this task. They deal with the monitoring of essential biodiversity parameters, soil characteristics, and landscape variables as well as new remote sensing methods. They use modern laboratory experiments as well as artificial model ecosystems and field experiments such as those at the Bad Lauchstädt experimental station. More than 20 scientific experiments of various sizes and dimensions are currently being conducted here. These include the world's largest combined experiment in terms of land use types and plot size on the influence of land use and climate change on agroecosystems – the Global Change Experimental Facility (GCEF).


This issue of UmweltPerspektiven provides insight into this diversity as well as the 125-year history of this research station, which is becoming increasingly important at the international level. Among other things, it is to be developed into one of the approximately 250 sites of a European infrastructure for long-term research on ecosystems (eLTER RI), the development of which is coordinated here at the UFZ.

But we are more than just a part of the global scientific community. Because humans are both the cause of current problems and potentially part of the solution, we consider it important to communicate results to policy-makers and society. This is demonstrated by the work of our scientists in the Intergovernmental Panel on Climate Change (IPCC), the Intergovernmental Science-Policy Platform on Biodiversity and Ecosystem Services (IPBES), the German Advisory Council on the Environment (SRU) and numerous other international and national bodies.

"Bringing nature back into our lives" is not a new variant of a "back to nature" movement. Learning from nature and working with it (and not against natural processes), developing natural land use concepts and technologies and, of course, making changes in our lifestyle and value systems are solutions that will enable us to have a future. On the other hand, producing and consuming more and more in order to accumulate more capital will leads us further into a dead end.