EE-Monitoring
Monitoring of the expansion of renewable energies in the electricity sector from the perspective of conservation biology, and development of instruments to reduce their negative impact on nature and landscape
Project description
This project investigates the impact of renewable energy development in the past 25 years on protection objects as defined by the German federal nature conservation law, which conclusions can be drawn from this, and how these conclusions can be used in order to avoid undesirable development in the future expansion of renewable energies in Germany.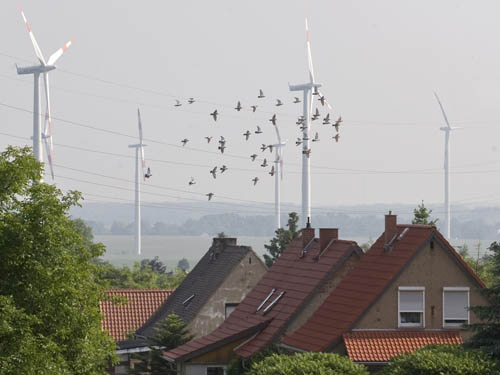 The aim of the project is to provide an effective toolkit for policy advice and for the consultation of planning authorities and operators based on monitoring of the recent development of renewable energies. The process is divided into four work packages (AP). AP 1 consists of the spatial analysis of the development of renewable energies in Germany in the past 25 years, the derivation of indicators for the evaluation of their impact on protection objects, and the analysis of existing monitoring approaches and -technologies. In AP 2, the ecological relations and effects are analysed and the required biotic components for the planned monitoring identified. AP 3 is the collection of the most important parameters of the renewable energy development in Germany since 1990 and of the expected technological developments. Based on the results of the first three work packages, in AP 4 we will present preferential development options for policy makers from the perspective of conservation biology and recommendations for action for planning authorities and operators.
The Department of Conservation Biology is mainly involved in AP 1, AP 2 and AP 4. Supplementary synergies result from the combination of this project with activities of the projects BatTrends, TURBATS and BIRDS & BLADES.
Further information can be found on the main pages of EE-Monitoring as well as the external web page as seen below.

Selected Results

Bose A, Dürr T, Klenke RA, Henle K (2020): Predicting strike susceptibility and collision patterns of the Common Buzzard at wind turbine structures in the federal state of Brandenburg, Germany. PLOS ONE 15(1): 10.1371/journal.pone.0227698 DOI:
10.1371/journal.pone.0227698
Bose A, Klenke RA (2019): Data from: Collision sensitive niche profile of the worst affected bird-groups at wind turbine structures in the federal state of Brandenburg, Germany. Dryad, Dataset. DOI:
10.5061/dryad.j1h2v
Bose A, Dürr T, Klenke R, Henle K (2018): Collision sensitive niche profile of the worst affected bird-groups at wind turbine structures in the Federal State of Brandenburg, Germany. Scientific Reports 8: 3777 1-13 DOI:
10.1038/s41598-018-22178-z
Further information