Detection dogs in Conservation

Project description

Background

Many species of animals and plants wich play an important role for nature conservation are highly elusive. The Eurasian otter (Lutra lutra) is one of these species. The Eurasian otter is very cryptic and, due to its mostly nocturnal activity, hard to observe. Since they use their scats for intraspecific communication, the most common non-invasive detection method is the search for its scat. Usually, specifically trained persons searched for and collected scats for further analyses. However, during the last study between 2006 and 2012 the sympatric occurrence of the American Mink (Neovison vison) increased dramatically. While during the first three years, most of the collected scats belonged to the Eurasian otter, 10% of the scats visually identified as Eurasian otter belonged to the Mink in 2010-2012. In total, 34% of the scats were found to be from sypatric carnivores. As the main diet of the carnivores in the study area consists of fish, their scats were almost identical in shape, color and smell. Thus, verifying the scat bevore using expensive genetic methods would be extremely helpful.

Aim

Scat discrimination is possible with specially trained dogs. Search dogs are often already used in nature conservation as so-called Scat Detection Dogs. In previous studies, dogs have successfully distinguished between sympatric, closely related species and even individual individuals. Due to these possibilities, in a first study, we have evaluated the benefit of search dogs in nature conservation using the example of the Eurasian otter. We went one step further and wanted to know whether search dogs are able to discriminate between closely related species, even if they have consumed exactly the same diet (fish). In a next step we compared the performance of the scat detection dogs in field work with that of trained persons.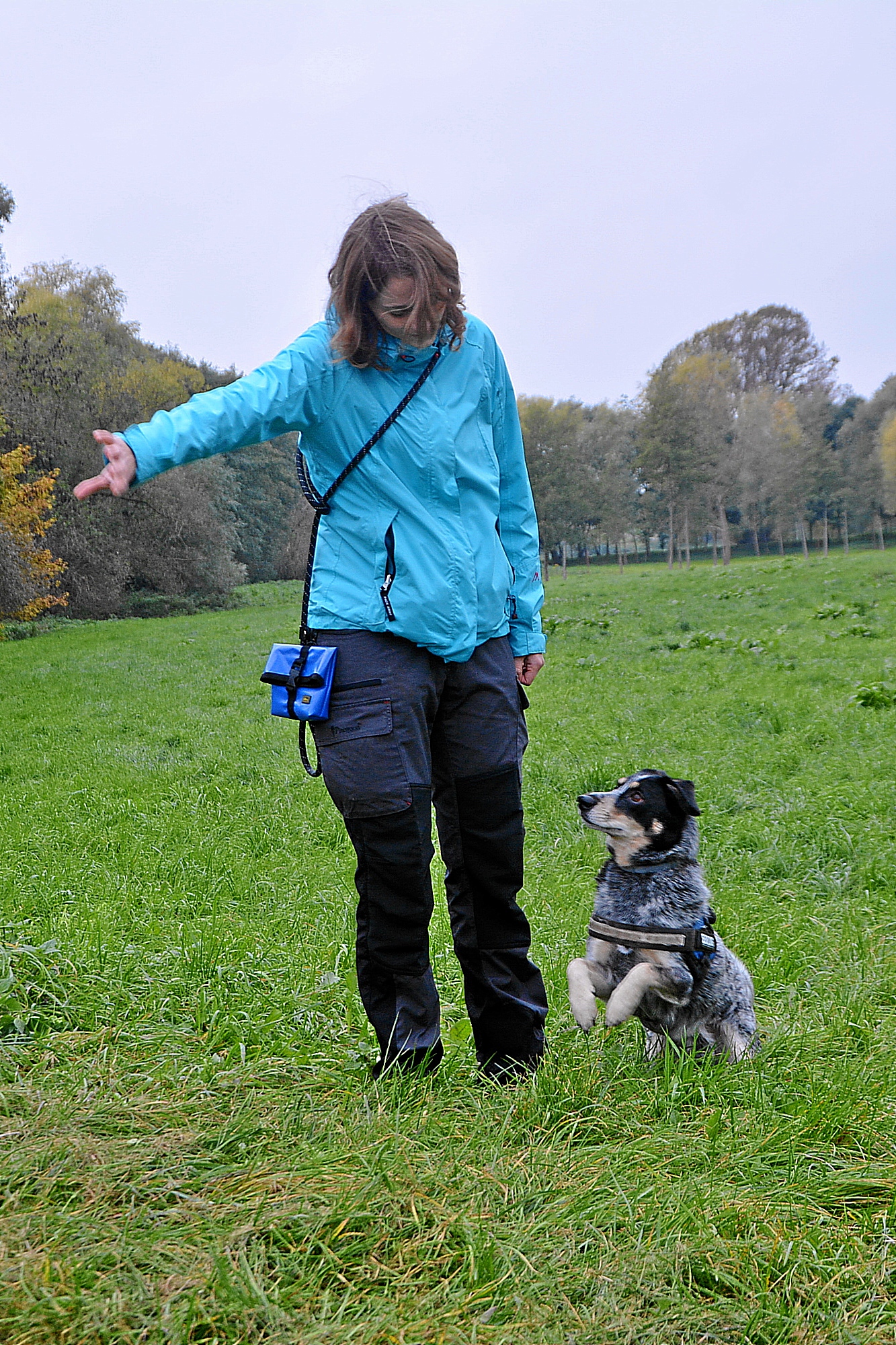 Results of the otter study

Trained scat detection dogs can differentiate very successfully between different species with up to 100% accuracy, even if they are closely related and had consumed the same food. They even outperform the experts in the field themselves. Also in field work we could show that a search with scat detection dogs is faster and much more scats are found than with traditional visual searches.
Further deployments of wildlife detection dogs

In nature conservation, detection dogs are not only able to track down the scats or traces of certain animals, but also the animals themselves. They can therefore be particularly useful in the search for amphibians and reptiles. Several pilot studies have shown that a trained detection dog can detect green lizards, pond (common) newts and great crested newts. Therefore, a detection dog is currently being used to search for newts in terrestrial habitats.

Publications

Grimm-Seyfarth, A., Harms, W., (2019): Evaluierung von Artenspürhunden beim Monitoring von Amphibien und Reptilien. Jahresschrift für Feldherpetologie und Ichthyofaunistik in Sachsen 20, 56 - 69.
Grimm-Seyfarth, A., Zarzycka, A., Nitz, T., Heynig, L., Weissheimer, N., Lampa, S., Klenke, R., (2019): Performance of detection dogs and visual searches for scat detection and discrimination amongst related species with identical diets. Nature Conservation (37), 81 - 98.
Grimm-Seyfarth, A., Klenke, R., (2019): Wie findet man schwer zu erfassende Arten? Vorteile und Limitierungen von Artenspürhunden. In: Schüler, C., Kaul, P., (Hrsg.) Faszinosum Spürhunde - Dem Geruch auf der Spur. Tagungsergebnisse des 4. Symposiums für Odorologie im Diensthundewesen an der Hochschule Bonn-Rhein-Sieg. Schriften der Arbeitsgemeinschaft Odorologie e.V. Band 2, Verlag Dr. Kovač, Hamburg, S. 40 - 47.
Böcker, F., Taubmann, J., Grimm-Seyfarth, A., (2018): Wildlife detection dogs – Einsatz und Grenzen von Artenspürhunden in Wildtierforschung und Naturschutz
In: König, A., Arnold, J., Suchant, R., Sandrini, M., (Hrsg.) Wildbiologische Forschungsberichte. Tagungsbeiträge: Wildtierökologische Forschung für die Praxis - Vom Monitoring bis zum Management - (2018 im Nordschwarzwald). Schriftenreihe der Vereinigung der Wildbiologen und Jagdwissenschaftler Deutschlands 3, Kessel, Remagen-Oberwinter, S. 47 - 50.
Grimm-Seyfarth A, Klenke R A (2017): Suchhunde im Naturschutz: Geruchsunterscheidung zwischen nahe verwandten Arten mit identischer Diät. In: Schüler C, Kaul P (Hrsg.) Faszinosum Spürhunde: Gefahren sichtbar machen – Gefahren abwenden. Tagungsergebnisse des 3. Symposiums für Odorologie im Diensthundewesen an der Hochschule Bonn-Rhein-Sieg. Schriften der Arbeitsgemeinschaft Odorologie e.V. Band 1. Verlag Dr. Kovač, Hamburg, pp 253 - 266.