Network-forum for biodiversity research Germany

Project description
Biodiversity by the meaning of the convention on biological diversity (CBD) has a broad definition. Therefor also science has to treat that issue broadly and from the perspective of several research disciplins.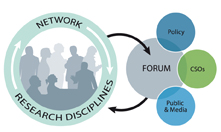 The science-policy platform NeFo aims at enhancing the visibility of German biodiversity research for a broader public and for political decision makers. At the same time it is meant as a service for scientists to get an overview over neighbouring disciplines and to foster inter-disciplinary exchange and the linkage with political processes.

The network-forum project runs two instruments: the network in order to strengthen communication within the scientific community and the forum to intensify the dialogue with political actors and the broader public.
NETWORK - Connecting scientific disciplines
The network aims at a more intensive connection and communication between the various scientific disciplines that deal with different aspects of biodiversity – from taxonomy up to social sciences – and wants to better integrate relevant question from society into the research agenda.

Tasks of the network:
Overview over biodiversity research in Germany
Linkage to European and international research programmes
Biodiversity informatics and infrastructure
Education and young professionals
Integration of learned societies
Initiation of thematic working groups

FORUM - Making biodiversity knowledge accessible
The forum is meant to foster the dialogue between science and policy and to enhance the visibility of biodiversity research in the broader public. Scientific results, advice and needs coming from the research community shall be transferred more directly to political decision makers, thus enhancing the participation of science in political processes. A central element of the forum is a service centre which helps to answer biodiversity related questions from policymakers and links to experts. Media will be informed by press releases focussed on political topics of high societal relevance and highlighting the indispensable role of biodiversity research.

Main topics for the forum:
Service centre on biodiversity research
IPBES and other european and international biodiversity policy processes
Communication and public relations
Science and Non-Governmental Organisations

The project is being coordinated by the UFZ, our staff also realises the FORUM part. Further partners are the Museum für Naturkunde Berlin and the University of Potsdam.

Further Information on our online platform