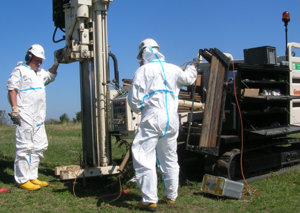 ModelProbe
Model Driven Soil Probing, Site Assessment and Evaluation
Duration: 2008-2012 (46 Monate)
Funding: EU-FP7 (Contract No. 213161)
Coordinator: UFZ-UBT
Detailed location characterisations of contaminated large surfaces are frequently time-consuming and cost-intensive. An improvement of the effectiveness, as well as an associated minimization of these costs through contaminant source research, can be achieved by adaptive and dynamic working plans.

The implementation of these working plans as a basis for the development of remediation concepts requires, apart from the use of conventional methods, a particularly strong integration of advanced, minimal and non-invasive research methods.

The objective of ModelPROBE is to develop new methods and concepts for contaminant source characterisation, in order to integrate them as part of an adaptive site research strategy. The use of geophysical measurements, together with cost-effective vegetation analysis and Direct Push procedures, also focus on environmental forensic, ecotoxicology research and the development of biogeochemical sampling concepts, regarding the analysis of the potential degradation and mobilization of contaminants.