InfraWass: Sustainability institutions for the governance of long-lasting urban water infrastructure systems

Department of Environmental and Planning Law

Scientific Project Partners
→ Prof. Dr.-Ing. Robert Holländer
→ Dr. Stefan Geyler
→ Dipl.-Ing. Sabine Lautenschläger
→ Prof. Dr. Silke Ruth Laskowski
→ Clara Gläve
Outline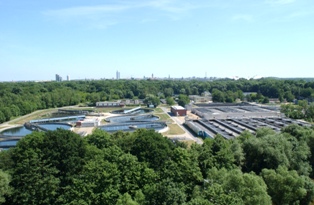 Urban water infrastructure systems were able to develop in stable conditions for a long time and are highly centralised and technologically as well as economically long-lasting. Today, however, inflexible supply and disposal systems that are dependent on piping are increasingly under pressure to change: varying regional effects due to demographic and climate change as well as changing demands and political frameworks are a great challenge.

Aims and tasks
The purpose of InfraWass is to analyse the future viability of public water supply and waste water disposal in the context of regionally varying demographic and socio-economic processes, various effects of climate change and systematic sustainability target conflicts.
Furthermore, paths for sustainable development and institutional regulations for managing long-term infrastructure decisions will be developed. The main question is, therefore, how capable sustainability institutions can facilitate and assure sustainable development paths for urban water infrastructure systems.
The project is based on two case studies, each with a different set of challenges: While the growing metropolitan region of Hamburg is facing an increasing frequency of heavy rain, many regions of Saxony will have to deal with population decline and prolonged periods of drought. In cooperation with local water service providers and with the usage of scenarios, sustainable infrastructure concepts for waste water and fresh water will be developed.
The project will focus on the following questions:

Which combinations of technological solutions, governance structures and institutional regulations will adhere to the requirements of sustainable development?
How should institutional arrangements and governance structures be organised so that they will be economically efficient, socially acceptable, legal, and ecologically sound?
Do governance structures, that have been accepted as suitable, offer the right incentives for innovation and are they adaptable to future developments that are uncertain?
Based on the analysis, concrete economic and legal institutions (e.g. competition and water pricing models), which the state can use to guarantee sustainable waste water disposal and drinking water supply, will be developed. Here, aspects that have been neglected so far will also be taken into account, for example the political, social and legal feasibility.

Application
Project results may be used by the water industry and legal policy-makers. Economic and legal guarantee institutions will be developed specifically for sustainable waste water and drinking water concepts. These will contribute to political and social assurance of the required transformation of the water infrastructure. In addition, decision-makers will be provided with economically effective incentives for innovation. A direct application to middle Eastern European transformation countries with similar problems is planned within the framework of an international workshop and other activities. This transfer may contribute to an increasing integration of sustainability aspects during infrastructure expansion in these countries.