Dike relocation and floodplain restoration Rosslauer Oberluch
In the last centuries, the middle Elbe lost 80 % of its retention areas due to dyke constructions for flood prevention. This led to severe damage or destruction of many essential wetland habitats. Furthermore, dike raisings have proved to be insufficient to ensure protection in case of extreme flood events. Within the framework of the EU flood risk policy, the creation of new retention areas by dike relocation is a major task in European river basin management. Also in the Middle Elbe in Germany stakeholders have attended to this challenge. To give more room for the river by opening former floodplains is a chance to combine flood risk management with biodiversity functioning.
The restoration of the hydrological connectivity is expected to improve the dynamics and functions of these floodplain ecosystems and restore their biodiversity. However, higher connectivity with the river may also increase transport of nutrients or pollutants, which can affect floodplain communities. Thus, a long term monitoring of the effects of dike relocation or creation of new retention surfaces is a prerequisite for successful restoration of floodplain areas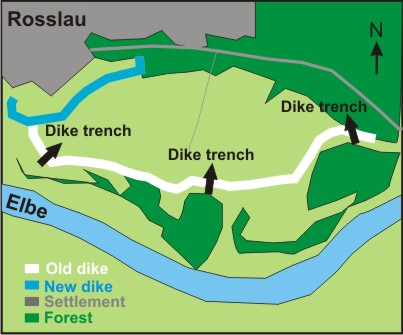 Fifteen dike relocation projects leading to the creation of more than 2600 ha of retention surfaces are planned along the middle Elbe (Germany). However, effective project realisation is often problematic, a large number of stakeholders being involved. The early implication of the often critical residents is also important for a better acceptance of the project. In Rosslau, the high restoration costs of the old dike line motivated the stakeholders to build a less expensive smaller dike close to the city, and to reopen the former floodplain.
The 140 ha of floodplain surfaces to be reconnected are used for flood retention, agriculture, forestry, drinking water supply, and as recreation area. They show a high restoration potential and already host diversified floodplain habitats (wet grasslands, mesophyl grasslands, phalaris and phragmites reeds, alluvial forests, and permanent or temporary water bodies).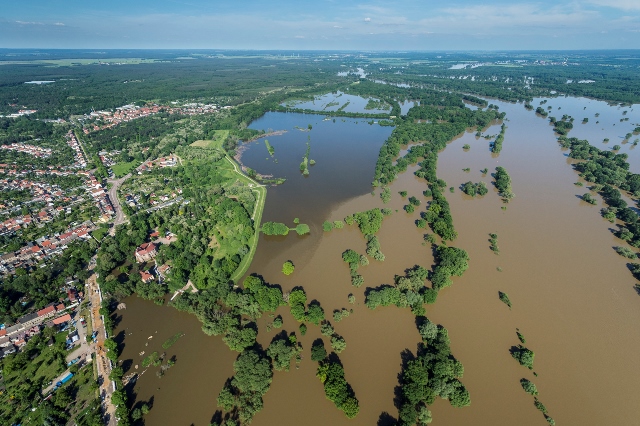 The short term and long term effects of this floodplain restoration on floodplain ecosystem services and functions are studied in the frame of the multidisciplinary research platform established by the UFZ on this site in spring 2006.