Development and Implementation of a Concentration and Dectection System for the Inline Monitoring of Water-borne Pathogens in Raw and Drinking Water (EDIT)
The EDIT project aims at the development of an innovative technical solution for rapid and continuous water hygiene testing. The research project, which is part of BMBF-funded program "Smart and multifunctional infrastructural systems for sustainable water supply, sanitation and stormwater management" (INIS) therefore develops a system for hygiene online monitoring (HOLM). Target organisms initially include such pathogens that are relevant for raw and drinking water monitoring in Germany.

Bakterien
Viren
Phagen

Escherichia coli
Enterococcus faecalis
Pseudomonas
aeruginosa
Campylobacter jejuni
Klebsiella pneumonia
und Klebsiella oxytoca


Norovirus GGI-II
Adenovirus 40,41,52
Enteroviren
The mentioned phages are for testing purposes only. Because there is a potential for different applications both in the national and international context, a future extension or modification of the range of target pathogens is possible.

The project has 3 complementary objectives:

modular development of system components and their integration into a HOLM;

testing and evaluation of the system in the laboratory and in practical use;
synthesis of results, accompanying research and public relations.


The HOLM developed in EDIT consists of a multi-stage procedure for pathogen concentration and sample preparation, a module for live/dead discrimination of pathogens and biomolecular analysis (isothermal amplification and detection on an analytical microarray).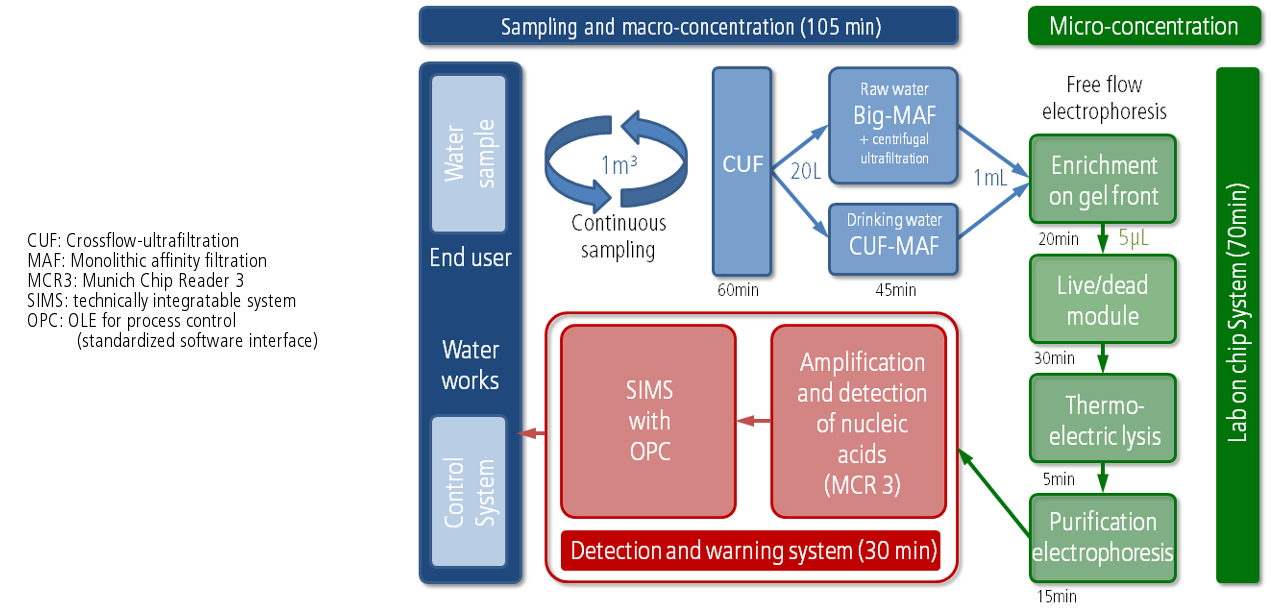 The department ASAM is responsible fort he coordination of the project, the synthesis of results and research on the current state of drinking water hygiene in Germany and challenges related to demographic and climate changes.
The project partners are:
Technical University Munich – Institute for Water Chemistry and Chemical Balneology (TUM-IWC)
Albert-Ludwigs-University Freiburg, Institute for Microsystems Technolgy (IMTEK)
DVGW German Technical and Scientific Association for Gas and Water – Water Technology Center, Karlsruhe (TZW)
Fraunhofer IOSB, Application Center Systems Technology, Ilmenau (AST)
R-Biopharm AG Darmstadt
GWK Precision Technology GmbH München
Municipal water supply comany of Berlin (BWB).
Additional implementation include the municipal water supply companies of Magdeburg (TWM) and Marburg (SWM).
Contact: Dr. Daniel Karthe