Press release September 28th, 2006
Better lobby needed for global biodiversity
From 2 to 4 October 2006, international experts in Leipzig will be discussing a new advisory committee along the lines of the Intergovernmental Panel on Climate Change (IPCC)
Leipzig. Global biodiversity is declining dramatically, and the Red Lists of endangered animal and plant species are growing just as fast. According to the "Millennium Ecosystem Assessment", this process affects not only nature but, increasingly, humans and the economy as well. This is because they depend in a variety of ways on the services of nature – so-called "ecosystem services" – whether in agriculture and food, or for protection against flooding and diseases. Because of the decline in biodiversity, however, almost 60% of these services are currently over-utilised or severely threatened.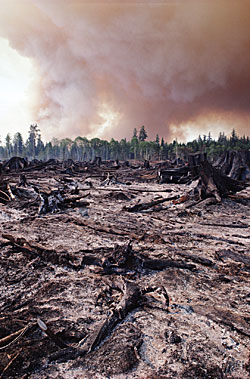 Worldwide the biodiversity is at risk because of human activities.
Source: PhotoDisc® - Environmental Concerns
Despite all the efforts, these losses have not yet been noticeably reduced. In recent years the impression has intensified that this is partly due to insufficient or misguided advice. A group of scientists and politicians of international standing is no longer willing to put up with this situation. In a letter from leading representatives of biodiversity research to the scientific journal Nature (www.nature.com) they complain about the fragmentation of research. What is missing in the field of biodiversity is a suitable mechanism for mobilising experts across the globe, collating their knowledge and bringing together scientists and politicians, says Jeffrey McNeely, Chief Scientist at the World Conservation Union (IUCN). By contrast, the Intergovernmental Panel on Climate Change (IPCC) had succeeded in integrating climate research and in speaking "with one voice" in the name of science, thereby lending authority and weight to their statements at the political level. Scientists are now calling for a similar instrument for biodiversity (Nature Vol 442|20 July 2006: 246).
The idea of setting up a suitable panel of experts is not new. However, the political signs are now better for the scientists' demands than they have been in the past. At the beginning of 2005, the French government launched an 18-month consultation process on an "International Mechanism of Scientific Expertise on Biodiversity" (IMoSEB) (www.imoseb.net). Since then, the global consensus has consolidated around the belief that there is a need in the field of biodiversity to intensify scientific exchanges and to bring together scientific and political representatives.
This is also the context for the event in Leipzig. Among the 30 international experts who will come together from 2 to 4 October 2006 at the UFZ Centre for Environmental Research in Leipzig, there are important political representatives (like the winner of the Alternative Nobel Prize, Tewolde Berhan Gebre Egziabher from Ethiopia), policy advisers (like Mohan Munasinghe from Sri Lanka, Vice-Chair of the IPCC), representatives of non-government organisations (e.g. Ashish Kothari from India, as well as Jeff McNeely) and researchers. Starting from experiences with past and present policy advice institutions, the aim is to investigate where there is an actual need for information and advice, the role that such a panel can and should assume in the existing international institutional network and how it would need to be arranged in practice to enable it to work successfully.
Links:
Nature-Artikel "Diversity without representation":
www.nature.com/nature/journal/v442/n7100/full/442245a.html
IMoSEB:
Workshop participants
download list of participants (0,3 MB)
More information:
Dr. Christoph Görg / Dr. Heidi Wittmer / Dr. Silke Beck / Dr. Felix Rauschmayer
Helmholtz Centre for Environmental Research – UFZ
phone +49 345 558-2883, -2074, -2235, -2345
or
Doris Böhme / Tilo Arnhold,
Public Relations of Helmholtz Centre for Environmental Research – UFZ
Phone: +49-341-235-2278
E-mail: presse@ufz.de