Hydroinformatics: Software development for soil and aquifer system analysis
Significant advances in water research and new observational and computational capabilities and infrastructures (e.g. MOSES, TERENO, VISLAB, JUWELS) provide the opportunity to develop next generation of smart, data- and model-driven water monitoring systems. The software tools we develop are designed to support scientists worldwide in the analysis of larger and more complex systems and to enable the exploration of hydrological extreme scenarios and their effects.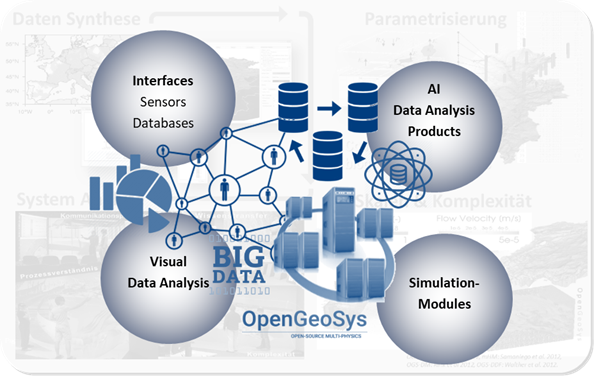 The ENVINF-Hydroinformatic developer group focuses on method and software development for the process-based modelling and parameterization of coupled surface, soil and groundwater systems, as well as the transport of dissolved substances, flow with variable density, or mechanical changes in aquifer systems due to changing environmental impacts.
As a numerical tool for the simulation and prediction of groundwater conditions and interactions we use OpenGeoSys, a multi-physics code for porous media which is used in numerous THMC applications. Originally developed from Rockflow, OGS-6 now has a modular structure and provides a robust open-source framework (OGS) for the integration of additional simulation capabilities that build on and extend the numerical kernel.