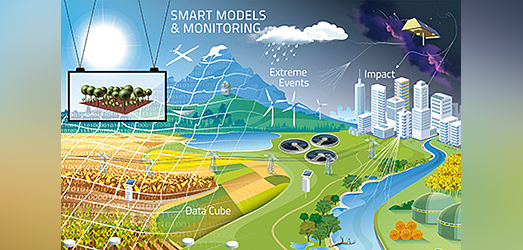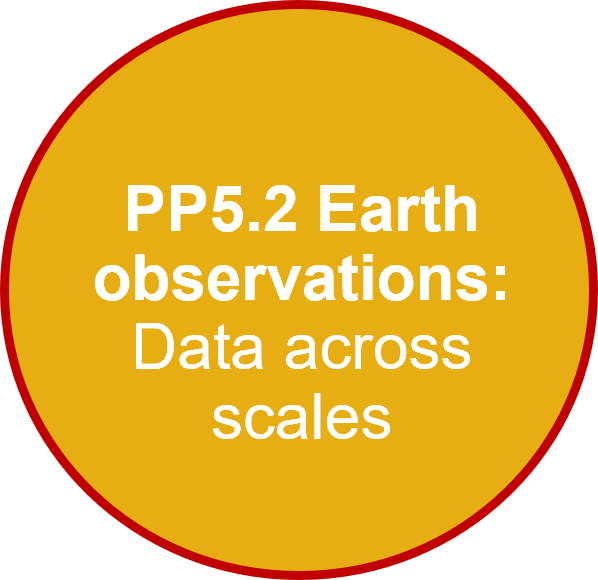 Earth observations: Data across scales

Platform Project - PP5.2


Large-scale predictions of landscape changes and ecosystem development at operationally relevant resolutions require appropriate data. This particularly concerns geo-referenced data from multiple sources (e.g. from earth observation, socio-economic census) for direct measurements or parameterizing/validating next-generation terrestrial models. The development of concepts, sensors, tools, and workflows for the generation, use, and management of FAIR data cubes is the goal of PP2. Special focus is on data for essential variables (target functions, key processes, critical external drivers) by accounting for spatial patterns, trends, and events.

Long-term projections of environmental dynamics at management-relevant scales using high-resolution large-scale models are often hampered by the lack of spatially distributed information representing ecosystem response. Real-time and fully digital, connected and regionalized observations are urgently needed. This PP aims to tackle this challenge by developing and providing new improved tools, workflows, and data needed to generate predictions of ecosystem dynamics in order to better manage landscape under climate and global change pressures.
Observational and near-real time available data are an essential foundation of the IP "RobustPics". Only if every application, innovation or situation assessment developed in the IP is based on a comparable, free and transparent data basis, it will be able to serve as benchmark for future actions. Environmental data and associated monitoring systems, have traditionally been organized in specialized disciplines and sectors. Each discipline acts according to its own traditions and procedures of data use and has developed its own strategies and concepts - both for data collection, data processing and data policies. Meeting the pressing challenges of global change with climate change, resource scarcity, and biodiversity loss requires a comprehensive understanding of complex environmental changes and their systemic interactions, and thus interoperable data beyond disciplinary or sectoral perspectives. The platform project "Earth Observation" aims at:

concepts and workflows to overcome this disciplinary borders and make data available across the disciplinary perspectives, and
contributions to the development of tools and methods necessary to close gaps (spatial and temporal) in data and to harness the full potential of these data,
develop and apply adaptable analysis-ready data cubes to improve understanding of ecosystem dynamics and climate change
support the evaluation and improvement of modelling frameworks to achieve the IP "RobustPics" vision.
The platform project brings together scientists from a wide range of methodological research and modeling expertise: Ecological and hydrological modeling, Remote Sensing, Environmental Informatics, Soil Science, and Biodiversity research. Around the platform projects topics "standardization and harmonization of environmental monitoring" and further development of the concept of "essential variables", there is close and active networking, especially with the IPs "Sustainable future land use" and "Freshwater resources"