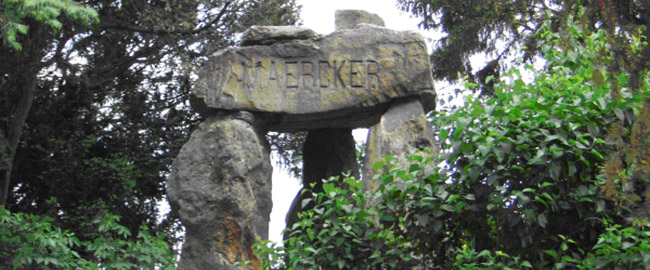 History of the field research station

The Bad Lauchstädt Experimental Station was founded in 1895 by Prof Max Maercker, one of the most important agricultural chemists of his time and lecturer at the Faculty of Philosophy of the University of Halle. After his death in 1901, Prof Wilhelm Schneidewind continued the experimental work. In 1902, together with his experimental supervisor Willi Gröbler, he established the Static Fertilisation Experiment, which is still being conducted.

In the course of time, further field experiments were set up. In the first decades, the experiments mainly dealt with the effect of mineral and organic fertilisation on the yield and quality of cultivated plants. Other topics included nitrogen fixation, cultivation technology, field experiment methodology, seed breeding, and soil fertility.

In the 1960s, the then "Institut für Landwirtschaftliches Versuchs- und Untersuchungswesen Halle-Lauchstädt" (Institute for Agricultural Research and Investigation Halle-Lauchstädt) included six further experimental stations in addition to the Bad Lauchstädt site as well as an extensive range of practical experiments. In 1970, the institute became a branch of the Müncheberg Research Centre of the Academy of Agricultural Sciences of the GDR and was responsible for research into the supply of organic matter to the soil.

With the foundation of the Helmholtz Centre for Environmental Research (UFZ) in December 1991, the experimental station became part of it. In addition to the continuation of the long-term experiments, the scientific sections of Soil Research, Hydrogeology, and Community Ecology with offices and laboratories found their first home here. Since its move to a new building in Halle in 1998, the scientific activities of the experimental station have once again concentrated entirely on experimental work. They primarily serve to improve our understanding of the complex relationships in the soil-plant-atmosphere system – against the background of land use change, climatic changes, and changes in species pools. The site provides the infrastructural basis for the scale-dependent investigation of various ecological systems. They range from cold and warm house experiments to numerous manipulative experiments in the field. The Bad Lauchstädt experimental station is thus the experimental basis for several scientific departments of the UFZ. Furthermore, it is a central experimental infrastructure for the cooperation with the German Centre for Integrative Biodiversity Research (iDiv) Halle-Jena-Leipzig and an important part of national and international networks and infrastructure projects of terrestrial ecosystem research.