Modellierung von Umsatz und Transportprozessen im Boden

CANDY - Simulation der Kohlenstoff- und Stickstoffdynamik
Das Simulationssystem CANDY (CArbon and Nitrogen DYnamics) wurde entwickelt, um die Dynamik des Kohlenstoff - und Stickstoffumsatzes im Boden sowie der Bodentemperatur und des Bodenwassergehaltes als eindimensionale Prozesse für ein Bodenprofil in der ungesättigten Zone zu beschreiben. Das System besteht aus einem in eine Bedieneroberfläche eingebetteten Simulationsmodell und umgebenden Datenbanken, die Informationen zu den erforderlichen Parametern, zum Modellantrieb sowie zu Anfangswerten und eventuell vorhandenen ergänzenden Meßreihen enthalten.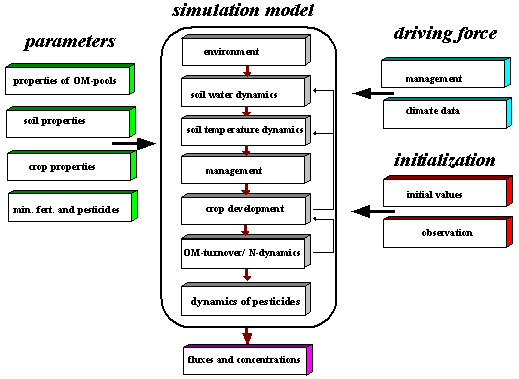 Literatur zur Modellbeschreibung
Downloads and Updates


the most important Zustandsgrößen sind Bodentemperatur, Bodenfeuchte, umsetzbare organische Substanz und Mineralstickstoff. Für diese Größen müssen Startwerte vorliegen Die Simulation läuft in Tagesschritten ab. Folgende Teilprozesse werden in unterschiedlicher Detailliertheit durch das Modell beschrieben:

meteorologische Bedingungen ( Zugriff auf Datenbanken oder Generierung von Datensätzen)
Korrektur der gemessenen Niederschläge
Bodenwasserdynamik (potentielle und aktuelle Evapotranspiration, Versickerung)
Bodentemperaturdynamik (Abschätzung der Oberfächentemperatur, Wärmeleitung im Boden)
Auswirkung von Bewirtschaftungsmaßnahmen
Bestandesentwicklung (Verlauf von Wurzeltiefe und Bedeckungsgrad, Ermittlung des N-Bedarfs)
Umsatz (Mineralisierung und Humifizierung) von organischer Substanz
Stickstoffdynamik (Mineralisierung, Immobilisierung, Aufnahme, Auswaschung, gasförmige Verluste, symbiontische N-Bindung)



Die von CANDY benötigten Inputdaten sind:

Bodendaten
Wetterdaten
Bewirtschaftungsdaten

Um die vom Simulationsmodell CANDY abgebildeten Bodenprozesse für größere Areale (Gesamtgebiet eines Betriebes, Agrarlandschaft...) untersuchen und bewerten zu können, erfolgte die Integration von CANDY in ein Geographisches Informationssystem (GIS).
Weitere Informationen zur Modellierung der C-Dynamik
Modelle zur Modellierung der C-Dynamik: Liste der im GCTE SOMNET beschriebenen Modelle