Press release from 7 September 2015
Mongolia: The Sustainable Use of Scarce Water Resources
MoMo project implements practical solutions
Ulan Bator/ Magdeburg. To conserve and sustainably manage the scarce water resources of Mongolia, it is imperative that permanent and robust measures are introduced to address these issues. These are the commitments of the collaborative project "Integrated Water Resources Management, Model Region Mongolia (MoMo)", which has been coordinated by the Helmholtz Center for Environmental Research (UFZ) since 2006. Project phase III will start with a kick-off meeting planned for the 8th September 2015 in Ulan Bator, the capital of Mongolia. The goal of this phase is to put environmental monitoring, innovative water technology applications as well as integrated river basin management concepts into practice.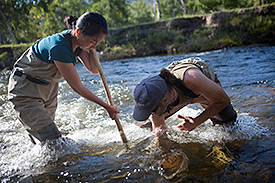 Scientists test the quality of water bodies. The results are imperative for river basin management concepts.
Photo: 2470media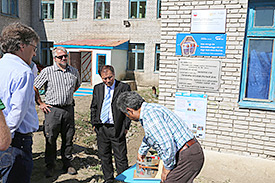 Scientists explain how a small wastewater treatment plant works that was set up for a kindergarten as a pilot project in the village of Orkhon Sum.
Photo: Daniel Karthe, UFZ
The objective of the project "Integrated Water Resources Management for Central Asia: Model Region Mongolia (MoMo)" is to implement an Integrated Water Resources Management (IWRM). To achieve this, the project has three core research areas: environmental monitoring, water technologies and river basin management.
Core area "environmental monitoring"
Mongolia is faced with numerous challenges: water is becoming increasingly scarce and rivers and groundwater are polluted from intensive industrialisation and increased mining activities throughout the nation. Moreover, data on the state of the environment are generally limited. In recent years, a team of German and Mongolian universities, research institutes and enterprises were able to collect and analyse essential environmental data for a model region in Mongolia. Now these data are being made available to Mongolian users and decision-makers via a web-based GIS as well as a long-term data management system established. Furthermore, extensive training programmes are being conducted in environmental monitoring.
Core area "Water technologies"
In Mongolia, it is not only urban settlements that are the focus of water consumption, but also the wastewater discharge into surface waters and out-dated infrastructures mainly from the 1960s certainly do not help. For example, the unofficial yurt settlements on the outskirts of cities that have seen an unprecedented rate of expansion over recent decades are usually not connected to central public utility services. Consequently, the project has introduced some pilot measures over recent years to reduce water losses from pipe leakages in the urban public utility services distribution network as well as a pilot project for the central, semi-central and decentralised treatment of wastewater. Such solutions are now to be implemented on a larger scale and it will be tested as to whether they can be transferred to other regions of Mongolia.
Core area "River Basin Management"
The Mongolian government has declared the Integrated Water Resources Management concept as a role model for managing the country's water resources and it is now planning to develop and implement management concepts for all larger river basins. The project is supporting this process: on the one hand through scientists who are keeping in close contact with the Mongolian Ministry for Environment, Green Development and Tourism, the National Water Committee as well as the respective river basin management authorities for the model region Kharaa and offering advice about concepts, and on the other hand by examining Mongolian "water governance", which is going through an extremely dynamic phase of development. The results will be used to draw conclusions on framework conditions in the field of water management in Mongolia and for comparable regions in Central Asia.
Implementation as an inter- and trans-disciplinary collaborative project
From the German side, the project consortium comprises of partners from science and industry with the following participants: the Helmholtz Center for Environmental Research – UFZ (coordination), the Leibniz-Institute of Freshwater Ecology and In-land Fisheries (IGB), the Fraunhofer Application Center System Technology Ilmenau, and the German Development Institute (DIE). From industry the following partners are involved: p2mberlin GmbH, Bergmann Beton + Abwassertechnik GmbH and terrestris GmbH & Co KG. In Mongolia, the consortium cooperates with a number of Mongolian institutions, including the respective national and regional ministries and authorities, scientific institutes such as the Mongolian Academy of Sciences and the Mongolian University of Science and Technology, as well as implementation partners such as the municipal water utility in Darkhan or the river basin authority of Kharaa.
The collaborative project MoMo is funded by the Federal Ministry of Education and Research (BMBF) with a grant of EUR 2.9 million. It is part of the BMBF funding measure "Integrated Water Resources Management (IWRM)" under "Sustainable Water Resources Management (NaWaM)".
Contact
Prof. Dr. Dietrich Borchardt
Helmholtz Center for Environmental Research - UFZ
Tel.: +49 (0) 391 810 9757
Prof. Dr. Dietrich Borchardt
Dr. Ralf B. Ibisch
Helmholtz Center for Environmental Research - UFZ
Tel.: +49 (0)561 804 6152
Dr. Ralf B. Ibisch
or
Susanne Hufe (UFZ Press office)
Telefon: +49-(0)341-235-1635, -1630
Additional links
IWRM projects in Mongolia
www.iwrm-momo.de/index.htm
www.bmbf.wasserressourcen-management.de/de/111.php
In the Helmholtz Centre for Environmental Research (UFZ), scientists conduct research into the causes and consequences of far-reaching environmental changes. Their areas of study cover water resources, biodiversity, the consequences of climate change and possible adaptation strategies, environmental technologies and biotechnologies, bio-energy, the effects of chemicals in the environment and the way they influence health, modelling and social-scientific issues. Its guiding principle: Our research contributes to the sustainable use of natural resources and helps to provide long-term protection for these vital assets in the face of global change. The UFZ employs more than 1,100 staff at its sites in Leipzig, Halle and Magdeburg. It is funded by the federal government, Saxony and Saxony-Anhalt.
The Helmholtz Association contributes to solving major and urgent issues in society, science and industry through scientific excellence in six research areas: Energy, earth and environment, health, key technologies, structure of matter as well as aviation, aerospace and transportation. The Helmholtz Association is the largest scientific organisation in Germany, with 37,000 employees in 18 research centres and an annual budget of around € 4 billion. Its work is carried out in the tradition of the great natural scientist Hermann von Helmholtz (1821-1894).