Press release from 17th July, 2006
New illegal aliens
International experts present state of the art on "biological invasions" at the Euroscience Open Forum 2006
Munich. Introduced animal and plant species are getting high priorities on the research agendas. The German Environmental Agency estimates the impact to be at least 100 million Euros per year only for Germany. What are the consequences of such species and how can we mitigate impacts on agriculture, forestry, health and the environment? When is a species problematic and what is an invasion? Scientists from Spain, Ireland, Czech Republic, Switzerland and Germany present their recent research on this topic at a special session during the Euroscience Open Forum 2006. This session is organized by the UFZ – Centre for Environmental Research Leipzig-Halle. Ecologists of this centre investigated biological invasions for many years – especially plant invasions.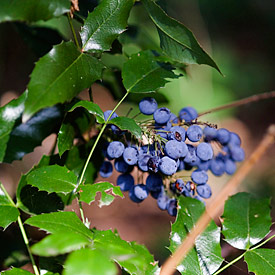 Originally, the Oregon Holly Grape (Mahonia aquifolium) is from the Pacific Northwest of United States of America. For their colourful flowers the evergreen shrub was quickly cultivated and spread by gardeners in Europe.
Foto: Dr. Harald Auge/UFZ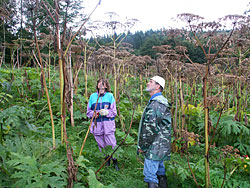 The Giant Hogweed (Heracleum mantegazzianum) are up to four metres high. It can cause third-degree burns because of the extremely aggressive sap inside the plant.
Foto: Petr Pysek/Institute of Botany,
Academy of Sciences, Czech Republik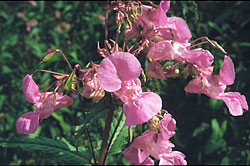 The Himalayan Balsam (Impatiens glandulifera) is an invasive species from the Himalayan region. Impatiens glandulifera is now naturalized in 31 countries on three continents (Europe, North America and Asia).
Foto: Dr. Stefan Klotz/UFZ
The session is supported by the Andrea-von-Braun foundation. It will take place on Tuesday, 18th July, 2006, 8:30-11:30h in room " Galaxis" of the "Deutsches Museum" in Munich. ESOF (Euroscience Open Forum) is the largest congress of European scientist every other year. The inaugural congress was in 2004 in Stockholm. It is expected that over 2500 scientists, specialists, journalists and interested laymen will attend ESOF 2006 in Munich.
From an ornamental to a problematic plants
Originally, the Oregon Holly Grape (Mahonia aquifolium) is from the Pacific Northwest of United States of America. For their colourful flowers the evergreen shrub was quickly cultivated and spread by gardeners in Europe. However, presently this species is not restricted to gardens any more. Bird dispersed the seeds so that the shrub nowadays dominates the ground and shrub layers of Eastern German woodlands. Native berry bearing shrubs have a competitive disadvantage and decreased in abundance. But Oregon Holy Grape is just one example of unintentional spread of non-native species in their new environment.
More than Evolutionary lottery?
Approximately a tenth of all introduced species survives in their new ranges to build up self-sustaining populations. And only a tenth of these become a problem. Nevertheless it is this one percent which can alter ecosystems and have cause massive damages. What are the reasons that some species are aggressive, suppress other species or alter landscapes? This question occupies scientists globally. Several European research projects focus on this topic: EU research project GIANT ALIEN analysed all relevant aspects of the biology, ecology, taxonomy and management of invasive hogweeds. Background information and management guidelines mainly refer to Giant Hogweed (Heracleum mantegazzianum). The projects aim was to prevent Giant Hogweed and other species from displacing native plant and animal species, thereby conserving biodiversity across Europe. DAISIE will deliver an Alien Species Gateway to act as a "one-stop-shop"for information on biological invasions in Europe. The project addresses the need for a regional network of invasive alien species information. With direct access to national knowledge bases throughout Europe, those addressing the invasive alien species challenge will easily obtain data through DAISIE on which species are invasive or potentially invasive in particular habitats, and use this information in their planning efforts. ALARM focussed on four selected environmental drivers relevant for biodiversity decline: climate change, loss of pollinators such as bees, bumble bees or butterflies, environmental chemicals and pollutants as well as the invasions of non-indigenous animal and plant species. The ALARM consortium comprises 54 partners from 26 countries and is coordinated by the UFZ.
A topic of the Euroscience Open Forum
The five scientists who will present an overview of this topic at the Euroscience Open Forum 2006 are among the leading experts in Europe.
Dr. Stefan Klotz (UFZ – Centre for Environmental Research Leipzig-Halle) will introduce the problem: What are biological invasions? Why do human mediated introductions differ from natural range expansions? Most importantly, he will provide an overview on most important research projects on biological invasions at European level.
Prof. Petr Pysek (Institute of Botany, Czech Academy of Science) will provide an insight into the most spectacular invasions in different biomes that are most severely affected. His specific interest is on general principles of naturalization which he analysed by using over 300 globally distributed data sets covering both temperate and tropical/subtropical zones. He effectively showed that species which are longer in an area are also more successful invaders.
Prof. Montsera Vilá (Biolopgical Research Station Doñana of the Spanish National Research Council) will introduce factors which are relevant for the invasion success of alien species: disturbances, nutrient surplus, dispersal properties and ecosystem characteristics.
Prof. Wolfgang Nentwig (Zoological Institute of the University of Bern) will present European examples of animal invasions. Some of the most spectacular invasion events can be found in the fauna. The North-American racoon became a well-known neighbour even in cities. The horse-chestnut leaf-miner is unwanted as it turns horse-chestnut alleys and beer-gardens into brown stands of a utumn-like trees.
Dr. Dan Minchim (Marine Organisms Investigations – MOI) introduces invasions in the aquatic environment. During the past years, considerable turnover in species composition of coastal and port areas were observed. This is caused by alien hitch-hikers in the ballast waters of large vessels. The zebra mussel is a prominent example for freshwater invasions. Already through their sheer number this species is able to modify ecosystems or block canals, water pipes, ship propellers etc. Dan Minchin will present how to predict risks and which possibilities for management can be applied.
Euroscience Open Forum 2006:
European research projects:
ALARM
GIANT-ALIEN
DAISIE
www.daisie.se
BMBF-research project BIOKONCHIL
(Ausbreitung des nordamerikanischen Minks im Süden Chiles und die Konsequenzen für die Vogelwelt auf der Insel Navarino):
www.ufz.de/spb/urb/index.php?de=1894
Further information from:
Dr. Ingolf Kühn / Dr. Stefan Klotz
Helmholtz Centre for Environmental Research – UFZ
phone +49 345-558-5311, -5301
or
Doris Böhme / Tilo Arnhold,
Public Relations of Helmholtz Centre for Environmental Research – UFZ
Phone: +49-341-235-2278
E-mail: presse@ufz.de